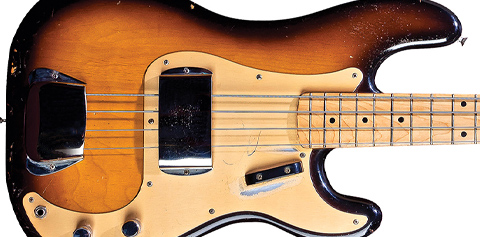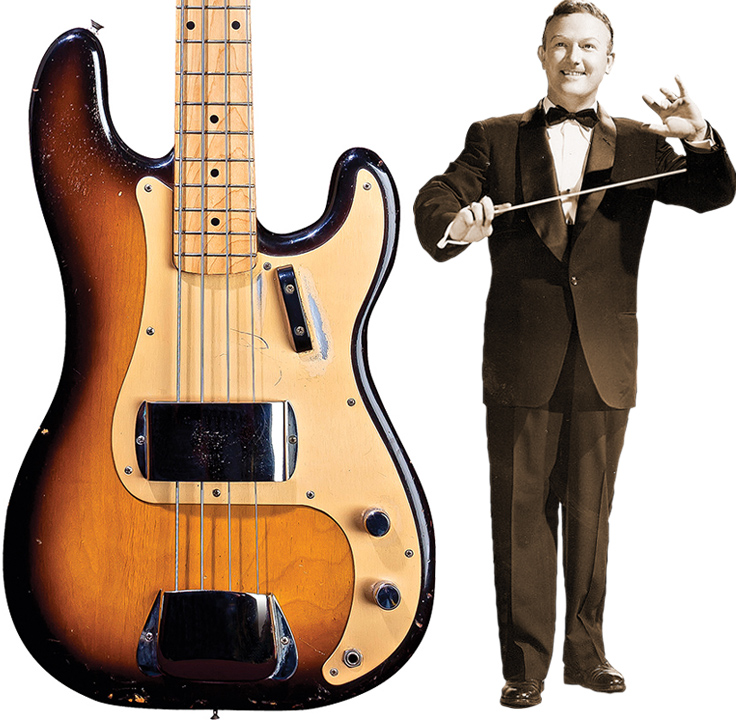 When an instrument maintains the same basic design and profile for more than a half-century, it's safe to say that in terms of design and execution, it was "done right."
Introduced in late 1951, the Fender Precision Bass was a completely new instrument, with a 34″ scale and four strings tuned an octave below a standard guitar. In '54, Fender shifted its standard finish from natural to sunburst, replaced its black-fiber pickguard with one made of white plastic, and re-shaped its body to look more like the company's new Stratocaster model.
In mid '57, the instrument took on its enduring, classic form. Given a new headstock silhouette (moving from the Telecaster shape to closely resemble that on the Stratocaster), it also got a sunburst finish, a larger/gold-anodized aluminum pickguard with controls on its "tail" portion, and a new split/double-coil pickup designed to eliminate the buzz caused by electrical interference. In early '58, the two-tone sunburst finish transitioned to three-tone along with that on other Fenders. Finally, it received a different hand rest and bridge cover.
Examples such as this one, from '57, are rare because the revised version hit the market late that year, thus were limited in terms of numbers produced. Its body dates from October, while the neck, which has a soft-V shape, was date-stamped in November. When its owner, Barney Roach, acquired the instrument, the infamous rubber string mutes were intact on the underside of its bridge cover. He removed them, and also replaced what were likely the original V.C. Squier flatwound strings with Rotosounds.
The instrument, he said, has a well-documented association with a famous musician.
William Richard "Billy" Vaughn (1919-1991) was a native of Kentucky whose claim to fame was as a composer who crafted orchestral hits including "Sail On Sil'vry Moon" and "Pearly Shells." He also served many years in Dot Records' artist and repertoire (A&R) division, first in Nashville, then California, and produced songs by Pat Boone and Gale Storm, among others.
The bass was originally purchased at Wallich's Music City, in Hollywood, next-door to Dot Records and in the shadow of the famed RCA building.
"It was likely recommended by one of his session guys," said Vaughn's son, Rich. "In the late '50s, Pops didn't have a regular band; he was new to Southern California and probably relied on studio musicians."
Vaughn believes the bass had been previously owned when his father purchased it and a '52 Gibson Les Paul at approximately the same time.
"They were part of his inventory, which ranged from a Hammond B3 to vintage woodwinds, brass, three pianos, and several Martin instruments – guitars, tiples, mandolins, and ukuleles. The Fender was solely for use as a studio instrument, along with many others in his home studio in Sherman Oaks, and later, Encino, until he formed the Billy Vaughn Orchestra to tour Japan in '65."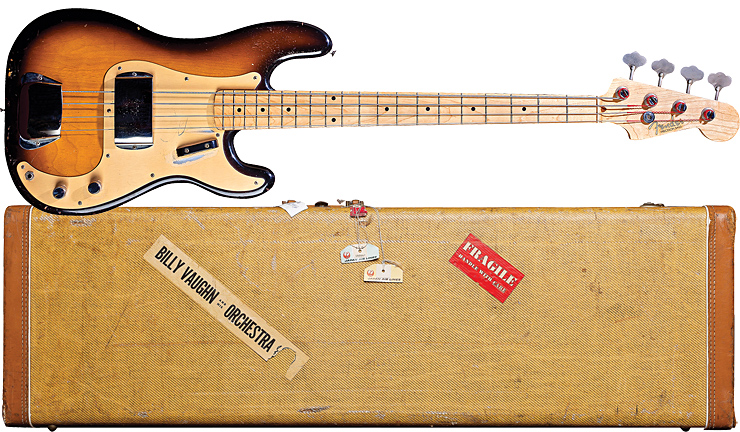 The P-Bass was used on those annual tours of Japan for about two decades, then was stored for nearly a quarter century.
Rich Vaughn didn't initally follow in his father's musical footsteps, but appreciates his musical history as well as the '57 Precision.
"After a life that ranged from surgery scrub nurse in the Navy to setting choker cable for a logging company to bartender, waiter, carpenter, concrete finisher, and finally getting a degree then spending 17 years as a Walt Disney Imagineer and owning my own theme-park-design company, I retired to ranch in New Mexico," he said. "After Mom died, I took over Dad's musical legacy as the director for the Billy Vaughn Orchestra, performing jazz standards and singing with the band – my only previous experience being singing in my car!"
The Billy Vaughn Orchestra now occasionally tours Japan, while Roach plays this bass in his trio, the Blitz Brothers.
"Given its history, there's a good chance I'm the first person to play blues or rock and roll on it!" he laughed.
---
This article originally appeared in VG's April 2015 issue. All copyrights are by the author and Vintage Guitar magazine. Unauthorized replication or use is strictly prohibited.
---