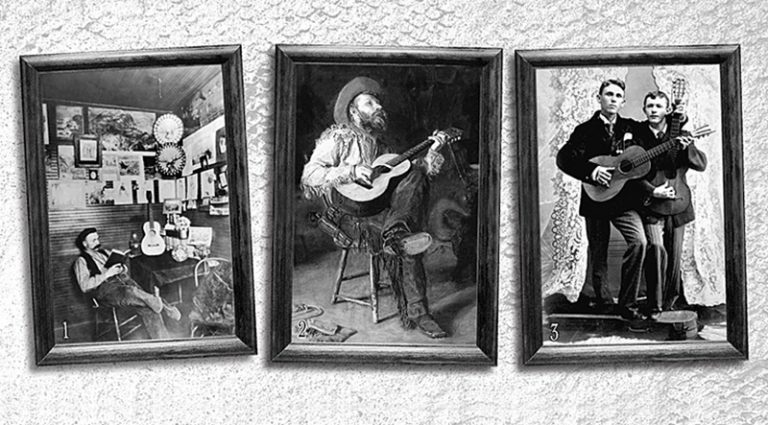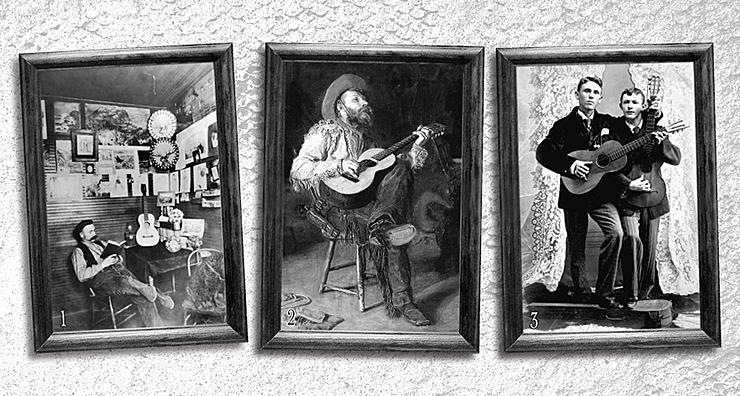 Ed. Note: In part two of his series on the guitar in 19-century America, Tim Brookes addresses the common belief that the guitar was strictly a ladies' parlor instrument by finding guitars being made – and played – by men. "Over the last century," began a recent guitar history, parroting conventional wisdom, "the guitar has evolved from a parlor instrument for young urban ladies." The remainder of the series can be read at Part One: The Guitar in Non-Anglo America and Part Three: Women.
In mid century, the guitar was one of the most popular instruments in America, played by men and women. It was Stephen Foster's first instrument, taught to him by his sister. And when "Old Folks at Home" was published in 1851, a contemporary observer wrote that the song "…is on everybody's tongue, and consequently in everybody's mouth. Pianos and guitars groan with it, night and day; sentimental young ladies sing it; sentimental young gentlemen warble it in midnight serenades; volatile young bucks hum it in the midst of their business and pleasures; boatmen roar it out… all the bands play it."
Septimus Winner, one of the most prolific and successful composers (now remembered for "Where, Oh Where Has My Little Dog Gone"), made almost 2,000 arrangements of various tunes and pieces for violin, guitar, and piano, not to mention writing and publishing instruction books.
When The Baltimore Olio and American Musical Gazette first appeared in 1850, the publisher promised that each issue would include at least six pages of music arranged for piano, guitar, flute and violin. These and other arrangements for guitar were, in at least some cases, quite imaginative, including effects intended to imitate hunting horns, trumpets, drums, and bugles.
Nor was the guitar merely an affectation of middle-class men. Farmers played guitars at barn dances and square dances. Miners took guitars to mining camps. Railroad workers took guitars when building railroads. Lumberjacks took guitars to logging camps. The showman Ossian Dodge, according to his biographer, earned $11,000 in nine months singing and accompanying himself on the guitar. Soldiers took guitars with them for companionship during the Civil War and whalers took them aboard ships. Basques bringing guitars settled in Oregon, Nevada, and Idaho; Portuguese bringing guitars settled in Massachusetts, Rhode Island, and California. Thomas Eakins, with his usual near-photographic precision, painted a scruffy cowboy playing his guitar at his kitchen table.
The guitar probably wasn't thought of as small or quiet: it was what it was, and when it came to music, as with much else in life, 19th-century Americans were used to taking whatever they could get and making the best of it. When a San Francisco-to-Chicago train was so badly held up by snow that the journey took three weeks, at one particularly long stop in Percy, Wyoming, the passengers (who included Susan B. Anthony, senators, Japanese princes, and a Russian count) held a "ball" in the back of a grocery store, with dance music "furnished by a guitar, a mouth-harmonicon, and a fine-tooth comb." By all accounts, the Times reported, "The pleasure was exquisite."
Mark Twain, very much a man's man, owned a Style 21/2-17 Martin (his sister supplemented the family income by teaching guitar and piano) that he bought used in 1861 for $10, and kept until shortly before his death. In Roughing It, Twain wrote that after he and the rest of his fellow newspapermen had put the paper to bed, they had "a relaxing concert as usual – for some of the printers were good singers and others good performers on the guitar and on that atrocity the accordeon."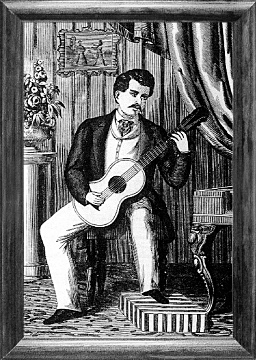 Guys were even playing guitar (or at least dancing to it) at hunting camp. Sounding almost exactly like Charles Dickens' Mr. Jingle in Pickwick Papers, Sir William Howard Russell gives a telegrammatic account of a day's sport: "Gunpowder River, Saltpetre River, facing Chesapeake; on either side lakes and tidal water; the owner, Slater, an Irishman, reputed very rich, self-made. Dinner at one o'clock; any number of canvas-backed ducks, plentiful joints; drink whiskey; company, Swan, Howard, Duval, Morris, and others, also extraordinary specimen named Smith, believed never to wash except in rain or by accidental sousing in the river. Went out for afternoon shooting; birds wide and high; killed 17; back to supper at dusk. McDonald and a guitar came over; had a Negro dance; and so to bed about 12:00."
Moving even farther up the macho scale, we find the guitar at logging camps. "Many might think lumberjacks longed for entertainment during the months they were isolated from their families and friends," wrote one veteran of the trade. "But they did not seem to mind being in the woods.
"In nearly every camp were those who liked to clog, tell stories, sing, and recite poetry. There was a various amount of talent along musical lines. Those who were fond of music usually brought a guitar, mandolin, banjo, violin, accordion, harmonica, or jews-harp to camp. From these instruments they had a lot of entertainment."
The guitar also went with men to war. Although the banjo was rising in popularity during the Civil War, several references speak of companies forming their own string or minstrel bands, including guitars. (Guitars also turn up in Pershing's army and with increasing frequency in the wars of the 20th century.)
In Belden, the White Chief; or Twelve Years Among the Indians of the Plains (1870), George Belden makes Army life sound pleasant, almost lyrical, thanks to its musical interludes: "It is near sunset, the bugles sound the halt, and the columns file off into camp. The cavalry horses are sent out to graze, the tents put up, fires lighted, and the suppers put on to cook… If the air is cool the Sibley stoves are put up, and the evening is spent in telling stories, playing at cards, and singing songs. Here is heard the thrumming of a guitar; there are a lot of officers playing euchre, and yonder a group of soldiers telling tales…"
It's commonly assumed that African-Americans didn't start playing guitars until the turn of the century, and then largely in the Deep South, but this, too, is a myth. A New York Times correspondent visiting Key West before the Civil War reported seeing Negroes playing guitars. A survey in Philadelphia in 1849 suggests that in a black population of 9,076, 32 were professional musicians and others were part-timers, such as the man who described himself as "Portrait Sign and Ornamental Painter, Daguerrotypist, Teacher of Photography, the Guitar and Singing."
One of the most famous guitar teachers, composers, and arrangers of the time was Justin Miner Holland (1819-1897), who studied at Oberlin and settled in Cleveland, writing music, composing, and teaching, though often in circumstances of considerable poverty. Holland was one of the few American composers whose works were known in the U.S. and abroad. He published three collections: Holland's Comprehensive Method for the Guitar, Holland's Modern Method for the Guitar, and Gems for the GuitarM.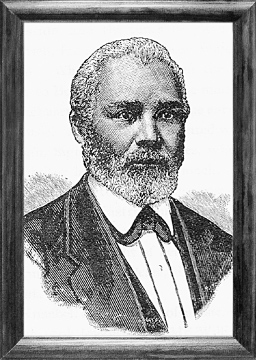 Holland's obituary in the Cleveland Plain Dealer said: "Professor Holland has made Cleveland his home for years, and sought in this city to create and maintain a love for the guitar and guitar music such as had never been here before. Time can tell how great was his success, but he stood foremost among the members of his profession, as his name is more widely known than any other American guitarist… He will be sadly missed in musical circles here, and it will be many years before Cleveland possesses another guitarist so gifted, so educated and so able to arouse a love for one of the noblest musical instruments."
The minstrel show is now often thought of as a vehicle for the banjo, but as is still the rule, musicians tended to play whatever they could get, and promoters tended to employ whatever musicians they could find. In The Music of Black Americans, Eileen Southern writes: "Life in a small [minstrel] company was pretty rough! There might not even be a band, just two or three musicians playing on banjos and guitars. On the day of a show, the manager would take his musicians to the site of the town's factories or mines to play during the workers' lunch hour in order to advertise the evening's show. In small towns, the troupe frequently had to clean the rented hall or schoolhouse or 'opera house' where the show was to be presented and to make its own scenery and footlights. After the show, the troupe might have difficulty in finding a place which would accommodate them overnight, particularly in small towns where there were few African Americans. Even in places where there were black residents, it was not easy to obtain lodging, for they were often too poor to provide it. Consequently, the minstrels sometimes found themselves sleeping in the unheated hall where the show had been presented, or in a railroad station."
Sam Lucas, the most celebrated minstrel in the U.S. in his time, was self-taught on guitar, but was also a ballad singer and actor, the first black man to play the role of Uncle Tom in Uncle Tom's Cabin. When minstrelsy faded toward the end of the 19th century, he went into vaudeville, then musicals, and even published collections of his songs.
Yet there seems to have been a change that took place toward the end of the century, perhaps around 1880, when the guitar started to become associated with foreigners, especially Italians.
In many instances, the guitar was depicted as a quaint feature of Italian culture, rather than of music in general. When the Italian liner Nord America collided with a barge near the Statue of Liberty, the Times writer chose to note that the Italians "had taken their shovels, guitars, and mandolins along because, the agent of the [steamship] line explained, 'They go home when the ground freezes up and return to this country again when it is time for it to thaw out. The shovels they use to dig up the little gardens and farms which most of them have, and the guitars are used in their Christmas and New Year's festivities, of which they think a great deal.'"
Another Italian-American quaintness was the musical barber shop. Several articles refer to the centuries-old tradition of the barber hanging instruments, especially guitars and mandolins, on the wall of his shop so his customers could strum away while waiting for a shave or a trim. One barber in Brooklyn, his shop suffering lean times in 1907, went a step further and began playing his violin from his doorway to draw customers. It worked so well that he brought in his cousin, another Italian-American barber, this time a guitarist, "And now the two are filling the shop nightly with customers, sometimes playing together and at other times entertaining with violin or guitar alone."
The barbers were on safe territory: they were playing on their own premises. Once on the street, the Italian-music lover was at the mercy of the Irish cop. Around the turn of the century Antonio Cacalle was arrested for playing "Cavalleria Rusticana" on a guitar, apparently as a serenade for someone in a house nearby, but a small crowd gathered to hear him. He was arrested for "collecting a crowd and otherwise violating the peace and dignity of the Commonwealth," but discharged by the magistrate, who said, "People will be arrested next thing for whistling in the street."
Here, the magistrate put his finger on something important; the fact that some cultures make music indoors, more or less in private, while others do it, as John Lennon said, "in the road." This was a distinction understood quite clearly by an importer in Union Square. Domestic woods from Northern Michigan or Minnesota, he told the newspaper, are best for mandolins and guitars to be played in the U.S., presumably because they resist drying. In Spanish and Italian-made instruments "the wood chips or cracks, and the cheaper grades become useless after a few weeks. Then the angry customers come around and take it out of me. In Spain and Italy mandolins and guitars are usually played out of doors and not in overheated flats and houses."
In turn-of-the-century America, though, music was different. Bands playing Sousa in the park were one thing; young foreigners playing guitars on the sidewalks were quite another. The guitar became a symbol of (and scapegoat for) certain foreign behavior that was not to be encouraged. Despite the precedent set by Cacalle, at least one young Italian was locked up for serenading his sweetheart from the street, an act considered disorderly conduct. And when a young Neapolitan in the Bronx serenaded several passing women, he was sentenced to 20 days in the workhouse.
This Latin flavor seems to have made Victorian-era Americans uneasy about the guitar. It seemed… well, unmanly. Unrugged. Latin. In 1878, the Times reprinted an article from the , Cornhill magazine of London on "The Guitar in Portugal," which begins, "The guitar is certainly, to our critical Northern eyes, an effeminate instrument, and a man who plays upon it in an English drawing-room can no more hope to preserve any appearance of manly dignity than if he were piping upon a flageolet, or blowing into that most ludicrous of all instruments – the flute."
By the end of the century, a series of volleys was ringing back and forth in the pages of the Times between male writers berating the guitar for sissiness and women writers telling the guys that they had no idea what women really like. Here's a novelist who catches exactly the woman's view of the romantic man late in the 19th century; "Jack Walthall… was tall and strong and handsome, with pale classic features, jet-black curling hair, and beautiful white hands that never knew what labor was. He was something of a dandy in Hillsborough, but in a large, manly way. With his perfect manners, stately and stiff, or genial and engaging, as occasion might demand, Mr. Walthall was just such a romantic figure as one reads about in books, or as one expects to see step from behind the wings of the stage with a guitar or a long dagger."
All this praise by women was too much for some to take, though, and the guitar, despite the way it was actually being used in the great American heartland, started to become something of a symbol for effeminacy. In his poem "The Guitar and the Drum," one B. Wolcott of Company B of the Tenth Illinois describes a young soldier with his old guitar, "Old and battered and dusty/A veteran covered with scars/Yet to me the most precious of treasures/The sweetest of all guitars/For a gentle spirit dwells in it/That speaks through the trembling strings/And in echo to my thrumming/A wonderful melody sings."
But the onset of war makes him realize that "'Tis no time now for idle strumming/Of light guitars: in that loud drumming/Is fearful meaning; the hour is coming/That for some of us will be the summing/Of all life's preparation."
The poem ends with the young soldier dying, and guitar and drum stand as the two poles between which his life has been moved. Another writer, quoting the poem, though, has no such tragic view. He editorializes: "How many a young heart has, in these later days, been turned from soft guitar-tones of idleness, to the brave, rattling measures of drum-life! It will do good, this war of ours; and many a brave fellow will, in after years, look back upon it as the school in which he first learned to be a thoroughly practical and sensible man." Albeit a dead one.

One aspect of the guitar was, apparently, exclusively male: guitarmaking.
At the beginning of the century, many instruments were imported – C.F. Martin started out in the U.S. not as a guitar maker, but as an importer of musical instruments of all kinds. But over the years, more and more guitars were made in the U.S.
All kinds of men, skilled and less-skilled, made guitars. In a pioneer age when people made their own tools and furniture, an unknown number made their own musical instruments, too, not all of which would have been of bottom-of-the-line cigar-box quality. Many Americans, especially in rural areas, were making their own guitars well into the 20th century.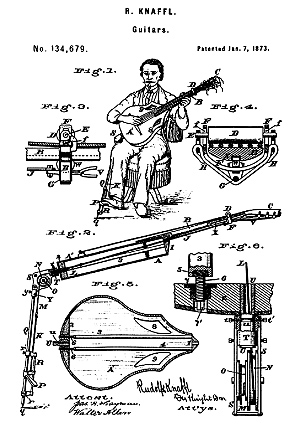 As for professional instrument builders, Christine Ayars' Contributions to the Art of Music in America by the Music Industries of Boston, 1640-1936 lists more than a dozen makers in 19th-century Boston alone.
Some made a handful of instruments, working at home. Some were high-profile luthiers, such as Charles Stumcka (who began work around 1842), Pehr Anderberg (circa 1880) who supervised the manufacturing of "Haynes Excelsior," "Tilton," and "Bay State" guitars and "Bay State" mandolins for John C. Haynes & Co., Vega (1881) who made guitars and mandolins before they made banjos, and Charles Stromberg (1887), whose company would go on to make some of the most sought-after archtop guitars.
Some worked alone but nevertheless provided a full-service operation, like John A. Palm (active in Boston 1897-1904), a Swede "and one of the best mandolin and guitar makers in Boston." His ads covered it all: "Makers of high grade mandolins and guitars – violins, zithers, banjos, strings, and findings at lowest prices. Music instruction books. Repairing promptly attended to."
The Anderberg family alone illustrates how much variety existed. Pehr A. Anderberg started out making guitars in Mt. Vernon, New York, around 1870, then moved to Boston to supervise the making of several lines of guitars (and mandolins) for Haynes. His son, Ernest, worked for Haynes, while his father was there. When Pehr went into business for himself, Ernest went with him. "Then he was with the Snedeker Company of Winchester, Indiana, after which he went to Philadelphia to start making guitars and mandolins in a small way for George Bauer, who owned a music store there…"
So there you have it: luthiers worked on their own, for their families, for small and large manufacturers and for music stores, who employed repairmen – and those repairmen, as is still the case today, made their own guitars on the side.
And it's a sign of the guitar's popularity that a surprising number of inventors thought there would be money in building a better guitar.
The "New Patents" section of Scientific American reports countless "improvements" in the guitar, some by well-known and successful guitarmakers such as William Tilton of New York, and James Ashborn of Wolcottville, Connecticut, others by any number of forgotten tinkerers. One invention used a guitar as an amplifier to create a "Singing Telephone for Schools," claiming "The apparatus transmits musical sounds any distance and with undiminished power, and can be used for transmitting the singing tones of voices and instruments."
The famous scientist Michael Faraday demonstrated that if you connect a piano on one floor of a building by means of a rod running through a hole in the floor to a guitar on the floor above, and then play a note on the piano, "the sound seemed to issue from the guitar as loudly as if the instrument were in the room, but the instant the connection was broken between the rod and the guitar, no note could be heard."
Scientific American reported in 1852 that all kinds of instruments were being made of Gum Elastic. "It is said that not only flutes are made of India rubber, but canes, violins, and guitars! Indeed, by some new process the material is made so hard that it is difficult to find tools with which to work it." This seems to prefigure Maccaferri's plastic ukuleles and guitars, and, perhaps, Ovation.

No survey of guitar players of that age would be complete, though, without going beyond women and men into the less-expected realm of ghosts and animals.
The late 19th century was the age of spiritualism, and spirits and mediums seemed to have a particular fascination with guitars. A famous medium (from the early 20th century, actually) ostensibly made spirit hands play a guitar on stage, and in rebuttal, a magician, a forerunner of the Amazing Randi, claimed to debunk the medium by achieving the same end through stagecraft. A "small guitar," reports the Times, placed on a table, is "played upon as it is seen to float about."
Yes, ladies and gents, there's no end to the bizarre company that the guitar kept. It even turned up in an obituary for a trained pig.
"Burry, the lion, killed Strenuous Lifer, the pig, in Luna Park, Coney Island, yesterday afternoon," reported the Times. "It happened because the trainer tried to hurry the pig act on too soon, and the pigs coming in met the lion going out of the cage. The late pig is said to have been worth $700.
"Strenuous Lifer was a wonderful pig. He could sit down at a table, with a napkin around his neck, and eat a full meal, from soup to cheese, without soiling the linen. He had many other tricks, such as playing on a guitar and sleeping under a coverlet."
Read Part One: The Guitar in Non-Anglo America and Part Three: Women.
---
Tim Brookes is director of the writing program at Champlain College and the author of Guitar: An American Life, published by Grove Atlantic Press.
---
This article originally appeared in VG's Dec 2005 issue. All copyrights are by the author and Vintage Guitar magazine. Unauthorized replication or use is strictly prohibited.
---