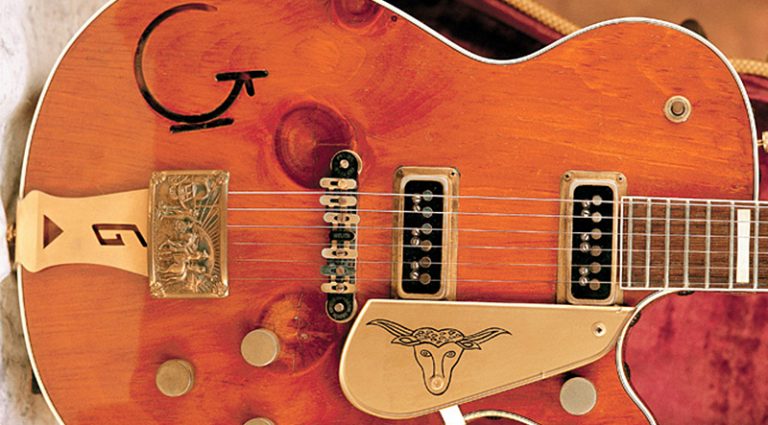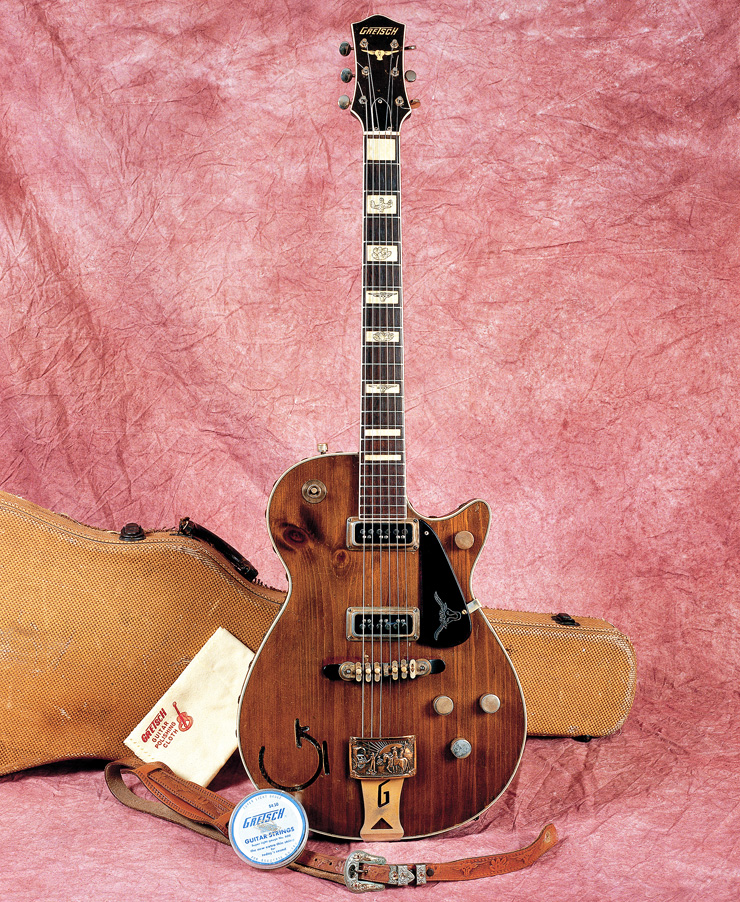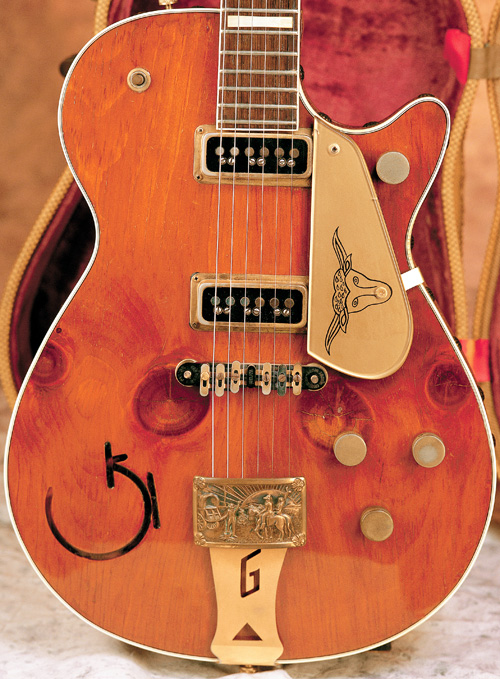 In 1954, what could possibly be more "contemporary Western" than a Gretsch Round-Up? Introduced in 1954, the Round-Up (listed in Gretsch literature as model PX6130) and the Rancher (PX6022) were trend-setting instruments with eye-catching finishes and ultra-hip-looking appointments. Appropriately, Western-designated models were the company's first two instruments to be adorned in a sharp looking "modern western" trim. The Western look was so popular it was used to sell a dizzying array of products, many of which were not obviously "Western" – everything from guitars to chocolates (Texas-based Pangburn marketed eight assortments, including "Round Up Chocolates")
First-year versions of the pine-topped mahogany Round-Up don't turn up often. Same holds true of first-year Ranchers. In the case of the Round-Up, it's likely a function of price, and in turn, small production totals; it retailed for $300 in '54, sitting atop the Jet quasi-solidbody line. That $300 got quite a bit, including looks (a rugged finish, Western trim galore, shiny gold-colored parts) and sound to die for courtesy of a routed body and twin DeArmond pickups. Contrast its price with Fender's Telecaster and Stratocaster, which sold for about $189.50 and $229.50 (without vibrato), respectively… Well, the Tele and Strat didn't have that keen Western look or those DeArmond pickups!
With the a prominent G brand on its top, block fingerboard markers with pantographed cows and cactus inlays, orange/brown finish, steer's head inlaid on the headstock, tortoiseshell pickguard with steer's head engraving, belt-buckle-shaped tailpiece with a chuck wagon/campfire scene right down to the tooled leather edge trim, the ornamentation defines the look (and persona) of this instrument. Speaking of tooled leather edge trim, the "upholstery tacks" (studs) used to affix the tooled-leather edge trim were used by Gretsch as far back as the '30s to affix the round emblem to certain drums. They were used to affix the leather edge trim on the early version of the Chet Atkins Model 6121 and around the edges of Gretsch's Electromatic amplifiers.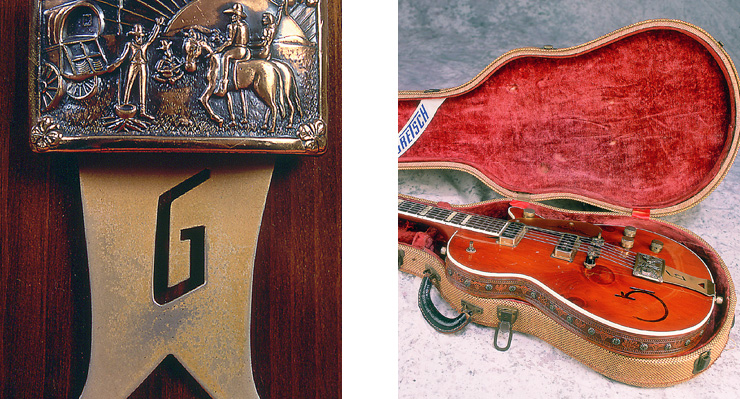 In addition to the ornamentation, early 6130s had fingerboard markers beginning at the third fret, tops that occasionally contained multiple knots, and gold-colored control knobs with plain tops.
Except for the regular price increases and minor structural cosmetic alterations (like tops made of varying materials, additional pieces of binding, the size of the truss cover, and slight changes in the fingerboard markers), the 6130 underwent few significant changes in 1955 or '56. After model year '56, the 6130's history and appearance becomes very difficult to document because Gretsch literature offers no pictorial examples, and the guitars virtually never surface.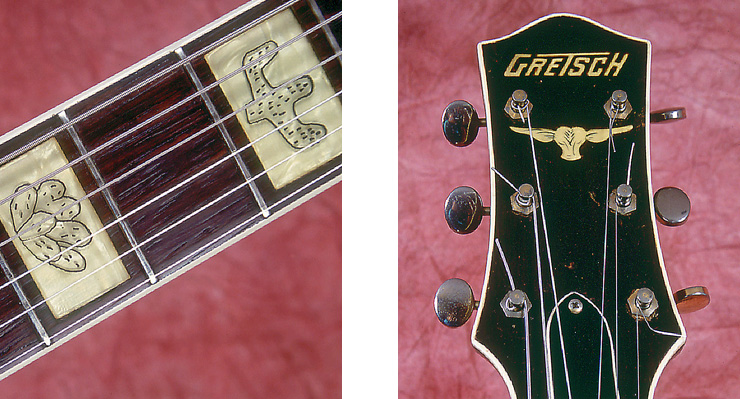 The 1958 Gretsch Project-O-Sonic flier is the last piece of literature that mentions the 6130. The Round-Up is listed on the back page as available with Gretsch's Filter-Tron pickups, a space control bridge, and neo-classical fingerboard. However, there is scant evidence this version exists. And while absence isn't conclusive evidence of its availability, a dearth of post-'57 examples means it's unlikely Gretsch produced the 6130 in any quantity in '58 or '59. It appears that by 1960, the Round-Up was dropped from the Gretsch line. And, while it disappeared during the '60s, the Western look was re-born in '74, in the guise of the Country Roc. Today, the original Round-Up lives on (at least in spirit) as the "Roundup" revived once again when the Fred Gretsch company re-entered the guitar business in 1989.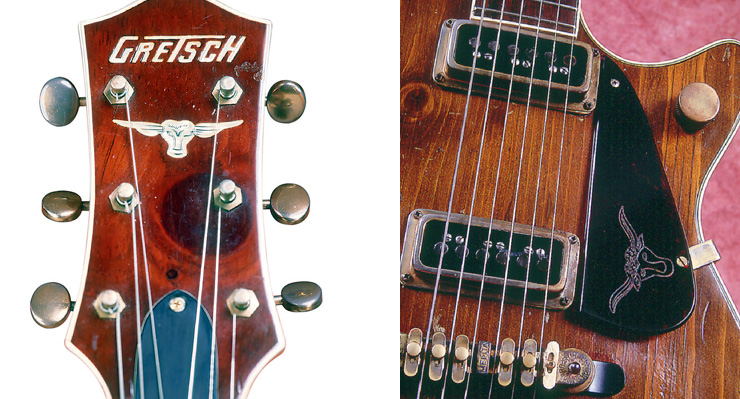 ---
You can receive more great articles like this in our twice-monthly e-mail newsletter, Vintage Guitar Overdrive, FREE from your friends at Vintage Guitar magazine. VG Overdrive also keeps you up-to-date on VG's exclusive product giveaways! CLICK HERE to receive the FREE Vintage Guitar Overdrive.
---
This article originally appeared in VG Classics June 1995 issue. All copyrights are by the author and Vintage Guitar magazine. Unauthorized replication or use is strictly prohibited.
---