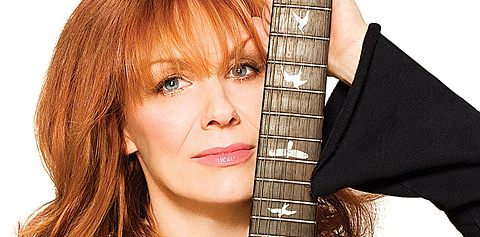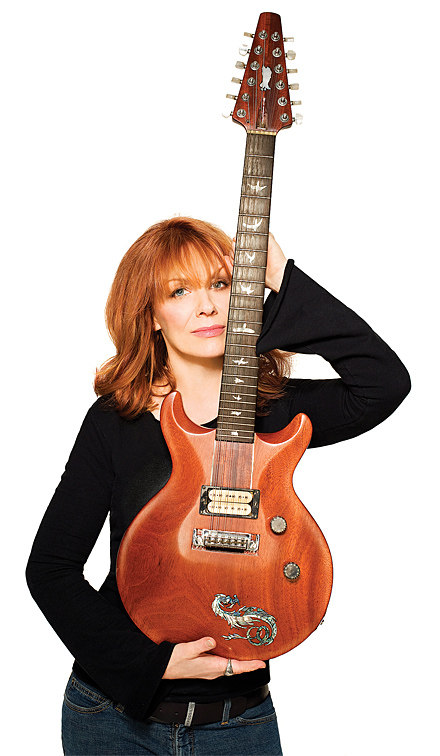 After the release of the acclaimed Red Velvet Car in 2010, sisters Ann and Nancy Wilson and their band, Heart, could have rested on their laurels. Instead, the sisters went straight to work with producer Ben Mink on a set of songs that flowed from the collaboration. Where Nancy's guitar contributions on Red Velvet Car had an acoustic theme, the new release, Fanatic, is laden with heavy guitar tones and memorable riffs. In the midst of a hectic touring and promotional schedule intensified by having released a book, Kicking and Dreaming, VG spoke with Nancy soon after she received her star on Hollywood's "Walk of Fame" in late September.
Listening to the guitar tones on Fanatic, one gets the impression you put a lot of thought into each track. What was your goal while recording the album?
The heavy guitar sound largely comes from two electrics Ben and I used most – my '61 Les Paul Junior, and a guitar I designed for Gibson just before Heart went on the blocks for awhile in the early '90s. Gibson ran with it, calling it the Nighthawk – the "Strat Killer." I'm looking to reissue it with Gibson and call it the Fanatic.
Ann announced her recovery from substance abuse issues a couple of years ago. How has her sobriety affected your music and the process of creating it?
Ann has resurfaced as a more brilliant, alive, and proficient singer/songwriter. She has become so open, vital, and finding her absolute best greatness. Everything got better on every level.
The title song from Fanatic is dark and intense. What does it mean to you, and why did you decide to use it as the title of the album?
Ann came up with the title. The song is her perspective on the way I've always been an impossible, unrealistic love zealot. And now in my case, it has paid off in the most romantic way. She saw it all first-hand and wrote about it. Also, the word sounded like an album title.
Is there special meaning to the song "A Million Miles?"
It may not dawn upon listeners when they hear the song, but that's a unique cover of the Peter, Paul and Mary hit, "500 Miles." It's actually a tip of the hat to "500 Miles," and there's an older, public domain folk song we borrowed from. Songs like that are deceptively simple while they speak to the whole human condition.
In the last year, you've married, received a star on the Hollywood Walk of Fame, published a book, and recorded the album…
We've been working all our lives for a year like this. Once in a while, all the components converge.
Have you made any gear changes since we spoke to you last October?
Besides the custom Gibson Fanatic electric prototype, I've added a couple of Budda HD30 amps, a Toadworks Barracuda pedal designed by Ryan Dunn with our original guitarist, Howard Leese, an Electro-Harmonix Small Stone phaser for "Fanatic," and an E-H Holy Grail for "Dear Old America."
There are songs on the new album that have a strong Led Zeppelin vibe, instrumentally speaking, while Red Velvet Car had a different sound and feel.
On Red Velvet Car, we wanted to rock the heavy acoustic. On Fanatic, we wanted to rock the heavy electric.
On "Rock Deep (Vancouver)," you pay homage to your early years in Canada, right before "Dreamboat Annie" became a hit. What invoked the imagery in that song?
We traveled through Vancouver with Charles R. Cross, our biographer, and went back to the spots where we first grew the band. Ann came up with the words soon after. Ben and I had a guitar jam that we shaped into the song – a sweet one!
"Dear Old America" adds a twist to the typical protest song. It speaks to the heart about our returning veterans. Coming from a military family, was it an easy song to write?
I had the title in my head as we traveled America by bus again. We see the good people and the pain of the families whose heroes are serving the country. Being Marine Corps brats, it fell together very naturally and has some of Ann's best lyrics, ever.
When some fan pays their hard-earned money to buy a ticket to see Heart, what do you feel is your obligation to them? What drives you, and what is your focus when presenting your songs in a live setting?
The whole reason to be a working, touring band, is to honor the people who show up to support the music. Being a fan, myself, who goes to rock shows, I understand how beautiful the exchange is between the fan and the artist. It goes both ways. As soon as it becomes all about posing or about the money, then it's bulls**t!
Nancy Wilson is the real deal – an authentic rock-and-roll guitar player who makes real music with her sister. And while many established artists fall prey to having their musical legacies defined by one or two early songs, the two are driven to add new, relevant music to their list of hits.
---
This article originally appeared in VG January 2013 issue. All copyrights are by the author and Vintage Guitar magazine. Unauthorized replication or use is strictly prohibited.
---