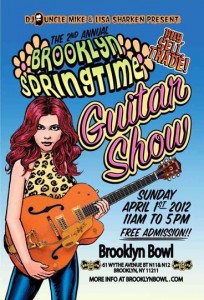 The second annual Brooklyn Springtime Guitar Show happens Sunday, April 1, from 11 a.m. until 5 p.m. at the Brooklyn Bowl, 61 Wythe Avenue (between N11 and N12)
.
 It will include an assortment of vendors selling new, used, vintage, and handmade guitars, amplifiers, effects pedals, guitar strings, picks, straps, and other guitar-related goodies. The buy/sell/trade event encourages visitors to bring gear t
hey might want to sell or use for a demo
. Admission is free.
The Brooklyn Bowl offers a mix of 16 bowling lanes, food by the Blue Ribbon restaurant, a full bar featuring Brooklyn Brewery beer (brewed next door), nine high-definition video screens, and state-of-the-art sound system. Learn more at 
facebook.com/BrooklynGuitarShow
.