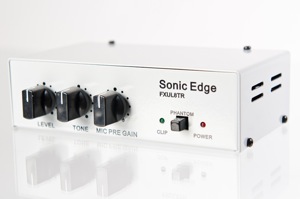 Sonic Edge now offers  the FXUL8TR pedal, the fourth product in its boutique guitar and bass effects line.  The pedal adds studio quality effects to any amplifier, without the need for a built-in effects loop.The FXUL8TR provides a JFET buffer-isolated signal from any guitar or bass amplifier speaker output jack, to a line level signal that feeds an effects processor. The wet only output of the effect can feed another amplifier's effect loop return or a power amp with speakers, to create Dry/Wet and Wet/Dry/Wet setups.The FXUL8TR also features a standalone microphone preamp with phantom power for performance and recording, or as a second feed for Dry/Wet and Wet/Dry/Wet setups. The user can also blend the two signals before feeding an effects chain, or signal out to another slave amp.
Sonic Edge pedals are available directly on Sonic Edge's website and at select dealers worldwide.
For more information, visit sonicedgeinc.com.