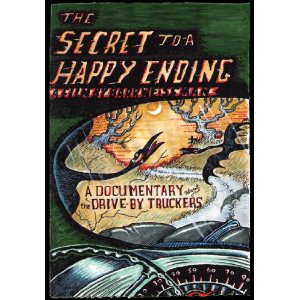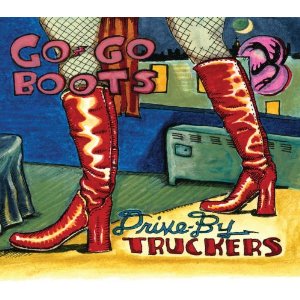 It's been less than a year since the Drive-By Truckers released The Big To-Do, but the songs on Go-Go Boots don't suffer from the quick turnaround. An album considerably quieter than other DBT efforts, while its musical roots remain, it relies on a greater mix of styles focused on rock, country, and Southern soul.
Guitars on DBT records have traditionally been up-front in the mix. But here, the individual playing of Patterson Hood, Mike Cooley, and John Neff floats more gracefully in, out, and around that of the others.
The songs on Go-Go Boots written by Hood tend to relate darker stories; "Ray's Automatic Weapon" tells of a gun and a guy on the edge. "Used to Be a Cop" is a creepy tale of a fellow for whom things didn't quite work, where atmospheric slide interacts with a constant one-note guitar fill. As the song ends, a cacophony of guitars backs its chaotic lyric. "The Fireplace Poker" is eight minutes of bad guys, murder, and a preacher joining his wife in death.
Cooley's contributions are straight country songs. They tell stories too; "Pulaski" tells the tale of a girl who leaves her Tennessee home town, looking for the good life. Cooley's husky voice is the perfect delivery vehicle.
Bassist Shonna Tucker's songs are tight pop music highlighted by her soaring voice and a pop/soul feel. "Where's Eddie" has a great hook and big vocal. The Secret to a Happy Ending documentary DVD is a perfect introduction to the band. Interviews with band members highlight how it has come to its current lineup (and why guitarist/writer/singer Jason Isbell is not), while others (including a college professor) try to explain why the Drive- By Truckers are one of the best rock bands of any era.
This article originally appeared in VG's April '11 issue. All copyrights are by the author and Vintage Guitar magazine. Unauthorized replication or use is strictly prohibited.