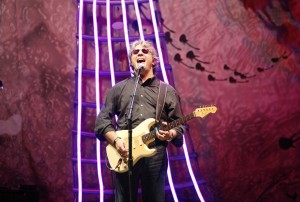 Classic rock will meet classical music when Steve Miller joins the Pacific Symphony Youth Orchestra for the premiere of Rock Symphony at the Steve Miller Amphitheatre at the Fender Center in Corona September 17. The stage was named in Miller's honor for his decade of work on behalf of the Fender Center's Kids Rock Free music education program.
Miller will perform some of his greatest hits including "The Joker," "Fly Like an Eagle," "Abracadabra," and "Hey Yea," off his critically acclaimed blues album Bingo arranged like never before by Conductor Rune Bergmann with jubilant participation by the Pacific Symphony Youth Orchestra and Fender Center's KRF rock band, the Fender Benders. For special treats, audiences will enjoy the music and interaction of violin virtuoso David Coucheron and concert pianist Julie Coucheron.
This event will raise money for the 1,000-child waitlist for KRF, and celebrates the 800 children who received free/ low-cost music lessons as a result of KRF's efforts since 2009 and further bring awareness to the program.
The event will feature all access to the museum exhibits, a silent and live art auction. To learn more, visit FenderCenter.org.