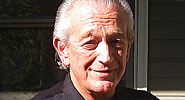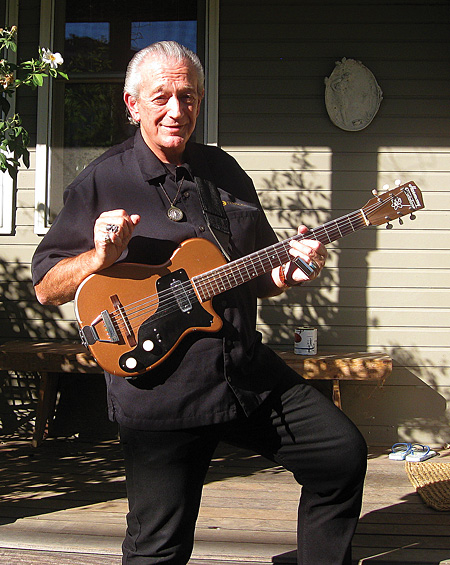 In a career spanning 45 years, Charlie Musselwhite has taken the blues to places it's never been – literally (playing every corner of the globe) and artistically (on his two dozen solo albums and backing such diverse artists as Tom Waits, INXS, Doc Watson, Bonnie Raitt, Eliades Ochoa, Eddie Vedder, the Blind Boys Of Alabama, the Kodo drummers of Japan, and Cyndi Lauper – in addition to blues greats like John Lee Hooker, Big Joe Williams, John Hammond, and Jimmy Witherspoon).
One of the greatest blues-harmonica players in the history of the genre, he has occasionally shown his six-string talents on stage and on record – as with his latest CD, The Well (Alligator). His first all-originals album, it's also his most personal – dealing with his years of alcoholism ("Dig The Pain"), his subsequent recovery (the title track, inspired by the rescue of Baby Jessica), and the 2005 murder of his mother ("Sad And Beautiful World," featuring Mavis Staples).
Growing up in Memphis, Musselwhite got his first guitar – an f-hole Supertone acoustic – as a hand-me-down from his father, who played country music non-professionally. "I was 13, and I just wanted to play blues," he recounts. "I remember the first time I made an E chord and then put my little finger down to make that E7 – it was like, 'Yeah, that's it!'"
Instead of the typical garage-band apprenticeship, Musselwhite and author/record producer George Mitchell scoured the Delta in Charlie's 1950 Lincoln, looking for blues players. "George, who was my age, knew more about the history than I did. That's how I met Fiddlin' Joe Martin, who knew Will Shade."
Still a teenager, Musselwhite befriended bluesmen 50 years his senior, like Shade (from the Memphis Jug Band) and Furry Lewis. But this was not some student/teacher, academic relationship. "I wanted to learn guitar, but I also enjoyed their friendship," says Musselwhite. "Sometimes we'd just sit around and listen to the ballgame on the radio. I wasn't plying them with questions or 'show me this, show me that.' I actually wish I had asked more questions like, 'Who did you learn from?' But I just took it as it came. They were funny, and I could drink with them, and I was interested in the girls who hung around there. I eventually became really good friends with Furry. Sometimes I'd end up spending the night at his place if I got too tipsy."
Moving to Chicago after high school, Musselwhite's harp playing soon reflected his urban surroundings, but his guitar playing remained rooted in country blues – vividly illustrated on 2003's Darkest Hour (Henrietta Records). "Will Shade, Furry Lewis, and also Memphis Willie B. – Willie Borum – formed the foundation of everything I still play today," he explains. "When I got to Chicago, there were tons of guitar players and not many harmonica players. I started getting jobs on harmonica, so I focused on that, and my guitar playing just sort of leveled off where I was at when I left Memphis."
Two guitar influences in Chicago were John Lee Granderson and Big Joe Williams, whose backup band was sometimes "Little Mike and Memphis Charlie" – a.k.a. Michael Bloomfield (in this case, on piano) and Musselwhite. "For a short time, Joe and I lived in the basement of the Jazz Record Mart and then behind Bill Chavers' Old Wells Record Shop. John was really an amazing guitar player, though it's not evident from anything he left on record. He was a real interesting guy, and wanted to show me stuff on guitar. He also tried to show me how to play in the key of H," he laughs. "He went into a lengthy explanation of why it couldn't be any key but H."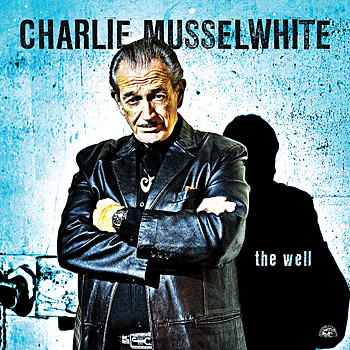 In recent years, Musselwhite's main guitar was a Gibson Nighthawk ("has a great tone for blues"), before he found his ultimate six-string. "I remember Luther Tucker talking about playing a 'Strat' with Little Walter – meaning a Harmony Stratotone, not a Fender Stratocaster," he details. "John Hammond got a reissue and so did Tom Waits. What I liked about it was that fat neck. I felt like I could really dig into it, and it just seemed so perfect for blues – the way it felt and sounded. Smokey Hormel and Marc Ribot both had old ones, and Marc said, 'You know, it's really the only guitar worth having.' Coincidentally, a few days later, Blewett Thomas, an old friend who was friends with Big Joe Williams, told me there was one [for sale] cheap. So I snapped it up."
He plugs the guitar straight into his amp of choice. "I like the red-knob Fender called The Twin. Most people hate that amp. I don't know why they go on about how it has such a terrible tone. It's got a killer tone. It's heavy – it's a bear to carry around – but it's got tone to spare."
The guitarists Musselwhite has employed on bandstands and in the studio – from Tucker and Bloomfield to Louis Myers, Robben Ford, Fenton Robinson, Freddie Roulette, Junior Watson, Charlie Sexton, Ben Harper, and (on The Well) Dave Gonzalez – are as varied as they are impressive. But Musselwhite always lets them be themselves, as long as they bring taste and excitement and are playing from the heart. "Gonzalez is a great example," he offers. "Whatever he plays – and he can play just about any style – it's with consummate taste. Never overplays; it's never 'Look at what I'm doing' – or how fast or clever he is. Instead of showing off your technique, you use technique to support the music. Some people forget about the music, and it's all about technique. I've got no use for that."
Just as he has nurtured a new generation of blues players, like Kid Andersen and Matt Stubbs, the Blues Hall Of Fame inductee is a direct link to music going back a century. "I just know that when Will Shade was a kid on Beale Street, an old man taught him guitar. The first tune Will learned from that man was the first tune he taught me. So that's a link. I also soaked up his harp playing, and so did Walter Horton. Then in Chicago, I was soaking up more from Walter – and we'd had the same teacher."
---
This article originally appeared in VG December 2010 issue. All copyrights are by the author and Vintage Guitar magazine. Unauthorized replication or use is strictly prohibited.
---
---