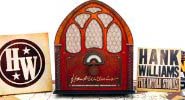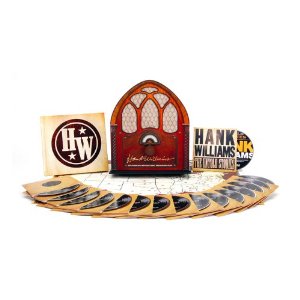 This 15-CD, one-DVD collection features 143 Hank Williams sides that had never appeared together in an official release, and were once thought lost.
This elaborate limited-edit ion package includes a healthy amount of biographical information on Williams, his family, and his band, the Drifting Cowboys, along with detailed notes, anecdotes and great pictures.
The CDs contain 72 expertly restored and remastered episodes of Hank's "Mother's Best Flour" radio show, recorded for broadcast on Nashville's WSM when Williams was on the road and couldn't appear live. By 1951, when the show started, he was at the peak of his popularity with no problem attracting great players. The group was expert at getting things right the first time and the shows were done as though they were live, complete with Hank doing commercials and VD-prevention PSAs. Loose, funny, and relaxed moments alternated with near-perfect performances.
Since he was surrounded by great soloists like fiddler Jerry Rivers and steel guitarist Don Helms, Williams' rhythm guitar has usually gone unnoticed. These recordings shed new light on his contribution to the instrumental side of his music. They'll also inspire or reawaken an appreciation for Helms, a brilliantly innovative player whose influence can still be heard a halfcentury later in the work of later players like Cindy Cashdollar and others and whose steel guitar was as important as Williams' voice was to defining the Hank Williams sound which became one of the most influential elements in the shaping of early country music.
On the DVD, titled The Untold Stories, Helms, good friend and opening act Big Bill Lister, and WSM engineer Glenn Snoddy (who worked on the original recordings) reminisce about Hank with his daughter, Jett. The stories are funny and touching, but it would have been nice if some performance footage of Hank or an interview with Hank Williams, Jr. had been included. But you can't have everything, even though 18 or so hours of Hank Williams music comes pretty close.
---
This article originally appeared in VG's Dec. '10 issue. All copyrights are by the author and Vintage Guitar magazine. Unauthorized replication or use is strictly prohibited.
---