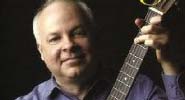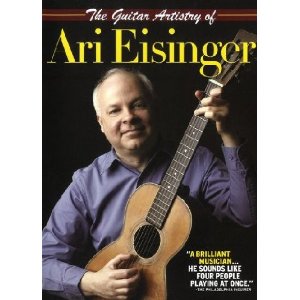 Ari Eisinger doesn't look like your typical bluesman. A science teacher, maybe, but not a blues singer/guitarist. Which proves Willie Dixon's line – "You can't judge a book by looking at the cover."
Behind his low-key demeanor and DIY aesthetic, Eisinger can play the blues – specifically country blues of the '20s and '30s – about as well as anybody alive. The Philadelphian has released only two CDs on his Second Wind label (his debut, You Don't Understand and 2005's That Will Never Happen No More) and, having tackled the styles of Blind Lemon Jefferson, Lonnie Johnson, and Blind Boy Fuller in previous instructional videos, he now climbs the Mount Everest of ragtime/blues – the music of Blind Blake.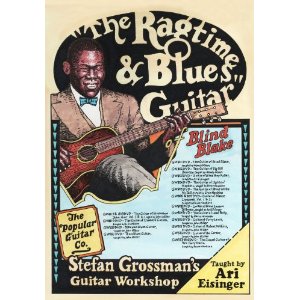 But the bigger news is the DVD devoted to his own playing, The Guitar Artistry Of Ari Eisinger. As is clearly evident by his graying, receding hair, the video was taped in two sessions. In the 2001 session, Eisinger plays a 1960 Gibson LG-1; in the '09 session, he plays a parlor-sized Stella Concert from approximately 1920.
After singing "Jesus Gonna Make Up My Dying Bed," a song usually associated with Josh White, the 52-year-old talks about his first guitar lessons with Roger Sprung and later studying with Bob Zaidman, as well as soaking up LP reissues of blues 78s. In the 90-minute DVD, he goes on to illustrate the influence of Mississippi John Hurt, Charlie Jordan, Rev. Gary Davis, and others, but as he shows in an improvised blues in E, he is more than a walking time capsule; he's got a few tricks of his own. And his singing is expressive and personal with a refreshing lack of affectation. As he explains, he didn't take the typical journey backward from rock and roll to blues; he wasn't aware of Led Zeppelin's cover of "When The Levee Breaks" until recently but already knew the original version by Memphis Minnie and Kansas Joe McCoy. Though they recorded it as a duet (with Minnie on lead), Eisinger plays a fantastic arrangement for solo guitar.
He makes a strong point concerning influential players versus artists who were just plain great, influential or not. Lonnie Johnson is an example of an extremely influential player who remains unsung. Eisinger makes the point that Johnson's single-string style influenced everyone from
Charlie Christian and B.B. King onward, illustrating it with a grab bag of Johnson licks (perfectly capturing his vibrato) in D.
As its title indicates, the double-disc, threehour Blind Blake DVD is instructional. Instead of talking about himself, Eisinger adopts the role of teacher and expertly dissects the intricacies of Blake's syncopated style. Along the way, he plays such Blake tunes as "Rope Stretchin' Blues," "Guitar Chimes," and "Southern Rag" – illustrating their various parts, slowly and up to tempo.
In the case of the Blind Blake set, a 56-page tab booklet (as well as a PDF version) is included. And in both cases (as with all Stefan-Grossmanproduced "Guitar Artistry" DVDs – Geoff Muldaur, David Bromberg, Paul Geremia, etc.) there are generous close-ups and split-screen shots of both hands. Music by guitar greats about other guitar greats produced by a guitar great.  
---
This article originally appeared in VG's Dec. '10 issue. All copyrights are by the author and Vintage Guitar magazine. Unauthorized replication or use is strictly prohibited.
---