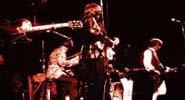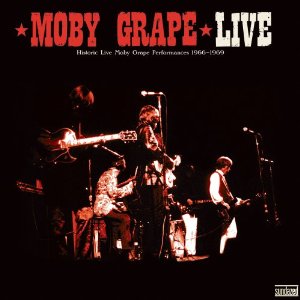 Most bands that comprised San Francisco's psychedelic scene circa 1967's Summer Of Love consisted of folkies gone electric (the Grateful Dead, Country Joe & The Fish, Jefferson Airplane). Moby Grape was one very notable exception.
The quintet's most lauded attributes were that all five members sang and wrote and did both exceedingly well on its self-titled 1967 album – easily one of the finest rock debuts ever. But the band didn't give anything up in the instrumental department either. Each of Grape's
three guitarists had a specific role – Skip Spence playing strong rhythm, Peter Lewis fingerpicking, and Jerry Miller playing lead. Miller and drummer Don Stevenson were refugees from the Pacific Northwest's high-octane scene and Sonics contemporaries like the Frantics. Lewis and bassist Bob Mosley were both from Southern California, where they played surf and soul music, respectively. But the band was formed around Spence, who'd quit the Airplane after drumming on their landmark debut to return to his first instrument.
Songs like "Ain't No Use" nailed country- rock around the same time the Byrds were morphing from folk-rock to the new hybrid. Mosley summoned his inner Otis Redding on "Mr. Blues." "Someday" could've been sneaked onto Beatles VI. But "Omaha" was the best of several twoand- a-half-minute masterpieces.
Last year's The Place And The Time (also on Sundazed) compiled live material with demos and outtakes, and in '78 three-fifths of the band released the lackluster Live Grape. But the first official collection of live recordings by the original lineup (including their entire incandescent Monterey Pop Festival set) illustrates another strength: how tight they were on stage. 
And, as if to show they could do more than craft catchy, compact ditties, the CD closes with 1966's "Dark Magic," a 17- minute instrumental raga on a par with any of their psychedelic contemporaries – the Dead notwithstanding.
---
This article originally appeared in VG's Aug. '10 issue.  All copyrights are by the author and Vintage Guitar magazine.  Unauthorized replication or use is strictly prohibited.

---