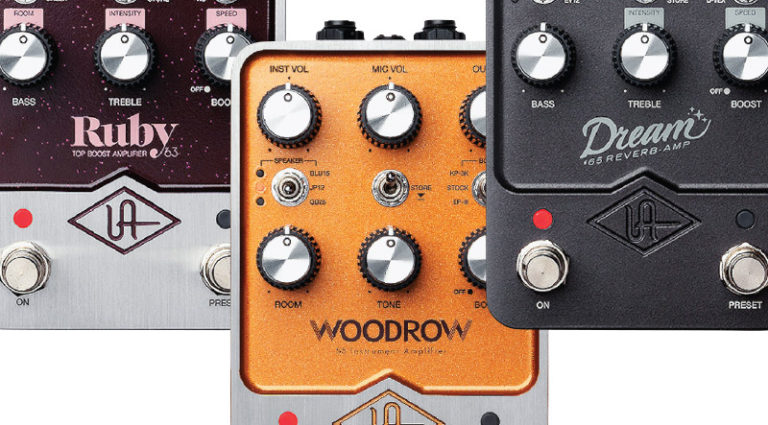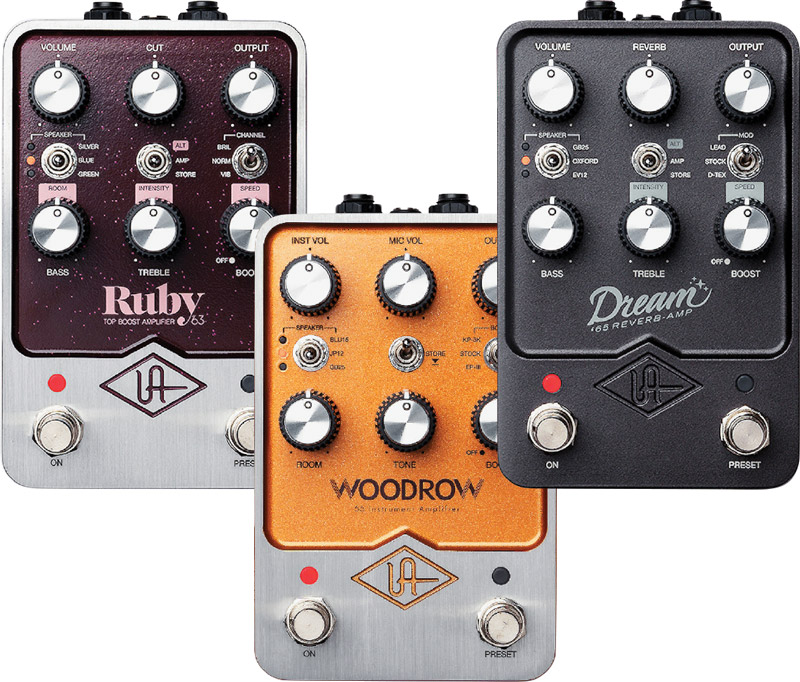 With digital recording more popular than ever, audio designers are working to capture guitar tone directly, without miking an amp. Universal Audio – renowned maker of studio gear – has introduced three pedals to get the job done, each modeled on a specific vintage amp.
The Ruby '63 Top Boost Amplifier is UA's tribute to Vox sonics, from The Beatles to Queen and zillions more, with two channels (Bril/Norm) and three speaker emulations, as well as a Vibrato circuit. Its Room effect adds a hair of reverby ambience. The best controls are the Cut, Treble, and Boost, which react just like an old Top Boost. When you turn up Cut, for example, you're reducing top-end response, re-creating that timeless tone. Crank the Gain to add throaty Brian May drive.
The UA Woodrow '56 Instrument Amplifier evokes a tweed Fender Deluxe, a Class A tube amp that sounds better the louder you crank it. You get three speaker choices as well as preamp boosters, including emulations of a Korg SDD-300 and Echoplex. The Inst Vol and Mic Vol knobs adjust levels for each channel, just like a '50s amp with both guitar and microphone inputs. For sounds, you can dial in all manner of rockabilly and Chuck Berry sizzle, all the way to Tom Petty twang. Dime the controls for tweedy overdrive – think Aerosmith's "Mama Kin."
Lastly, the Dream '65 Reverb Amp models a Fender Deluxe Reverb, useful for surf, West Coast jangle, and surprisingly rich distortion á la "Rocky Mountain Way." Speaker settings like Oxford give solid crunch, while GB25 and EV12 offer more Marshall-tinged tones when combined with the D-Tex preamp (a hot-rodded Stevie Ray circuit). Digital spring-style reverb conjures surf twang, along with a tremolo circuit. As on all three pedals, save a single preset by holding down the Store switch. They're also Bluetooth-enabled, so you can recall presets from your phone or device and connect via USB-C to download fresh sounds.
Of the three boxes, Dream is the heavy-rock box, with lots of headroom and clarity, while Ruby is a British Invasion time machine. Woodrow is for rock-and-roll purists. While pricey, all three are fun, hip, and deliver superior amp models.
---
This article originally appeared in VG's December 2022 issue. All copyrights are by the author and Vintage Guitar magazine. Unauthorized replication or use is strictly prohibited.