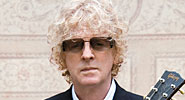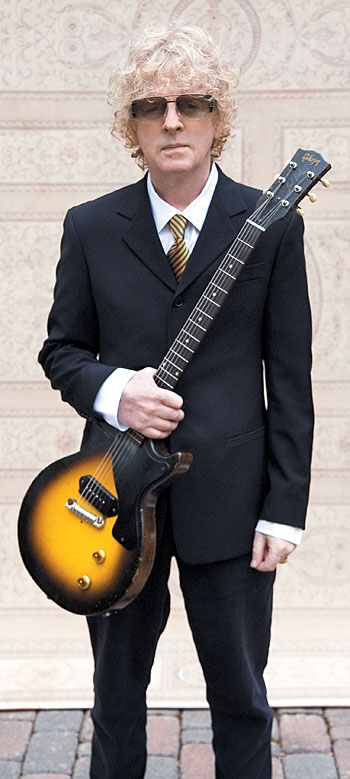 Ian Hunter is upbeat when he discusses his newest album, Man Overboard, and the upcoming reunion with old friends in England for a series of 40th anniversary reunion concerts planned for this fall by Mott the Hoople, the legendary British hard-rock band Hunter fronted from 1969 to the mid '70s.
The album hints the veteran musician is getting a bit more active of late, as it's his second release in a two-year span (following Shrunken Heads, from 2007). Asked how Man Overboard differs from Shrunken Heads, Hunter chuckled, "I don't really know. People are perhaps thinking it's a companion piece, but it's more like a regular album… though maybe a tad more autobiographical. I really had a good time making Shrunken Heads – there was such a good vibe in the studio. So I decided to pop back in!"
While recording acoustic-guitar parts for Man Overboard, Hunter played a Gibson Jumbo and a 12-string Takamine. He recounted that the Takamine was "…easy to play, and it records really well. Sometimes I use it to write; it often sounds like a low-volume electric."
Several tracks also feature baritone guitar played by various other guitarists, as well as banjo and mandolin.
Man Overboard's title track is intriguing, with its "wavy" 3/4 time signature. Hunter wrote the lyrics first, though, and the choice of time signature wasn't necessarily intentional, though he acknowledges it serves the song well.
The album has its share of typical Hunter commentary ("Politics is never ending," he observed dryly to VG), as well as straight-on rockers like "Arms & Legs" and "Up and Running." There are also quieter, more reflective tunes such as "These Feelings" and "Way with Words," as well as a sarcastic look at modern business environments ("The Girl from the Office").
All in all, Man Overboard contains the type of songwriting and arrangements that have always served Hunter well throughout his solo career.
However, one line in "Up and Running" will strike many as prophetic, as they'll surmise the line that states "I think I need another boost o' Mott the Hoople juice" alludes to the reunion concerts in England slated for October. Hunter clarified that he wrote the song before the reunion concerts were finalized, but added that he was looking forward to the shows.
Mott the Hoople was a British hard-rock aggregation that, in the eyes of many longtime fans, never received its due acclaim. The band began releasing albums in 1969, but didn't break out of cult status until its fifth effort, All the Young Dudes (produced by David Bowie) was released in '72. The original lineup consisted of Hunter on vocals, guitar, and piano, Mick Ralphs on guitar and vocals, Pete "Overend" Watts on bass, Dale "Buffin" Griffin on drums, and Verden Allen on keyboards.
Ralphs was a ferocious lead player who favored Gibson Les Paul Juniors, Watts was usually seen with a Gibson Thunderbird, and Hunter played Guild S-100s, more than one Gibson model, a rare Sardonyx guitar, and a custom-made instrument shaped like an H. Hunter had chronicled his jones for old Gibson guitars in his book Diary of a Rock 'N' Roll Star (first published in 1974, and reprinted several times since), and told VG he still appreciates such instruments.
By the time of All the Young Dudes, personnel changes were in the wind, and Allen left after that album's release. The band subsequently went through other membership changes – Ralphs helped form Bad Company and Hunter began his solo career.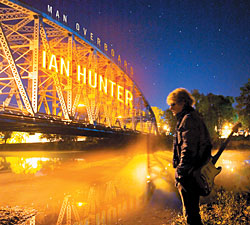 Curiously, Hunter confirmed that the idea of getting together some reunion shows with the original members for the band's 40th anniversary was Allen's.
"That's the funny thing about it," Hunter reflected. "I was doing an acoustic tour in England, and he turned up. He started talking about the 40th anniversary comin' up; I hadn't even realized it. It was one of those 'If we don't do something now, we never will' ideas. We'd actually gotten together a few times over the years, but decided not to do any shows."
As it turned out, Ralphs had to pull double reunion duty by teaming with Paul Rodgers and Simon Kirke on a brief Bad Company reunion tour in June and July. Original Bad Company bassist Boz Burrell died in 2006; the bassist for Rodgers' solo band, Lynn Sorenson, is holding down the low end, and Howard Leese, formerly with Heart, and also with Rodgers' backing band, is playing second guitar.
"I've gotten e-mails saying he's really, really good." Hunter said of Ralphs' recent efforts.
The Mott the Hoople reunion shows were originally slated for just two nights in October at HMV Hammersmith Apollo in London. However, demand for tickets pushed the number of performance evenings to five.
Hunter is looking forward to rehearsals with his former Mott bandmates, and predicted with a chuckle that they would probably not want to rehearse too much "…because we're not that kind of a band!"
He also left open the possibility that the band might take further steps beyond the Hammersmith concerts, such as recording some new material, but added that future plans aren't being discussed, as the members were anticipating the October shows and not looking beyond them… yet.
"We'll see what happens," Hunter said.
---
This article originally appeared in VG October 2009 issue. All copyrights are by the author and Vintage Guitar magazine. Unauthorized replication or use is strictly prohibited.