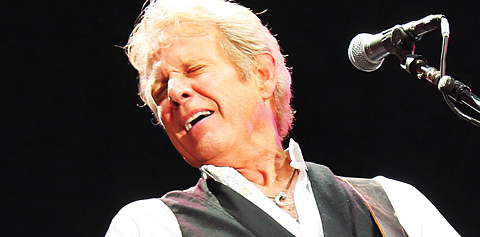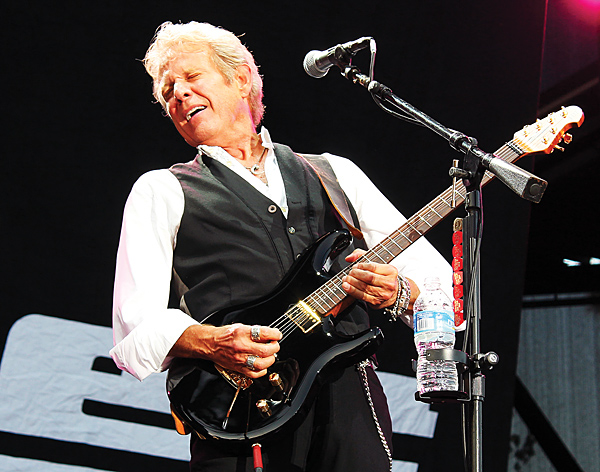 Former Eagles guitarist Don Felder is spending the summer with a few friends. On an extended tour with Styx and Foreigner in a package billed as The Soundtrack of Summer, Felder is truly enjoying himself.
"Since I left the Eagles, I've been doing 50 to 60 shows a year," he said. "Multi-headliners, summer festivals, casinos, private shows, corporate events. Pretty much Fridays and Saturdays, but this tour has been 42 shows in not quite three months. So it's been a long haul even if we've had breaks."
Felder's second solo album, Road to Forever, was recently re-released with four songs added to the 12 on the 2012 release; the new tunes were recorded at the same time as the others, and appeared on alternate versions of the album.
"I wrote 27 songs and recorded what I thought were the best 16 for a well-rounded record," he said. "After it had been recorded, my manager informed me that Amazon wanted an exclusive song, iTunes wanted an exclusive song, and so did Japan and Europe. I had to take four songs off for exclusives in certain markets, but that was only for a year. All that were intended to be on this record are now on the extended edition, but it actually should have been called the 'original edition!'"
One of the additions, "Can't Stop Now," features a talk box.
"One of the colors in my songwriting palette," he said. "I wrote 'Those Shoes' when Joe Walsh joined the band so he and I could play harmony talk boxes, like a couple of trumpet players. 'Can't Stop Now' has four talk box parts. It has a special timbre and tone, and it's a lot of fun to play."
As for the details regarding the summer tour, Felder recalled, "I've known Styx's individual members for a long time, and we first played together about 10 years ago at an Alice Cooper charity fundraiser. Tommy (Shaw) and I became fast friends, and he co-wrote a couple of songs on Road to Forever with me, and sang harmony vocals on them. We started doing more things together, and when this tour idea came around, I looked at the catalog of Foreigner, as well as Styx's repertoire, and my history of the songs that I co-wrote and recorded with the Eagles, as well as solo stuff, including the Heavy Metal soundtrack; I knew it was going to be a really great show. One of the nicest things is that this feels like a bunch of friends and family – we play golf together, we go to dinner together, and of course, we jam on each other's sound check! There's no tension at all, and nobody has to prove anything."
On the Soundtrack of Summer tour, Felder's arsenal includes two Gibson signature models that bear his name – a Les Paul and an EDS-1275 – along with a Music Man Luke (the signature model of Steve Lukather, who played on the title track of Road to Forever), a "parts" Strat-style instrument, and Taylor acoustics.
The camaraderie between bands also manifests itself onstage, as well. As one might expect, Shaw comes out during Felder's set to play harmony guitar and sing on "Hotel California," and Felder has been known to reciprocate during the Styx set on "Blue Collar Man." Other sit-in opportunities have occurred during the tour.
"The crowd really gets to see and hear something they would normally never experience in a show, and we're having a ball doing it," Felder enthused.
To mark the tour, a special CD featuring Styx and Foreigner material has been released. The album includes another newly recorded version of "Hotel California" by members of both bands; Felder rearranged the song and participated in the recording.
"I'd already done two versions," he noted. "There was the original version in '76, and the acoustic version, which starts with the flamenco guitar, on Hell Freezes Over. This time, I rearranged it with the idea that Styx and Foreigner members would be singing and playing. It's a great exercise for any musician to take a song and try to do rearrange it creatively, yet again."
Felder is proud that the new version of "Hotel California" has charted on classic-rock radio (as has "You Don't Have Me" from Road to Forever), and looks forward to further songwriting and recording in the near future.
"I'm trying to find a comfortable balance between my personal and professional lives," he said. "I'm much happier being able to play music as much as I want, and spending time with friends and family."
---
This article originally appeared in VG's October 2014 issue. All copyrights are by the author and Vintage Guitar magazine. Unauthorized replication or use is strictly prohibited.
---
---