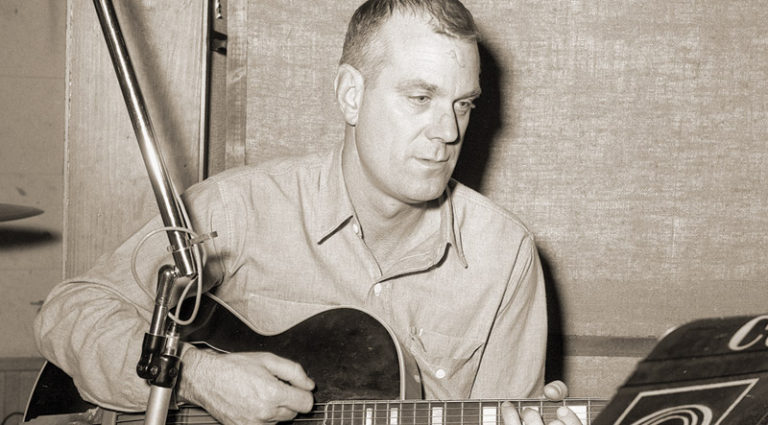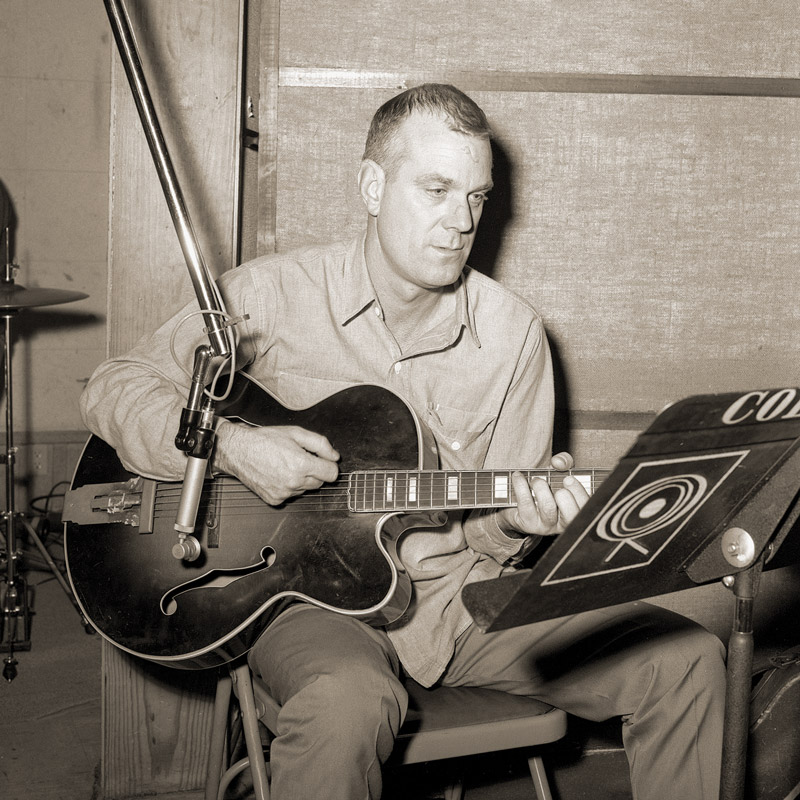 Ray Edenton, acknowledged rhythm-guitar master of Nashville's A-Team, died September 21 at his home in Goodlettsville, Tennessee. He was 95, and retired in 1991, after over 15,000 sessions.
"There was Ray playin' rhythm, and there was everybody else," said fellow A-Team guitarist and former Mercury Records Nashville producer Jerry Kennedy. "I hated to do a session without him. Unfortunately, he played in a situation where (rhythm guitar) was not noticed as much as everything else, but boy, was it felt!"
A native of rural Mineral, Virginia, Edenton's family loved square dances. One brother played guitar, another played piano. Edenton learned guitar, bass, and mandolin. Music, however, was a hobby; he drove a truck and dug wells locally before joining the Army during World War II.
Edenton returned to Virginia following his 1946 discharge. After two years playing regionally with the Rodeo Rangers, he relocated to Richmond in '48 to play upright bass with Joe Maphis' band, the Korn Krackers, on WRVA radio.
Arriving at Knoxville's WNOX in '49, he became friendly with Chet Atkins, then was one of the station's star performers before playing his first recording session, backing local singer Red Kirk.
After battling tuberculosis for more than two years, Edenton moved to Nashville in '52 and became a Grand Ole Opry staff musician. His first studio work came in '53; deciding to specialize in acoustic-rhythm guitar, he outfitted his archtops (including an L-5) with heavy-gauge strings.
Since not all early-'50s Nashville records included drummers, he devised a percussive snare-drum effect that enhanced the Red Foley/Kitty Wells hit "One By One," something he'd replicate behind other artists.
At other times, he toured with Opry stars Webb Pierce and Marty Robbins; with Robbins, Edenton recorded a '54 vocal duet as "Ray and Roy" and played the memorable amplified break on Robbins' '56 hit "Singing the Blues."
Edenton did some of his most memorable work with the Everly Brothers. Playing his L-5 with a high G string (an idea he picked up from Atkins), he and Don Everly strummed the aggressive intros Don devised for "Bye, Bye Love," "Wake Up, Little Susie" and "Bird Dog." Other producers quickly hired him to play similar licks.
As the smoother "Nashville Sound" style took hold in the late '50s, an A-Team guitar trifecta dominated many sessions; Hank Garland generally handled the jazzier work, Grady Martin tackled funkier solos, and Harold Bradley handled rhythm and tic-tac bass.
After the tragic 1961 car crash that ended Garland's career, Bradley took the jazz chair. Edenton became the rhythm specialist and, at long last, a full-time session player accompanying country, pop, and even rock acts.
When a song required amplified rhythm, he played three-note "chink" chords, using only one instrument – a one-of-a-kind black Gretsch prototype given to him by Atkins. He added lighter strings and replaced the original pickups with two custom-wound by Ray Butts.
Ray Edenton Plays Uptown Country Music, his only solo LP, featured his fleet, amplified flatpicking on a set of instrumentals. He played on jazz vibraphonist Gary Burton's 1967 Tennessee Firebird album, and on Neil Young's 1978 album, Comes a Time.
Singer Connie Smith fondly remembered Edenton, who accompanied her on many sessions, including her earliest recordings in '64.
"The A Team guys were kind of royal figures," she explained. "Ray was a part of that upper echelon, but he was really just a down-to-earth guy with lots of love in his heart for the music and the people who made it. His playing was so steady and solid. That's a pretty good description of the kind of person he was."
Marty Stuart, Smith's husband, met Edenton in '73, when he was a 14-year-old member of bluegrass great Lester Flatt's band, the Nashville Grass. At a session, Flatt asked Stuart to lead the musicians, Edenton included, into a song. Feeling nervous, he was unsure how to proceed.
"Ray must have seen the fear in my eyes, because he came over and talked to me, and told me how to do what Lester asked," Stuart recalled. "He was so kind. From that moment on, we were friends. l loved him. Ray was so cool.
"The rhythm guys never got the attention that Grady Martin or the steel or fiddle cats got," Stuart added. "But there's no doubt that all of the lead (guitar) hounds would be the first to tell you that Ray Edenton's right hand was often the glue and the heartbeat of the song.
"Go listen to The Osborne Brothers recording of 'Son of a Sawmill Man' and you'll find the genius of Ray Edenton waiting on you right there in the grooves of that record. He was a treasure."
Jerry Kennedy agrees. "Any accolades we could lay on that man, he deserves every one of 'em."
---
This article originally appeared in VG's December 2022 issue. All copyrights are by the author and Vintage Guitar magazine. Unauthorized replication or use is strictly prohibited.