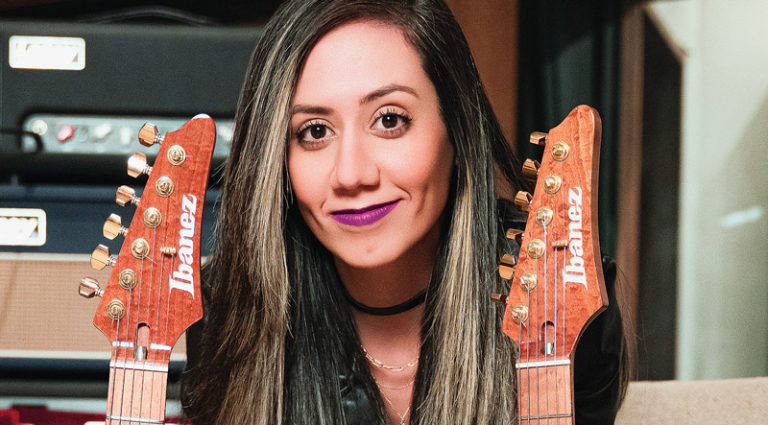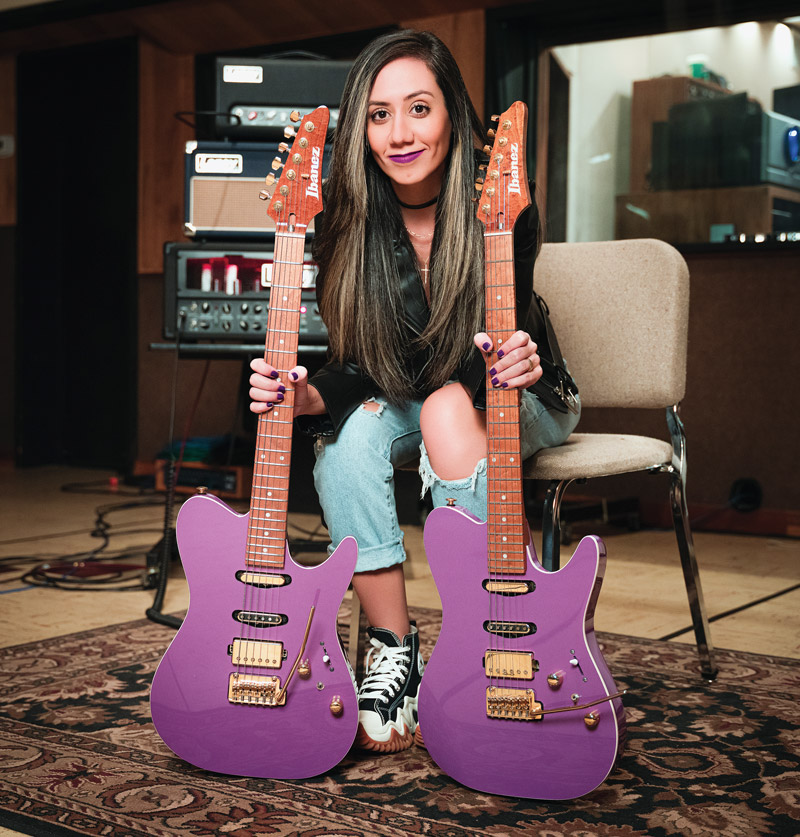 Lari Basilio's latest album, Your Love, is highlighted by spellbinding note density, feel, and whiplash twists and turns. Her forté is composition, leaning heavily on melody, wicked double-stops, and shred while displaying an earthiness in her playing and showcasing a love of accessible instrumentals that connect to the spirit.
What led you to become a recording artist?
I've always loved writing songs, and recording my songs was a dream come true. I was in bands as a teenager, and instrumentals spoke to me, so I started writing. In 2012, I released my first EP, which was the first step in my solo career.
You studied law while playing in bands.
My dad is a lawyer, my husband is a lawyer, and I have two brothers who are lawyers. My dad pushed me into music and taught me my first chords. He loves to play guitar and sing.
I went to law school because, in Brazil, many people believe you can't make it in music. But I never stopped playing guitar; it's my passion. Luckily, with a lot of work, things started to happen for me in music, and I had to choose because my schedule was getting so tight: Would I continue law school or make my music? It was easy to choose.
Who is your inspiration for guitar?
Joe Satriani, Steve Vai, Andy Timmons, Larry Carlton, and John Mayer. I also get a lot of inspiration from artists from my home country.
Were you looking to do something different with Your Love?
I've been improving a lot in terms of production. I always try to push myself forward and learn more. I had some songs ready, but I wrote some other songs during the pandemic. I saw so many people who felt hopeless and living in fear, and it moved me to write new songs – uplifting songs. I wanted to bring hope and courage and help them get through that difficult time. Your Love is about God's love.
Sonically, you bridge the gap between shred and instrumental pop. Was that conscious?
I love pop music. Sometimes, my songs don't fit into the conventional format of instrumental songs. I relate to pop songs. It's natural for me but I always try to show versatility. This is my main goal. I strive to be melodic and bring different styles to my music. I love groove and heavy stuff as well. I love to play classical guitar and try to bring all these things to my music.
"Running To The Other Side" is killer.
That's a crazy song (laughs). It feels agitated. When I was thinking of a title, I couldn't think of anything other than running. It's fast rock, and was super fun to write. Sometimes new gear can inspire me to write a song. At the time, I was playing my new Ibanez, and it inspired me to write the riff at the beginning. Some parts of the song took me back to my band as a teenager. I was in a hardcore band, and we played in Brazil's underground rock scene.
What was the idea behind your signature Ibanez LB1?
I wanted a guitar that could do everything I needed – something versatile. And I'm glad I could do it with a respected company like Ibanez. They gave me all the freedom I needed to bring my dream guitar to reality, and they nailed it with the first prototype. It's very special. I love the pickups and the Tele-style body. I love the Tele-style neck pickup and the humbucker in the bridge for heavier stuff. The middle pickup was designed to sound like a Strat. With the Dyna-M1X9 switching system, I can get nine different tone combinations. I designed the pickups in collaboration with Seymour Duncan. It's my signature set. With the compound radius, it's super comfortable. I'm proud of the instrument, which inspires me to write new songs.
Do you have a favorite amp?
I have a few. I'm using the Laney Cub-Supertop for clean tones, and I use the Lionheart the most. For the high-gain stuff, I use the Laney Ironheart.
Which effects do you use?
I love pedals, and the JHS Morning Glory is one of my favorites. I also have the Laney Black Country Customs Spiral Array Chorus and the Seymour Duncan Vapor Trail Deluxe Analog Delay.
What's on your calendar in the near future?
I'm writing new music, and plan to release it more frequently. I'll be doing a clinic tour in Europe, then back to Brazil with my band. After we go to the U.S., I'll return to Europe with my band. Lots of playing and lots of new music!
---
This article originally appeared in VG's November 2022 issue. All copyrights are by the author and Vintage Guitar magazine. Unauthorized replication or use is strictly prohibited.
---
---