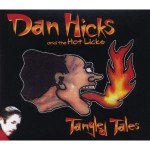 The hype around Tangled Tales screams "Dan Hicks is back!" Which was the same line when he released Beatin' The Heat in 2000 and no doubt Selected Shorts four years later. Granted, Heat was the singer/songwriter's first new studio album in 22 years. Maybe a more apt grabber this time around would be "Dan Hicks is still back" – which is equally remarkable considering his seeming aversion to studios and record labels.
A true pioneer – first in the earliest days of psychedelia, with San Francisco's Charlatans, followed by his lone stance for acoustic swing amid a sea of acid rock – Hicks is responsible for such classics as "I Scare Myself," "Walkin' One And Only," and "How Can I Miss You When You Won't Go Away." His Hot Licks of the early '70s (featuring guitarist John Girton, violinist Sid Page, and Lickettes Maryann Price and Naomi Eisenberg) were the ultimate in hip and, against all odds, quite popular – and set the stage for acoustic stringers like David Grisman (and, hence, Darol Anger, Mike Marshall, Mark O'Connor, et. al.). As if to give him his due, Heat and Shorts boasted cameos by devotees and fans, including Tom Waits, Bette Midler, Willie Nelson, Elvis Costello, Brian Setzer, Rickie Lee Jones, and even Butthole Surfer Gibby Haynes.
To his credit, Hicks didn't get lost in the shuffle, but Tales sounds more cohesive, and he sounds more at home. Some heavyweights are onboard (mandolinist Grisman, violinist Richard Greene, and blues harpist Charlie Musselwhite), but they supply instrumental support; no vocal duets here. And Dave Bell proves to be all the star power needed on guitar – always an exercise in swing and intricacy with Hicks.
The repertoire is divided equally among covers (from "Ragtime Cowboy Joe" to "Subterranean Homesick Blues"), never-waxed originals from Hicks' past (in the case of "The Rounder," dating back 35-plus years), and assumedly new tunes (including the title tune, which holds up despite having no lyrics, just scatting). Which on the one hand begs the question, "How much writing is Dan doing these days?" while, for longtime fans,  also breaths the sigh of relief, "He finally got around to recording that one!"
---
 This article originally appeared in VG's Jun. '09 issue.  All copyrights are by the author and Vintage Guitar magazine.  Unauthorized replication or use is strictly prohibited.
---