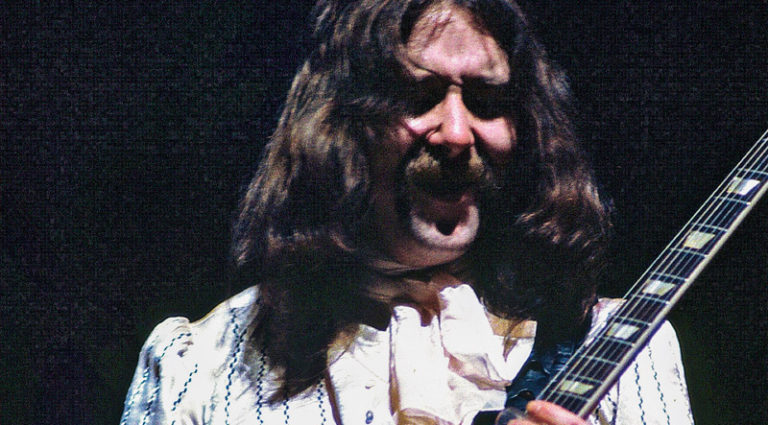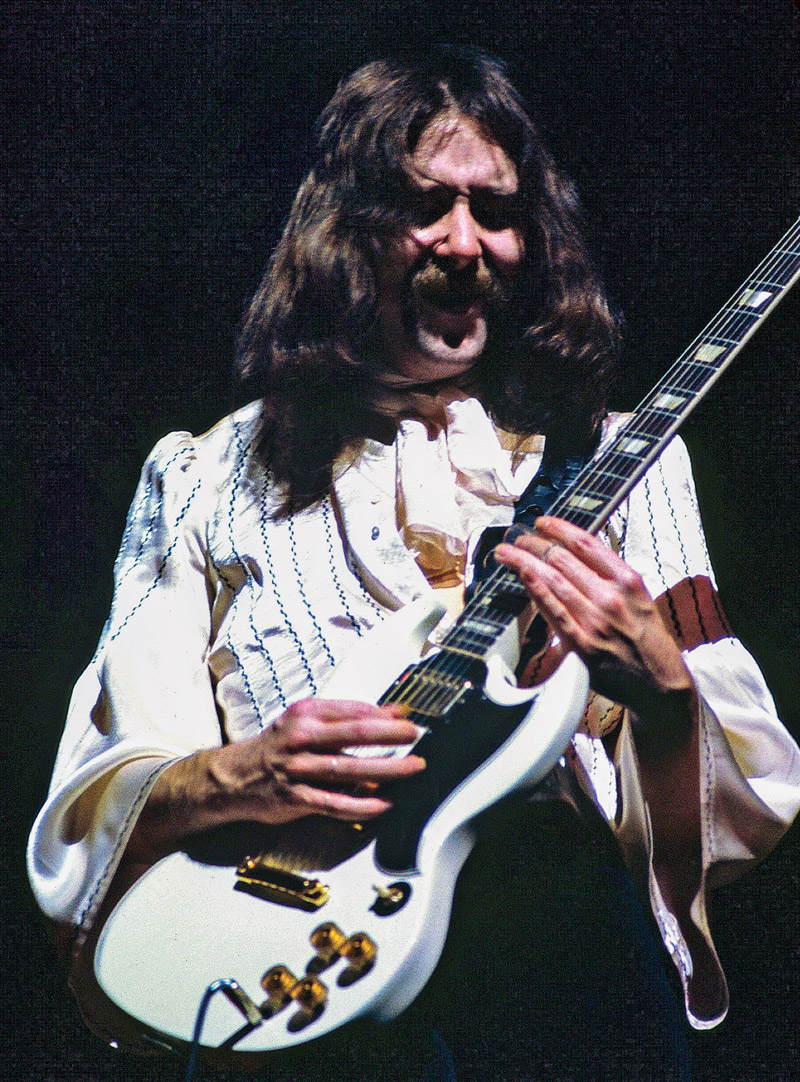 If the '70s were the era of good times and excess following the tumultuous '60s, the boogie band would be its champion. Boogie was a leveler – a style, feeling, and groove – affecting everyone from Mississippi bluesman John Lee Hooker ("Boogie Chillen") and Arthur Smith in early rock and roll ("Guitar Boogie") to blues-rockers Canned Heat ("Fried Hockey Boogie"), R&B artists Stevie Wonder ("Boogie On Reggae Woman"), Mick Jackson ("Blame It on the Boogie") and Earth, Wind & Fire ("Boogie Wonderland") as well as KC & the Sunshine Band ("I'm Your Boogie Man"), Taste of Honey ("Boogie Oogie Oogie") and Heatwave ("Boogie Nights") in disco. Boogie entered the hit parade with Canned Heat's "On the Road Again" (#16 in '68) and Norman Greenbaum's "Spirit in the Sky" (#3 in '70). Hard rock and metal were not immune to its allure.
AC/DC jammed on boogie a la Canned Heat, while Van Halen demonstrated the power of supercharged boogie grooves in "Hot For Teacher" and "I'm the One," as did Joe Satriani in "Satch Boogie."
The press dubbed Foghat a boogie band before it was a buzzword. Building on its blues ancestry, none characterized the rock flavor of boogie more aptly, especially their hit, "Slow Ride." Intended for arena-rock appetites, it's now a piece of the classic-rock canon and part of the world's soundtrack heard in TV commercials, sitcoms, video games, and movie scores.
Foghat arose during the third wave of British blues-rock; the first splashed ashore in '64 with the Stones' and Animals' revivals of John Lee Hooker, Muddy Waters, Jimmy Reed, and Howlin' Wolf, while the second was the lead-guitar-driven surge with Eric Clapton, Peter Green, and Mick Taylor reinterpretations of Freddie King, Otis Rush, and Albert King in Bluesbreakers. The third struck with the Cream, Fleetwood Mac, Ten Years After, and Savoy Brown. The latter boasted the guitar and vocal talents of "Lonesome Dave" Peverett in its classic '69-'70 lineup, as well as bassist Tony Stevens and drummer Roger Earl. The threesome departed in January of '71 to form Foghat, named after a nonsense word from a childhood Scrabble game.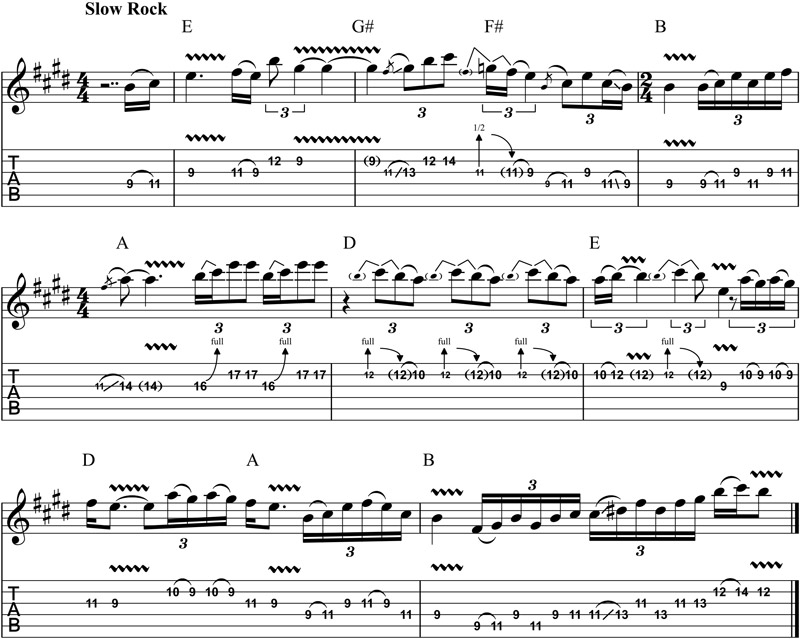 Foghat displayed its depth on a prescient rock ballad "I'll Be Standing By." The feeling, tonal colors, atypical harmony, and orchestration are closer in spirit to of '80s rock anthems than a British boogie band. The tradition begun with "While My Guitar Gently Weeps" and "Stairway to Heaven" is carried forth in this solo that poses melodious rock licks over changes. The guitar lines draw from the well of blues melody and are repurposed for a progression that differs markedly from the I-IV-V of blues-rock. Note the use of E major-pentatonic melody over the diatonic E and B chords in the first four bars as well as the remote harmony, G# and F# major. The color tone A is used tastefully over A then retained as it modulates to D (in 6), in weeping pre-bend lines. Thematic development occurs in 7-8 and the runs over A and B comprise a familiar gesture of the structured rock solo building to a climax. Note the switch to B major-pentatonic over B to emphasize the harmony and heighten the drama in this section.
The London-based group was augmented with Rod Price (formerly of Black Cat Bones) on slide and additional lead guitar, then relocated to America after securing a contract with Bearsville Records. Their '72 eponymous debut was produced by Dave Edmunds, flaunted appearances by Todd Rundgren, Edmunds, and Andy Fairweather Low, and featured six band originals and three blues standards including "I Just Want to Make Love to You," the Willie Dixon tune made famous by Muddy Waters and Etta James (and recast by the Stones in '64). Foghat's studio version reached #83 on pop charts, but was supplanted five years later by their live rendition, an arena favorite that cracked the Top 40 (#33). In an uncharacteristic move, the band also named their '73 follow-up release Foghat (affectionately called "rock and roll" due to its depiction of a jagged stone and dinner roll on the sleeve). Bearing only one cover (Chuck Willis' "I Feel So Bad"), it was heavier, more assured, and reached #67 on Billboard's charts. The third album, Energized, continued the MO, offering original compositions (notably the single "Step Outside") and covers, this time from Big Joe Turner ("Honey Hush," a crowd pleaser that included a paraphrase of "Train Kept A-Rollin'") and Buddy Holly ("That'll Be the Day," also issued as a single). It was yet more successful, hitting #34.
Foghat became one of the most popular live acts of the '70s, bolstered by Energized and Rock and Roll Outlaws, which again went Gold (#40 in '74) with originals and covers of "Eight Days on the Road," "Rock and Roll Outlaw" and "Blue Spruce Woman." Tired of relentless touring, Stevens resigned in '75, leaving producer/keyboardist Nick Jameson to stand in as studio bassist on Fool for the City. Foghat trivia: an actor/comedian and voice-over specialist, Jameson is best-known for his portrayal of the Russian president on the TV series "24."
Fool For the City was the band's first platinum album, reaching #23 and initiating a trend of originals composed by Peverett (without Price or other members). It yielded the gargantuan hit "Slow Ride" (#20), a Peverett song that established Foghat's supremacy as stadium rock's leading boogie band and bona fide rock stars, but also maintained fealty to their blues roots, with a remake of Robert Johnson's "Terraplane Blues." After its release, Craig MacGregor joined as bassist, and "Fool for the City" became the next hit single (#45). The quartet lost momentum slightly with Night Shift, produced by Dan Hartman, which nonetheless enjoyed Top 40 success with "Drivin' Wheel" (#34). Any slippage was redeemed by Foghat Live ('77), a double-platinum recording that remains the band's best seller. Eddie Kramer (of Hendrix and Zeppelin fame) produced Stone Blue, which reached #25. The program consisted of Peverett-Price originals and covers of Robert Johnson's "Sweet Home Chicago," Elmore James' "It Hurts Me Too" and Earl McDaniels' "Chevrolet." A handful of hits followed that suggested Foghat was widening its perspective past the confines of '70s blues-boogie as Peverett began exerting greater influence on songwriting with telling Top 40 tracks like "Stone Blue" and "Third Time Lucky" on Stone Blue and Boogie Motel. The latter was a self-produced album that contained only one Peverett-Price collaboration ("Boogie Motel") and the first to not go gold since '74. Tight Shoes ('80), the ninth Foghat album, self-produced but completely dominated by Peverett's compositions, also failed to strike gold. It was the last with Price, who had grown tired of constant touring and was disenchanted with the move away from boogie/blues. He was replaced by Erik Cartwright, and Jameson returned to produce Girls to Chat & Boys to Bounce, In the Mood for Something Rude, and Zig-Zag Walk, their final Bearsville recording.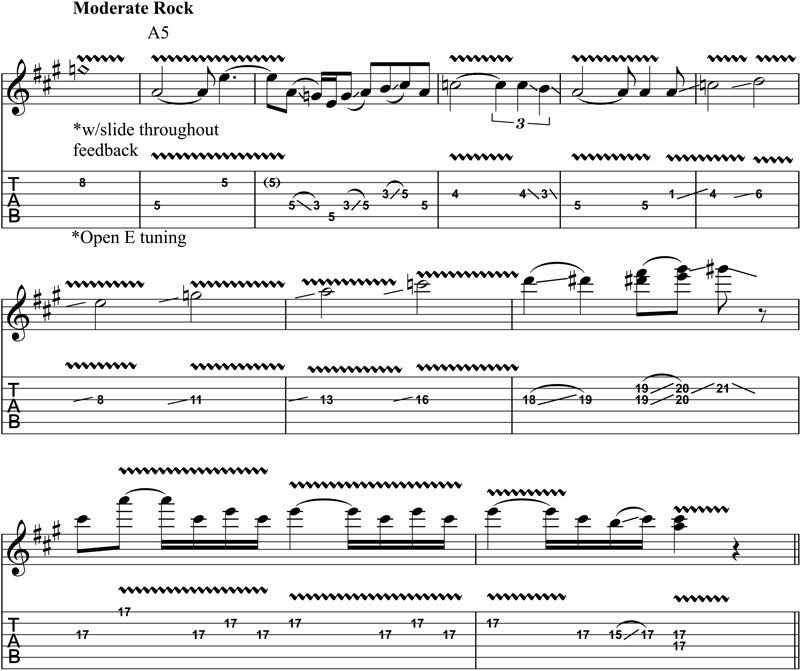 Rod "The Bottle" Price brought the art of blues bottlenecking to rock arenas. This excerpt from his "Slow Ride" solo begins with a very high feedback note activated by constant slide string rubbing, a technique with which he is closely identified, and one that moved the country-blues sound into the post-Hendrix hard-rock world. He's in Open E tuning to create idiomatic blues and rock melodies throughout, decorated by the legato slurring of notes and quivering vibrato, made vocalesque with the slide. Noteworthy are the arpeggio shapes in measures 9-11, contrasting the blues licks in 2-5, and his long passage of sustained minor-pentatonic notes in 6-8.
Foghat was the last of the British blues-rock bands to exert significant influence on pop audiences. By the mid '80s, they began experimenting with contemporary trends like new wave and nouveau rockabilly while developments in rock had moved the masses beyond the boogie spirit of the '70s. After Foghat disbanded in '84, Peverett returned to England while Earl (the only member to play in every lineup), MacGregor, and Cartwright toured with various singers into the '90s. In '94, Peverett, Price, Earl, and Stevens reunited under a contract for Modern Records, with Jameson producing the aptly titled Return of the Boogie Men. They toured into '96, briefly recapturing their rock-star cachet, and assembled a live album (Road Cases) from performances at the Roseland Theater, in Portland. Road Cases marked the end of an era; Peverett was diagnosed with cancer and died in 2000, while Price passed in '05 from a fall following a heart attack.
INFLUENCES
Peverett cited numerous blues and rock influences that included Green, Chuck Berry, and Little Richard. As a child, Price listened to classical music and country a la Roy Rogers, and was subsequently drawn to rural blues artists Big Bill Broonzy, Tampa Red, Scrapper Blackwell, and Robert Johnson. He cited the Stones' Brian Jones (for electric slide) and Buddy Guy as later influences. His rock inspirations included the Shadows and Eddie Cochran.
STYLE
As boogie evolved from 1920s piano-based boogie-woogie to'60s rock, it became a guitar-dominated medium. Foghat embodies the quintessential expression with a two-guitar sound that defined the band at the outset. Peverett and Price were both accomplished lead guitarists, as the opening bars of "I Just Want to Make Love to You" attest. Strict delineations of lead versus rhythm guitar do not readily apply, though Price is generally perceived as the primary soloist. Both are blues-based, fluent with the requisite pentatonic/blues-scale vocabulary, Chuck Berry double-stops (heard in "Maybelline") and string-bending techniques, and capable of solid improvisation in the stylistic language. Price was dubbed "The Bottle" due to his bottleneck expertise (and adventurousness rivaling Duane Allman) and the small glass bottle he wore on his middle finger. After the first two Foghat albums, he most often played slide in Open E tuning. On earlier records, he had just one guitar and used only standard tuning, underscoring the quality of his creative and advanced slide soloing in "Feel So Bad." Peverett and Price sometimes worked together as lead guitar partners, playing phrases in unison and harmony – as in the interlude of "Slow Ride" – or trading solos in tunes like "I Just Want to Make Love to You" and "Road Fever." Their expansion of the boogie/blues form when covering "Honey Hush" cultivated a heavy sound commensurate with the most aggressive hard-rock bands of the time and anticipated grooves found in later speed metal. Moreover, the power-pop ballad "I'll Be Standing By" revealed another side of the band circa '76 and sported a singing guitar solo laced with modal ingredients filtered through a rock prism, comparable to the melodious playing of Carlos Santana, Gary Moore, Neal Schon, or Michael Schenker. Blues purists to a point, the guitarists freely applied rock effects like feedback, pinch harmonics, heavy distortion, and processing via wah, phaser and envelope follower, to color tracks and reinvent the boogie/blues for the '70s.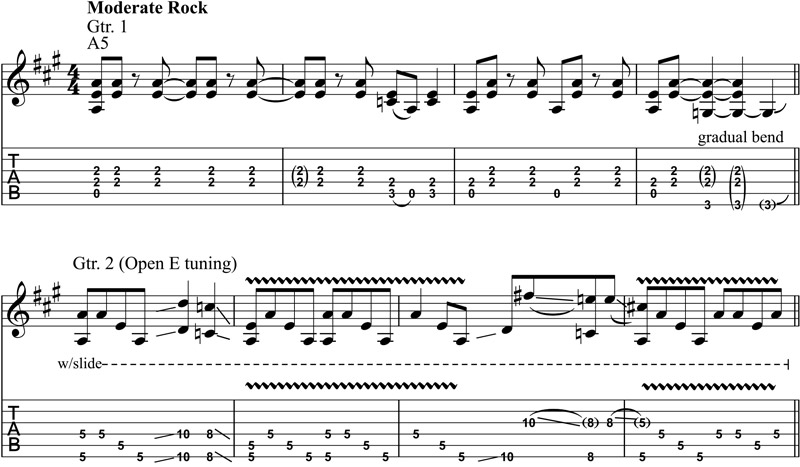 "Slow Ride" was once described by Dave Peverett as inspired by John Lee Hooker. The main riff certainly bears that out. The first line depicts Dave's opening riff, which is repeated and varied by Gtr. 1 throughout the verses and choruses. Note the simple first-position chord partials, the unmistakable boogie rhythm in the syncopations and accents, and emblematic pull-off pattern in measure 2. The second line present's Rod Price's chorus riff (Gtr. 2) played with slide guitar in Open E tuning. Check out the slurs and arpeggios facilitated by connecting the chord shapes of the tuning.
ESSENTIAL LISTENING
Fool for the City, Foghat Live, Energized, Rock and Roll Outlaws, and Night Shift are classics. The Best of Foghat is a serviceable compilation that contains their hit singles and most popular tracks. The Complete Bearsville Album Collection is for serious listeners.
ESSENTIAL VIEWING
Highly recommended are "It Hurts Me Too" from 1977 at the New York Palladium and in Dayton in '97, "I Just Want to Make Love to You" (live '74), and "Slow Ride" (live '78).
SOUND
Peverett favored a late-'50s Cherry Red double-cut Les Paul Junior and sunburst single-cut mid-'50s Junior. Though he played a Strat on "I Just Want to Make Love to You," Price also preferred solidbody Gibsons. In Foghat's classic years, he used various white and red SGs for slide, and a black Les Paul Custom for standard tuning. After 1980, Peverett also played a custom instrument inspired by Bo Diddley's cigar-box guitars and fitted with custom Duncan pickups that approximated PAFs. His Junior inspired Price to make his own modified version from a 1960 model – a mainstay seen in concert after '77. It was customized with two PAFs or Duncan humbuckers, Grover tuners, and routed for new circuitry. Peverett played a Guild acoustic while Price played an acoustic Dobro for slide in studio.
On their debut album, Foghat used Hi-Watt amps, but, by '77, Price preferred a Sunn Model T 100-watt head and a pair of Super-Reverb amps. In later years, Peverett turned to Hughes & Kettner Tri-Amp heads with 4×12 cabs, while Price relied on 100-watt Mesa/Boogie Rectifier heads with 4×12 cabs, along with Soldano amps.
---
Wolf Marshall is the founder and original editor-in-chief of GuitarOne magazine. A respected author and columnist, he has been influential in contemporary music education since the early 1980s. His books include 101 Must-Know Rock Licks, B.B. King: the Definitive Collection, and Best of Jazz Guitar, and a list credits can be found at wolfmarshall.com.
---
This article originally appeared in VG's August 2022 issue. All copyrights are by the author and Vintage Guitar magazine. Unauthorized replication or use is strictly prohibited.