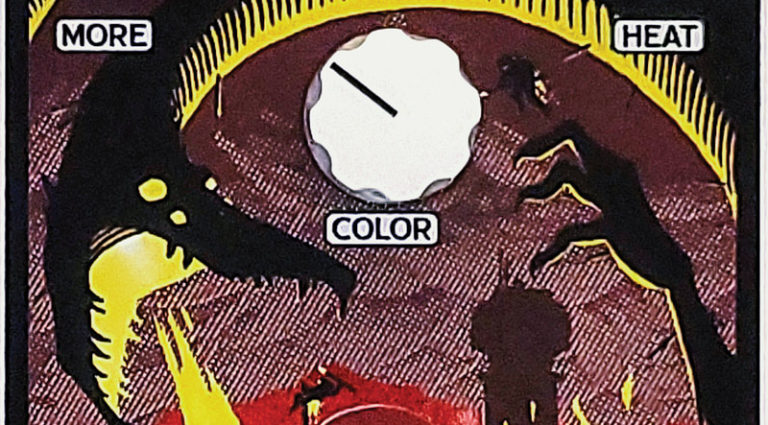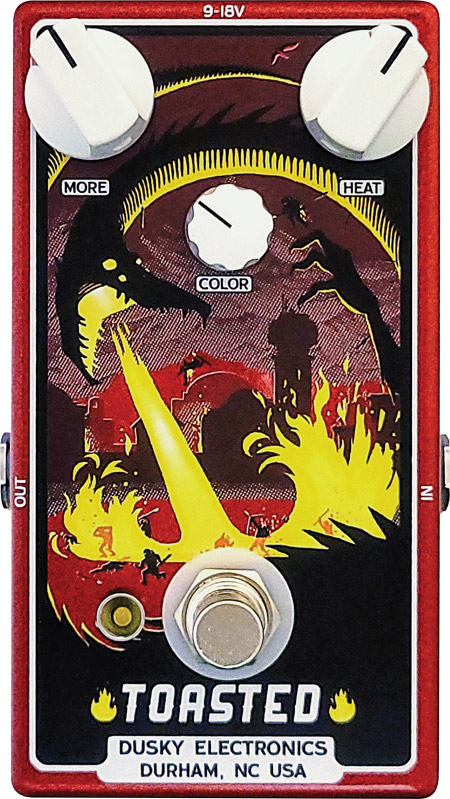 Dusky Electronics' new Toasted Overdrive is an upgrade of the company's two-stage MOSFET amp in a box; builder Chris Rossi grew dissatisfied with the tonal quality of the first version, so he smoothed the pedal's natural gain characteristics by giving the Color Knob a broader sweep.
The Toasted's Heat knob controls gain of the first stage, increases harmonics and distortion, and overdrives the second stage. Color affects treble frequencies; higher settings will brighten humbuckers, lower settings enhance single-coils. The More control adjusts output, and hidden inside (access is easy) is a DIP switch Meat control for adjusting low-end.
Tested using a Strat through a vintage 15-watt Ampeg Reverberocket, with the More and Heat controls dimed and the Color set at 10 o'clock, the Toasted served up incendiary overdrive a la Led Zeppelin's "Whole Lotta Love," with heaps of top-end response. With Heat down to 3 o'clock, treble was more subdued, bringing up thoughts of Hendrix tone from "Manic Depression."
Through a Les Paul and with More at 2 o'clock, Heat dimed, and Color at 1 o'clock, signal was pure crunch, with midrange frequencies accentuated – think Pearl Jam's "Evenflow." With all controls dimed, the tone exploded with in-your-face raunch, with lots of top-end chime and plenty of cutting power.
Powered by 9-volt battery or wall wart, the Dusky Electronics Toasted OD is a worthwhile choice in a crowded field.
---
This article originally appeared in VG's July 2022 issue. All copyrights are by the author and Vintage Guitar magazine. Unauthorized replication or use is strictly prohibited.