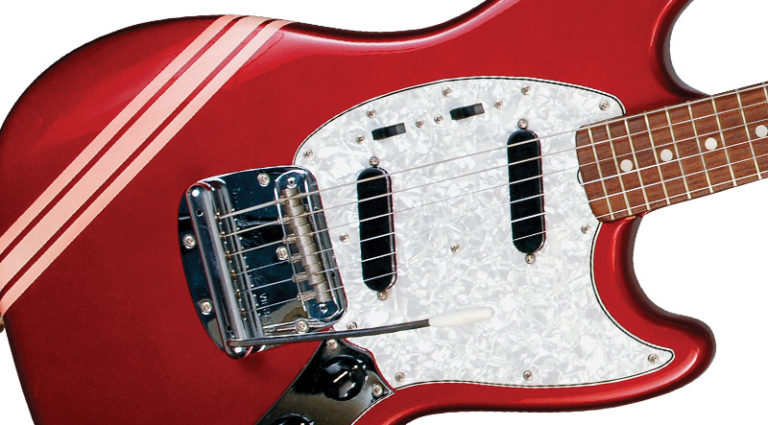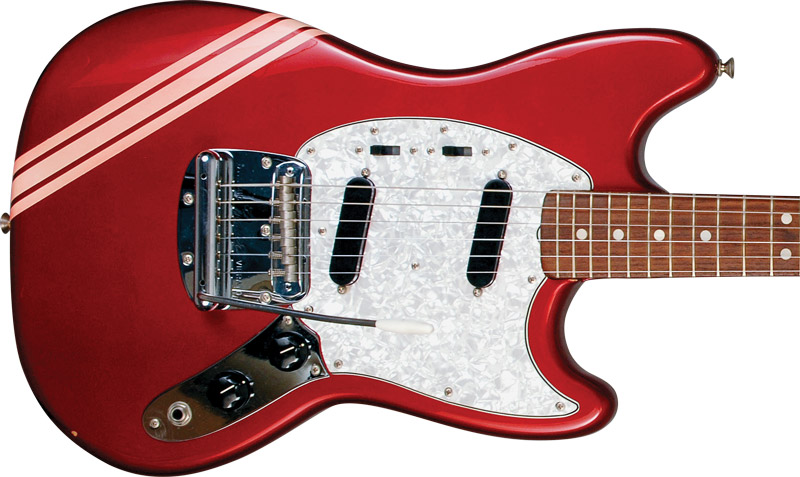 So it's no surprise that Fender built the Competition Mustang, a guitar marketed to players who might also be excited by the thrill of Monte Carlo and Formula One.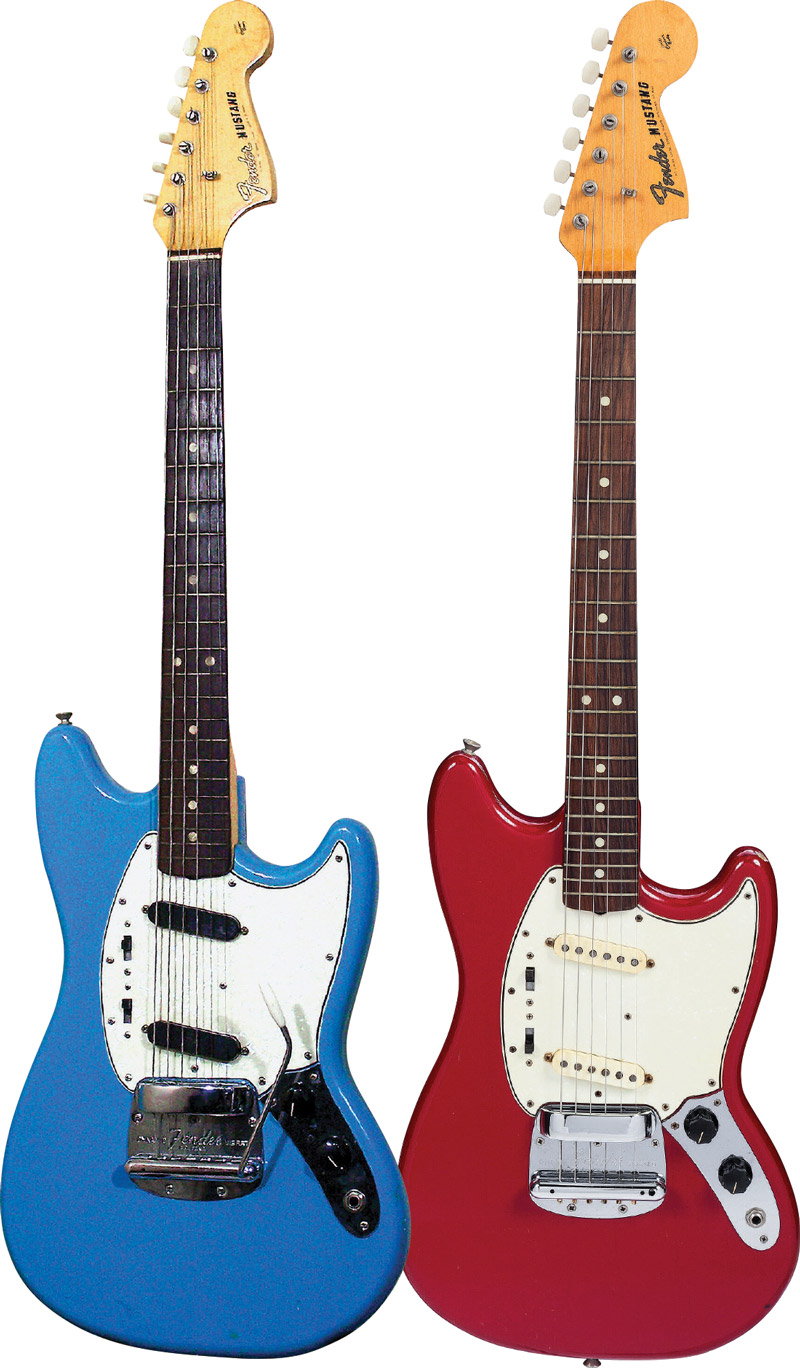 Fender introduced its "student model" Musicmaster and Duo-Sonic in 1956 to compete with Harmony and Kay – an optimistic move long before the electric guitar was a guaranteed success. Both were "three-quarter-sized," slab-bodied double-cuts with maple fretboards, anodized aluminum pickguards, and small, adjustable bridge/tailpiece assemblies. The Musicmaster had one pickup, the Duo-Sonic, two. Both did well enough that they acquired rosewood fretboard options by '59, and in '64 they were offered in 221/2″ or 24″ scale. Colors also evolved from Desert Sand (beige) and sunburst to red, white, and mahogany.
In the early '60s, sales of acoustic guitars surged under the influence of folk music, then, by '63, pop was all about a new sound out of Liverpool. Neither had a thing to do with cars, or California, but after the Beatles appeared on "The Ed Sullivan Show" in February of '64, electric guitars became the surest of sure things.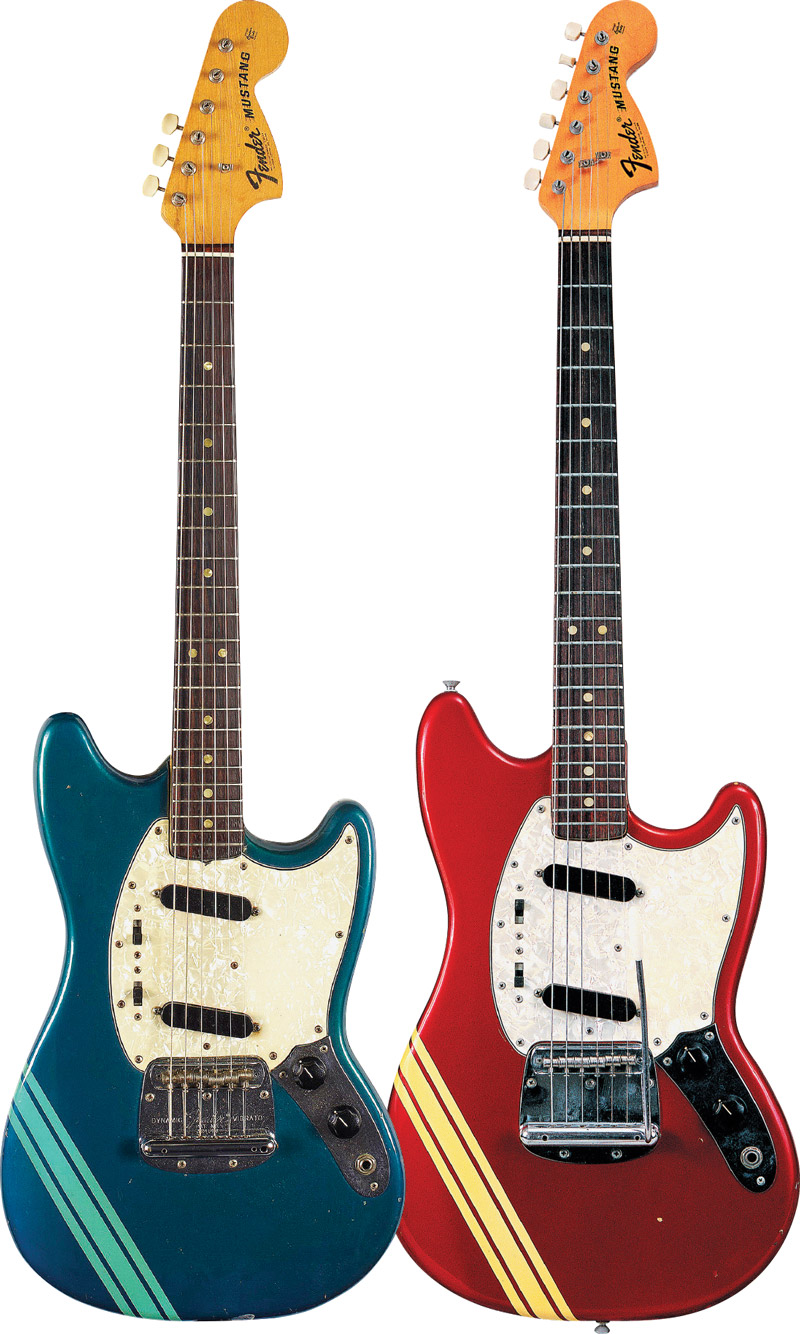 But, Fender was in California, where cars ruled. And while it was busy upgrading its student models, Ford Motor Company was busy upgrading its sports-car offerings; in March of '64, the Mustang began to roll off the line.
To meet the escalating post-Sullivan demand for electric guitars, Fender quickly followed by introducing a new guitar based on the car.
Essentially a Musicmaster/Duo-Sonic with a different pickguard and shiny chrome plate under the Volume and Tone knobs, Fender's Mustang also brought a rosewood fretboard, two scale choices, and the new Dynamic Vibrato.
For a "student" guitar, the Mustang was pretty sophisticated. Each single-coil pickup was controlled with a three-way sliding switch on the upper bass bout; the middle position engaged neither pickup, while either end changed polarity, creating six in-/out-of-phase tonal combinations. They were initially available in red, white, and blue finishes.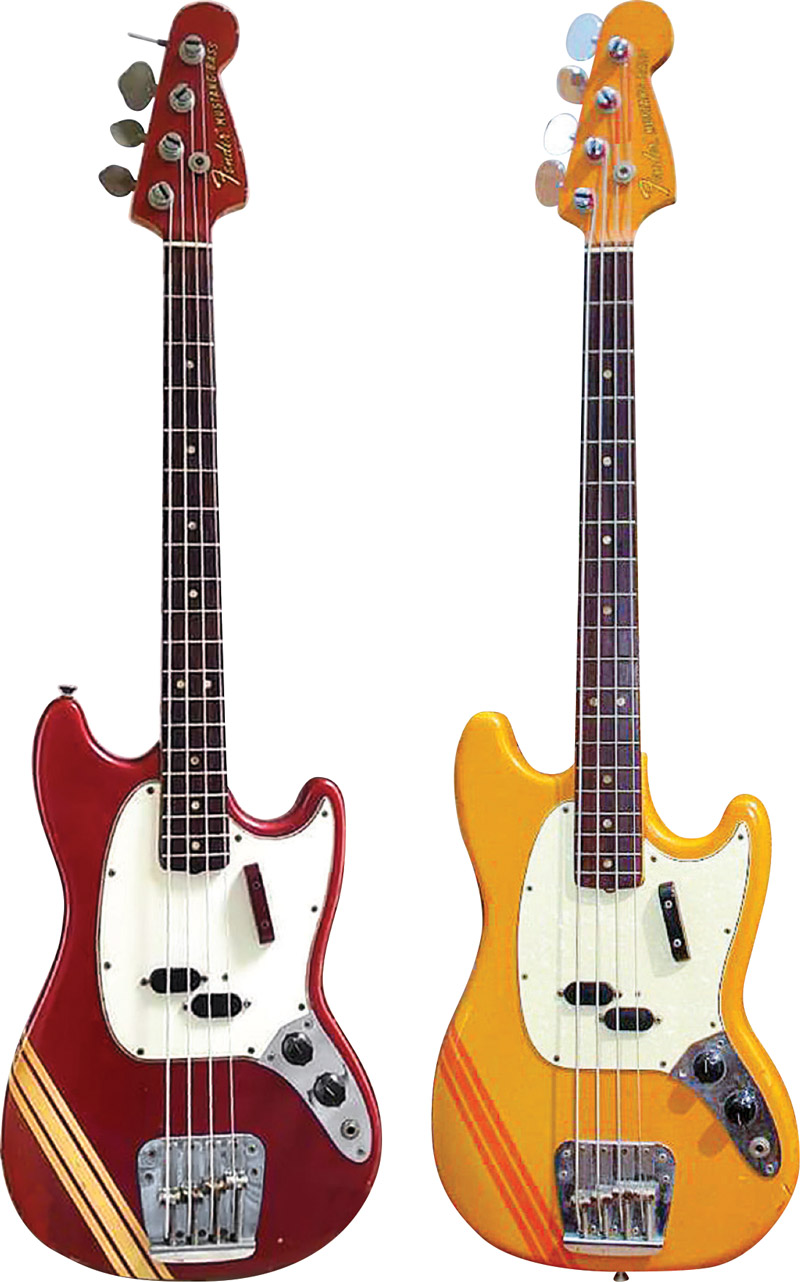 Like the Ford, Fender's Mustang became a mainstay of the line. Early versions, like other student models, were slab-bodied, though they soon acquired a backside contour. Ford's Mustang debuted as a race car and was immensely successful when it hit the street as a road car. In racing circles, Ford saw it as a potential challenger to Chevy's Corvette, so they hired hotshot auto engineer Carroll Shelby to take it on, and the result was the legendary Shelby Mustang made in 1965-'66 (after '66, the Mustang designation was dropped). Car guys will tell you more about specs like Borg-Warner T10 transmissions and Cragar Shelby wheels, but even an amateur enthusiast could pick it out because of its – ta-da – racing stripes!
Fender's introduction of the Competition Mustang in '69 solidified the relationship between guitar and car. Offered with Candy Red, Dark Blue, and Orange finishes with color-coordinated stripe decals running diagonally across the lower bass bout, it also acquired a subtle front-side arm contour. Offered in two scale lengths – short and shorter – the 24″-version proved more popular. The Dynamic Vibrato was smooth, and the barrel saddles matched the curve of the fretboard.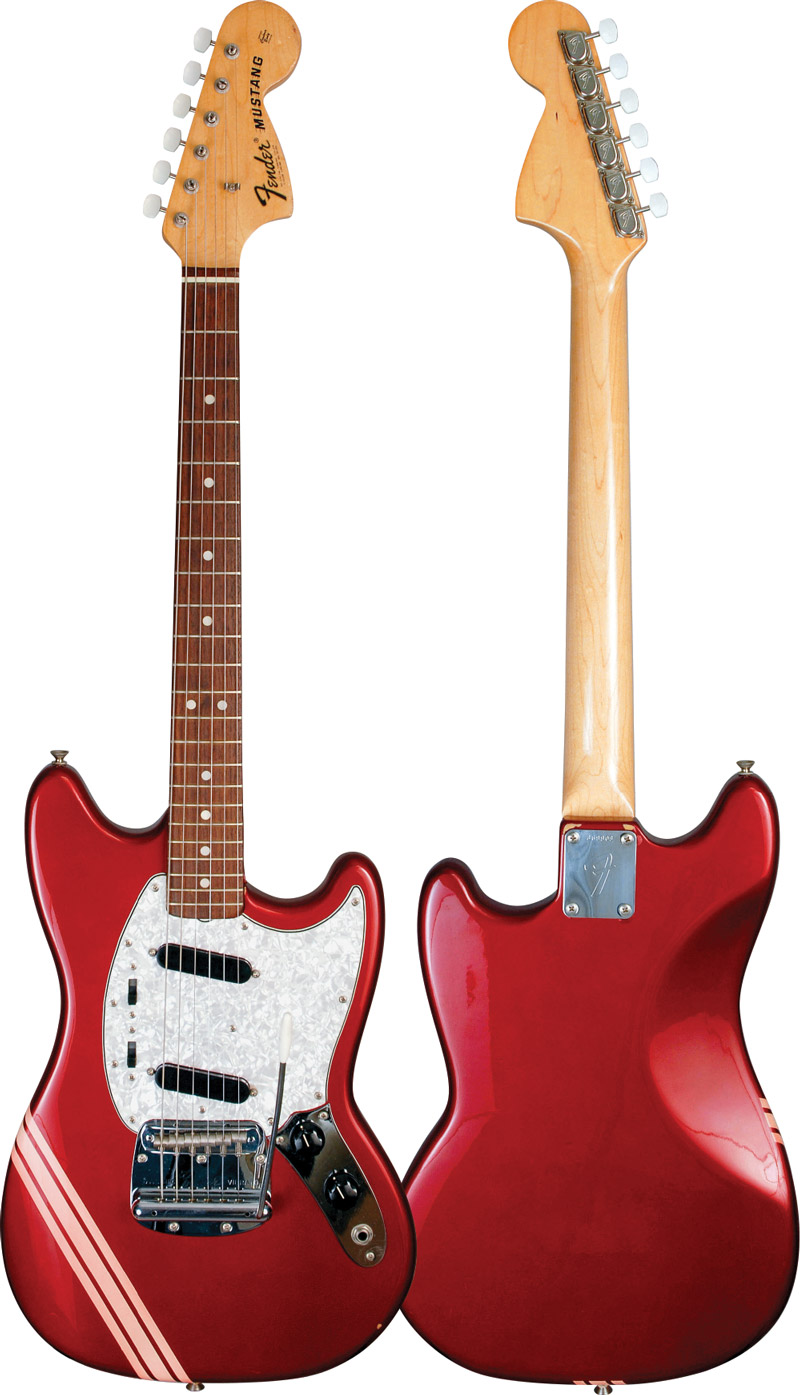 Competition Mustangs lasted into '73, a few years longer than Shelby Mustangs. By then, the Beatles had parted and the culture of the '60s transmogrified. The regular Fender Mustang continued into '82, later versions were produced by Fender Japan, and in recent years, the Mustang has been reissued; in 2020, Fender offered a made-in-Mexico Player Series version with solid tailpiece and basic electronics.
Mustangs were not professional-grade guitars, though a few big names used them, including Jimi Hendrix. In the early '90s, Kurt Cobain revived interest by playing a Mustang and a hybrid Jaguar-Mustang that led to an official Jagstang model. If you're into Strats or Teles, you likely won't be attracted to the Mustang. But, taken in context with other beginner guitars of the time, they're "competitive" in terms of playability, tonal versatility, and performance. Get one, and you'll have fun, fun, fun, 'til daddy takes your T-bird away.
This feature originally appeared in the July '06 issue.
---
This article originally appeared in VG's May 2022 issue. All copyrights are by the author and Vintage Guitar magazine. Unauthorized replication or use is strictly prohibited.