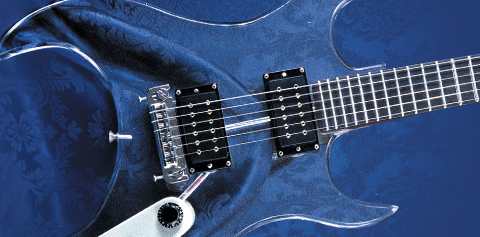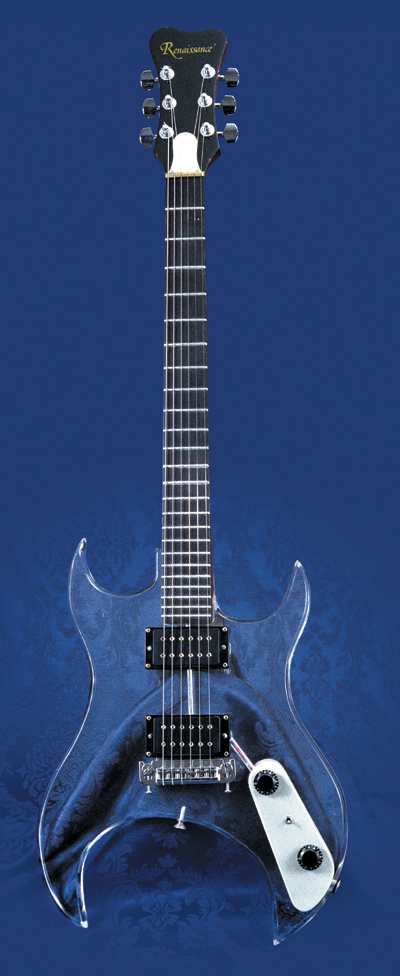 What is it about Plexiglas? It's so cool. You can see through it onstage. It's dense, yet resonant. You'd think it would be the perfect medium for a mean rock and roll machine. And it's not like people haven't tried! But for some mysterious reason(s), practically every attempt to make a successful Plexiglas guitar has ended in, if not failure, at least some sort of debacle. Like with this 1980 Renaissance T-200G. The Renaissance guitar company was one of the latter instances, a debacle.
Plexiglas (or Lucite, both trade names), a clear polyacrylic thermoplastic made from acrylic acid, was developed during World War II. Plexiglas first showed up on guitars as trim in the 1950s, as fingerboards on lap steels and butterfly tuner buttons on some Klusons. Magnatone used a remarkable sandwich of blue-tinted plexiglas and aluminum on its spectacular Model 216 lap steel.
But as far as we know, the first use of Plexiglas for the body of a guitar was the so-called "Swan" made by EKO and a few one-offs by Fender in the early 1960s. These were basically promotional guitars made for music trade shows, not really production models available to the public, although the guitar seen here is hardly much different.
The first production Plexiglas guitar was the famous Ampeg Dan Armstrong "see-through" guitar offered from 1969 to '71. Indeed, some of the first Japanese "copy" guitars introduced in 1970 were knock-offs of the Ampeg, including versions by Ibanez, Aria, Univox, and St. Louis Music's The Electra, which became their brand name in the '70s, They were pretty close but didn't have removable pickups or the weird Danelectro bridges. To be honest, those knock-offs were a little lighter and often played better than the Ampeg original!
Despite use by Keith Richard, the Plexiglas idea had limited uptake. But the notion didn't die. The idea was revived in 1977 in the then pretty rural Philadelphia suburb of Malvern, Pennsylvania, in the form of Renaissance guitars and basses. The man who initiated Renaissance was John Marshall, a local guitarist who learned guitarmaking from Eric Schulte and Augie LoPrinzi, both Philadelphia-area luthiers. He hooked up with two other partners, Phil Goldberg, who had a music store and was involved with a local recording studio, and Dan Lamb, a local studio guitarist. After some discussion, the decision was made to build in Plexiglas. Marshall designed the guitar and bass, which was a sort of cross between a Les Paul and Telecaster. Production commenced in 1978. Both guitars and basses had active circuitry with DiMarzio pickups. They were offered in Clear, Smokey Grey, and Black Plexi.
Renaissance had big plans for national distribution, but progress was slow and the brand never got much further than the Mid-Atlantic region. After about a year, trouble began to brew. Marshall, disgruntled, left the company to become a luthier for Martin. Renaissance began to have financial troubles.
In 1979, Renaissance recruited another area guitarist and music store owner from Newtown Square, Pennsylvania, John Dragonetti, to invest in the company. It proved a disastrous financial decision!
No sooner had Dragonetti been convinced to put in some hard-earned cash, the business exploded. His money had gone to pay bills and the I.R.S. was zeroing in. By 1980 he found himself in complete control of the company – but not in control of much. To try to save things, Dragonetti set about redesigning the line. He wasted a lot of time addressing player complaints that the guitars wouldn't hold their tune due to expansion of the Plexiglas. And the guitars were just too expensive to make given their wholesale price, which was around $350.
His first solution was the guitar shown here, inspired by the B.C. Rich Bich. Active-electronics guitars had not been very popular, so he switched to passive DiMarzios, which allowed him to lighten the guitar by making it thinner, making players happy and saving on material. The original Renaissance company had been making its own components, including bridges and even knobs. Dragonetti switched to standard parts. He even tried outsourcing all or part of production, but had no luck.
Despite the cost-saving efforts, this is still a pretty deluxe guitar. In addition to the labor-heavy body, it sports a solid mahogany neck and an ebony fingerboard. In keeping with the style of the time, its fretboard side dots and nut are brass. This guitar has a Leo Quan Badass bridge, and pickups are DiMarzio X2N humbuckers, similar to Super Distortions popular at the time.
In addition to this model, Renaissance offered a corresponding bass and another shape without the scoop on the butt-end and a wavy lower bout. This latter model came with one or two pickups and in a bass version, as well.
John Dragonetti's efforts actually briefly looked like they might be successful. At the summer NAMM show of 1980, Sunn amplifiers, enamored of Renaissance basses, approached him about building a line of guitars. Just at that moment, another company's sales rep knocked a bass over and broke it, pointing out how poorly made it was. Sunn got spooked and backed out. Which probably was okay, because they promptly went out of business. And Renaissance's number finally came up at the I.R.S. By the fall of '80, Renaissance guitars were no more.
All Renaissance guitars and basses are pretty rare. Only 250 to 300 of the original design were produced, about two thirds of those basses, putting the guitars probably a little south of 100. Of the Dragonetti designs, only about 18 wavy guitars were built. Only five or six of the guitar shown here were ever made, making it about as rare as you can get.
The Plexiglas concept didn't die with Renaissance. Recently, St. Louis Music reissued the original Ampeg guitar. B.C. Rich, inspiration of this design, offered a Plexi version of its Bich. And to celebrate the Milennium, Ibanez produced about 100 Plexi Joe Satriani guitars. Who knows? Maybe one day one of these will be a huge success! Then again, we wouldn't have these rare birds to keep our eyes peeled for!
---
This article originally appeared in VG's February 2009 issue. All copyrights are by the author and Vintage Guitar magazine. Unauthorized replication or use is strictly prohibited.
---
You can receive more great articles like this in our twice-monthly e-mail newsletter, Vintage Guitar Overdrive, FREE from your friends at Vintage Guitar magazine. VG Overdrive also keeps you up-to-date on VG's exclusive product giveaways! CLICK HERE to receive the FREE Vintage Guitar Overdrive.