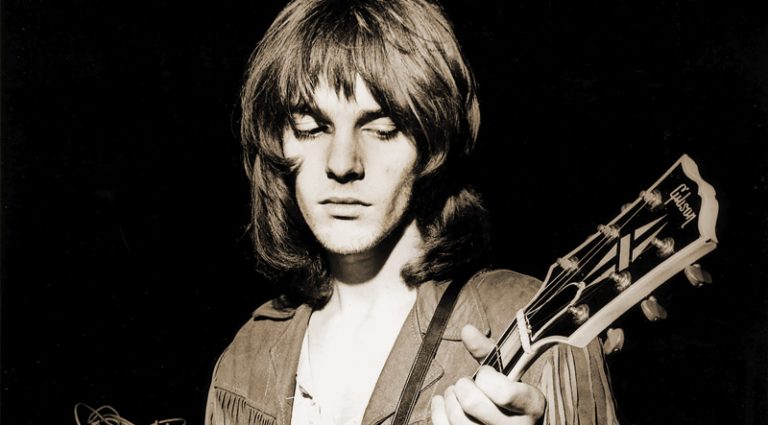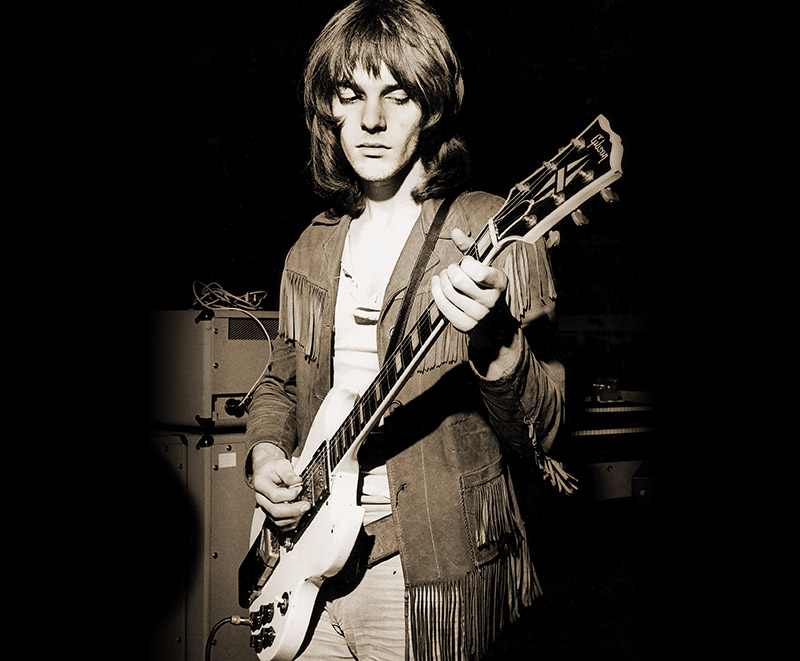 Formed with two formidable front men in Steve Marriott and Peter Frampton, Humble Pie was one of the earliest "supergroups" to emerge from the British Invasion and embody aspirations beyond pop.
Marriott rocked audiences as vocalist of Small Faces, which scored hit singles with "Itchycoo Park," "All or Nothing," "Tin Soldier" and "Lazy Sunday." Frampton was the 16-year-old guitar prodigy in The Herd, which hit with "From the Underworld," "Paradise Lost" and "I Don't Want Our Loving To Die." Moreover, he was a teen idol awarded "The Face of '68" accolade by Rave magazine.
Marriott campaigned to recruit Frampton into Small Faces, even added him as guest performer in concert, but met with opposition from the group. This sparked the development of a side project; at Marriott's insistence, Frampton served as studio player when Small Faces backed French singer Johnny Hallyday during December '68 sessions that foreshadowed Marriott's official departure that New Years' Eve, and the birth of Humble Pie, a band he started for Frampton then wound up joining. Completing the lineup were bassist Greg Ridley and drummer Jerry Shirley. Ridley was a founding member of Spooky Tooth and 17-year-old Shirley was a veteran of The Apostolic Intervention, a group mentored by Marriott while Small Faces were with Immediate Records. With this auspicious merging of talent and experience, the quartet was accorded supergroup status, largely by a ready-to-hype music press that relished the story of a promise foretold. Accordingly, the band chose its self-effacing moniker in a gesture to downplay the expectations and publicity foisted upon them.
Humble Pie initially gravitated to eclectic folk-rock-roots sounds reminiscent of The Band, which had taken the world by storm in '68. "Natural Born Bugie" was a U.K. hit single and preceded two albums for Immediate. The first, As Safe As Yesterday Is, purveyed hard rock, British blues, folk, country and post-hippie psychedelia, and was one of the first albums to receive the then-unflattering "heavy metal" appellation. It flaunted a wealth of Frampton guitar moments and solid songwriting in diverse pieces like "Desperation," "Growing Closer," "Alabama '69" and the title track. By contrast, the rush-release follow-up Town and Country, issued only two months later, was largely acoustic and reflected Frampton and Marriott's love of country, folk, ballads, and blues while exploiting ambitious mixed timbres including sitar, keyboards, and various atypical percussion instruments. Only "Down Home Again" and "Silver Tongue" approached the hard-rock intensity of their first album. With these musical treasures, the group began touring the U.S.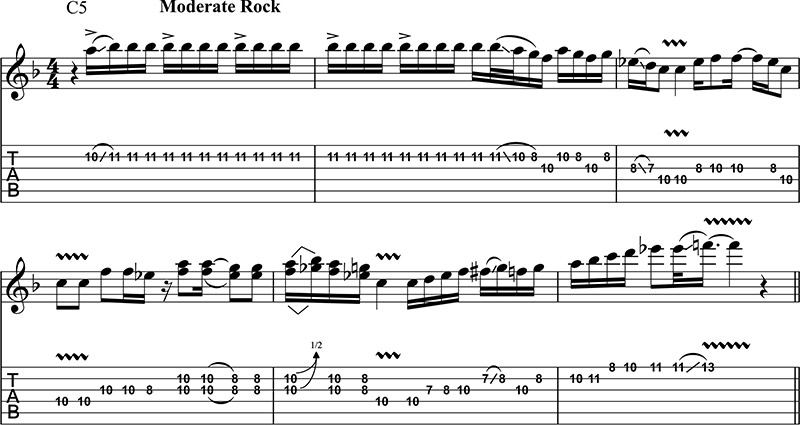 Frampton's solo in "Strange Days" (Rock On) purveys the kind of guitar excitement that demanded repeated needle dropping. This phrase vividly captures the progressive side of Frampton's rock style; check out his aggressive, rhythmically charged opening section with its accented repeated notes. It gives way to a winding modal line in measure 2. Bars 3 and 4 change gears to funkier phrasing and contain allusions to classic rock string bends and double stops. The concluding thought is a more technical modal run laced with chromaticism. It is phrased in a climactic rush of notes to a high F that receives the singing vibrato treatment.
Humble Pie returned to England to find Immediate in financial ruin and soon signed with A&M. Their major-label debut, Humble Pie, marked a transition back to progressive hard rock and featured greater group interaction and sonic contrasts. "Only a Roach" was a country-tinged hippie number with pedal-steel colors and a rare lead vocal from composer Shirley. Frampton's acoustic-dominated folk-pop tune "Earth and Water Song" was flanked by two of the record's heaviest tracks, the metallic boogie "One-Eyed Trouser-Snake Rumba" and "I'm Ready," a hard-rock reinterpretation of Willie Dixon's blues song. "Theme From Skint" was Marriott's country-rock novelty ditty lampooning Immediate's bankruptcy, and "Sucking on the Sweet Vine" was a Ridley composition that evoked Jethro Tull's prog-rock/folk amalgam.
The appropriately titled Rock On achieved greater success and underscored the blues-rock-metal direction that became Pie's calling card, augmented by guests B.J. Cole (pedal steel), Bobby Keys (saxophone), the Soul Sisters singing group, and vocalist Alexis Korner. This was Frampton's last studio album with the band. He exited in '71 to pursue a solo career and the progressive pop/rock songs and layered electric/acoustic timbres he favored. In this period, he made notable guest appearances on George Harrison's All Things Must Pass and Harry Nilsson's Son of Schmilsson.
Humble Pie reached a pinnacle with Performance Rockin' the Fillmore, which ironically climbed the charts as Frampton assembled his next band, Camel. Nonetheless, it marked the first of two important Frampton live albums in the decade. Recorded at NYC's Fillmore East, it was a commercial breakthrough reaching #21 on Billboard's chart and U.K.'s Top 40. "I Don't Need No Doctor" was issued as a single and climbed to #73 on the Hot 100 in October '71. The album remains a milestone that captures the grandeur of their live show, and Frampton's famed Phenix guitar is heard in full glory, as are his inventive chording and sophisticated-but-melodic blues-rock solo statements.
INFLUENCES
Frampton's earliest role models were the Shadows, Ventures, and an obscure American garage-rock outfit called The Preachers. He also gravitated to American rock-and-roll artists like Buddy Holly, Eddie Cochran, and Gene Vincent, blues musicians B.B., Albert and Freddie King, and R&B via Motown. In the mid '60s, he was enamored of the Beatles, Stones, Who, Animals, and Yardbirds, as well as guitarists Clapton, Beck, Peter Green, Alvin Lee, and Jimi Hendrix. An ardent jazz fan from his youth, his most important guitar influences were Kenny Burrell, Django Reinhardt, Wes Montgomery, and George Benson.
STYLE
Frampton was one of the first guitarists to successfully integrate an eclectic, sophisticated lead style into a hard-rock setting. In this regard, much of his playing presaged emerging Eurometal stylists like Michael Schenker, et al. His solos bear a strong blues-rock pedigree with characteristic string bends, vibrato, pentatonic/blues-scale language and idiomatic phrasing, personified in tracks like "Rollin' Stone." However, the modal runs, color tones suggesting chordal extensions of jazz, and chromatic decorations that distinguish his rock solos have their roots in influences like Django Reinhardt, Wes Montgomery, and particularly Kenny Burrell, though no flagrant lifting is evident. Punctuating his British blues-rock licks rendered on a Les Paul and a cranked Marshall are intricate, lyrical melodies that capture the spirit of those inspirations in permutations that enhance guitar style beyond the obvious Clapton-Beck-Page lineage. In Frampton's view, the two are inseparable. In the February '21 isssue of VG, he described the fusion succinctly: "It's always been jazz and blues for me. Blues is not a specific group of phrases, it's what comes from the soul." Consequently, Frampton's style is a musical melting pot. Some of his runs suggest a classical influence in their inherent melodic quality, particularly the diatonic sequences he was fond of running alongside requisite blues and rock lines. Other licks have their origins in country music, Laurel Canyon folk-rock a la CS&N, and American roots sounds.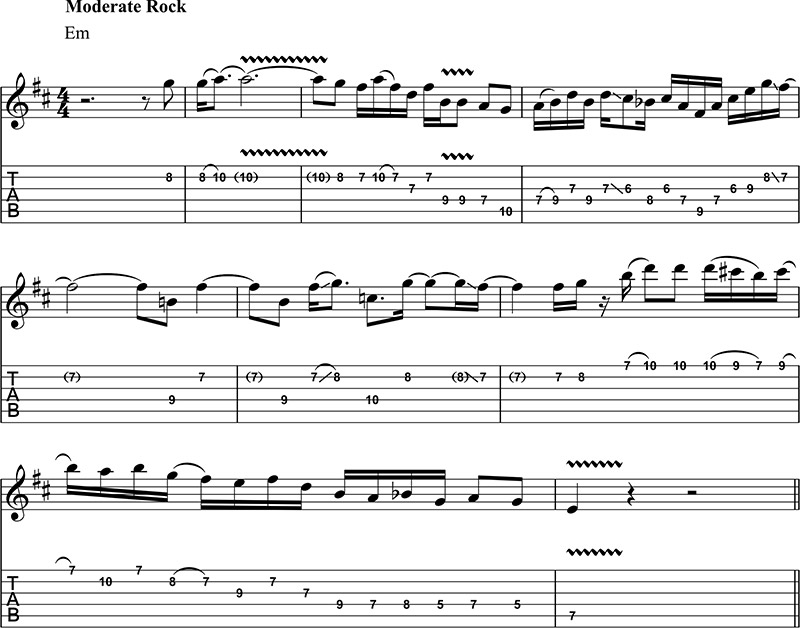 By 1971, Humble Pie was England's top blues-rock band, undergirded by key tracks on the
Rock On
and
Performance
albums. The Pie classic, "Stone Cold Fever," is cut from the same cloth as the heaviest Cream, Jeff Beck Group, and
Zeppelin outings. Frampton's solo entrance phrase reconciles the blues, jazz, and metal elements in his musical mosaic. Thoughtful note choices reflect an ideal balance of pentatonic melody and jazz-inflected modality in E minor, particularly in his use of color tones typical of the Dorian mode. Note the emphasis on the eleventh A and ninth F
#
in measures 2, 5-7. Also noteworthy is his exploitation of extended arpeggios – Bm7 in 2 and F
#
m7 in 4 over E minor, along with a droning theme that introduces the alternate modal tone of C into the equation. The sequential run in 7-8 finds him restoring the C
#
Dorian sound and concluding with a contrasting reference to the E blues scale.
His acoustic playing similarly flaunts a mix of folk, blues, country, Beatles idiosyncrasies, and pop-rock tangents blended with more-progressive and sophisticated jazz-informed harmony. "Take Me Back" and "Only You Can See" on Town and Country are illustrative cases in point.
Frampton's rhythm work and chording are also imaginative and convey a wider artistic vision. When an aggressive power-chord pattern, metallic riff, or boogie-rock figure is required, it's deftly applied with authentic tone and conviction. However, when a more harmonically rich or atypical voicing is needed, his jazz and folk influences surface and provide appropriate colors, timbres, and atmospheric sonorities, indicative of sounds heard in later solo albums. This range and flexibility are part and parcel of his style, and is an identifier of his personal approach to rock music.
ESSENTIAL LISTENING
Frampton's eclectic contributions to Humble Pie are well-documented on the Immediate albums As Safe As Yesterday Is and Town and Country, while Humble Pie and Rock On are indicative of his heavier rock style. Performance is in a class by itself and remains one of the greatest live recordings in hard rock. All five are highly recommended for a complete picture of this important band.
ESSENTIAL VIEWING
Several classic Humble Pie performances from '69 through '71 are available online. Noteworthy are "Natural Born Bugie" (with Frampton sporting a '59 Gretsch Duo Jet), "For Your Love" ('64 Epiphone Texan) and "Rollin' Stone" (with the newly acquired Phenix and two half stacks). And while you're at it, check out Frampton and Marriott's guitar interactions on "I Walk on Gilded Splinters."
SOUND
Frampton played a variety of guitars in the first phase of Humble Pie. In '69, he was seen with that Bigsby-equipped Gretsch Duo Jet, and by his own account endured a number of unsatisfactory Les Pauls, SGs, and an ES-335 until he received Phenix, a modded '54 Gibson Les Paul Custom given to him by fan Mark Mariana during Humble Pie's concerts at San Francisco's Fillmore West in 1970. Frampton was frustrated with the uncontrollable feedback he was experiencing onstage with his 335, but also disillusioned with Les Pauls and SGs. He played Phenix tentatively that evening and, by the second show, grew to love it. He offered to buy the guitar, but Mariana refused payment and insisted it was a gift.<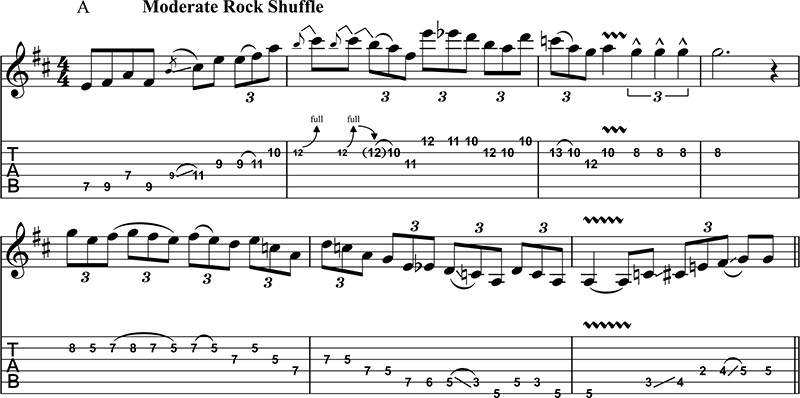 The blues side of Humble Pie's persona was well-represented by "Rollin' Stone," a telling reinterpretation of Muddy Waters' famed song. Its groove switches from Waters' slow riff-based mood to an uptempo shuffling boogie for Frampton's second solo. He responds with a powerful blues-rock flight, its opening lines evoking Peter Green's finest moments with Fleetwood Mac in the triplet feel and winding melodic contours. Note the melody in measures 1 and 2, which introduces a major-pentatonic sound akin to Freddie King's "Hideaway." In 3, the melody suggests a contrasting minor-pentatonic impression. The bluesy triplet lines in 5-7 exemplify the mixed modality of modern blues with its combining of the Dorian mode, minor-pentatonic and blues-scale sources, and a conclusion using mixed major/minor and dominant-seventh melody notes.
Phenix underwent significant modifications. Inspired by the '57 Custom with three humbuckers seen on a Smokey Robinson album cover, Mariana rerouted the guitar for three humbucking pickups to replace and augment the two original P-90 and Alnico V single-coil pickups. The pickups went through various incarnations. Phenix was initially modified with stock Gibson humbuckers; the added middle pickup was a '68 humbucker while the neck and bridge were vintage PAFs. It later sported black-bobbin Seymour Duncan humbuckers and white surrounds. By 1980, he switched to white-bobbin Seymours.
Phenix was re-wired to access all three pickups in any combination and produce an out-of-phase tone Frampton claimed was the "secret" of his sound. Moreover, it was capable of a stereo signal path that allowed the neck and bridge pickups to feed one amp while the middle was sent to another when using a stereo cord – an option he did not use. Its neck was shaved, a brass nut was installed, and the knobs were replaced with newer versions.
Phenix later graced his masterpiece, Frampton Comes Alive. It was lost in a plane crash in Venezuela in 1980, then later recovered and reunited with Frampton in 2011 (read more at www.vintageguitar.com/36427/the-tale-of-framptons-54-les-paul-custom). It was restored at Nashville's Gibson Custom Shop and now has three vintage Patent Number pickups, NOS bumblebee caps and correct pots.
In Pie, Frampton plugged into 100-watt Marshall stacks and 4×12 cabinets. In the early '70s he used two cabs on his side of the stage while a second 50-watt head fed a 4×12 on the other. His effects were minimal; an MXR Phase 90, Binson Echorec magnetic-disc delay and Leslie run by a Marshall head. He also occasionally used a wah pedal, largely for tone changes. In the studio he often favored small amps like an overdriven Fender Champ for distortion sounds, and he sometimes added a Univibe when recording. Frampton preferred a small and very heavy Höfner jazz pick, and used ultra-light Picato roundwound strings.
---
Wolf Marshall is the founder and original editor-in-chief of GuitarOne magazine. A respected author and columnist, he has been influential in contemporary music education since the early 1980s. His books include 101 Must-Know Rock Licks, B.B. King: the Definitive Collection, and Best of Jazz Guitar, and a list credits can be found at wolfmarshall.com.
---
This article originally appeared in VG April 2021 issue. All copyrights are by the author and Vintage Guitar magazine. Unauthorized replication or use is strictly prohibited.
---