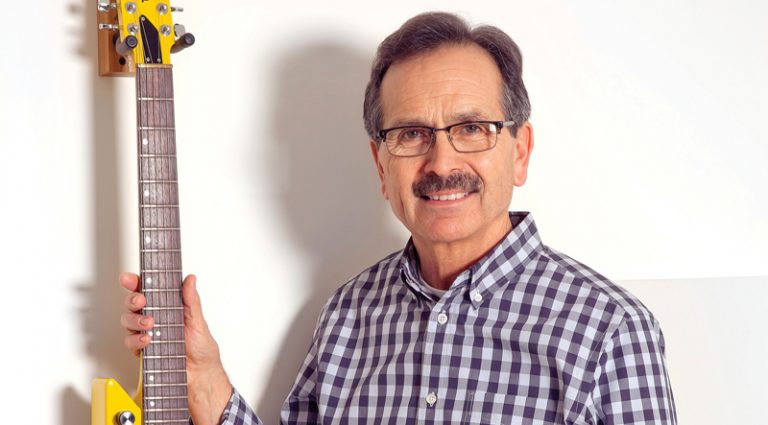 In the late 1970s, trends combined to spawn several new guitar companies in the Chicago area motivated by a desire to "build a better Gibson." The list included Dean and Hamer, both of which impressed players with their high degree of hand-crafted detail. To that fraternity should be added Silver Street guitars.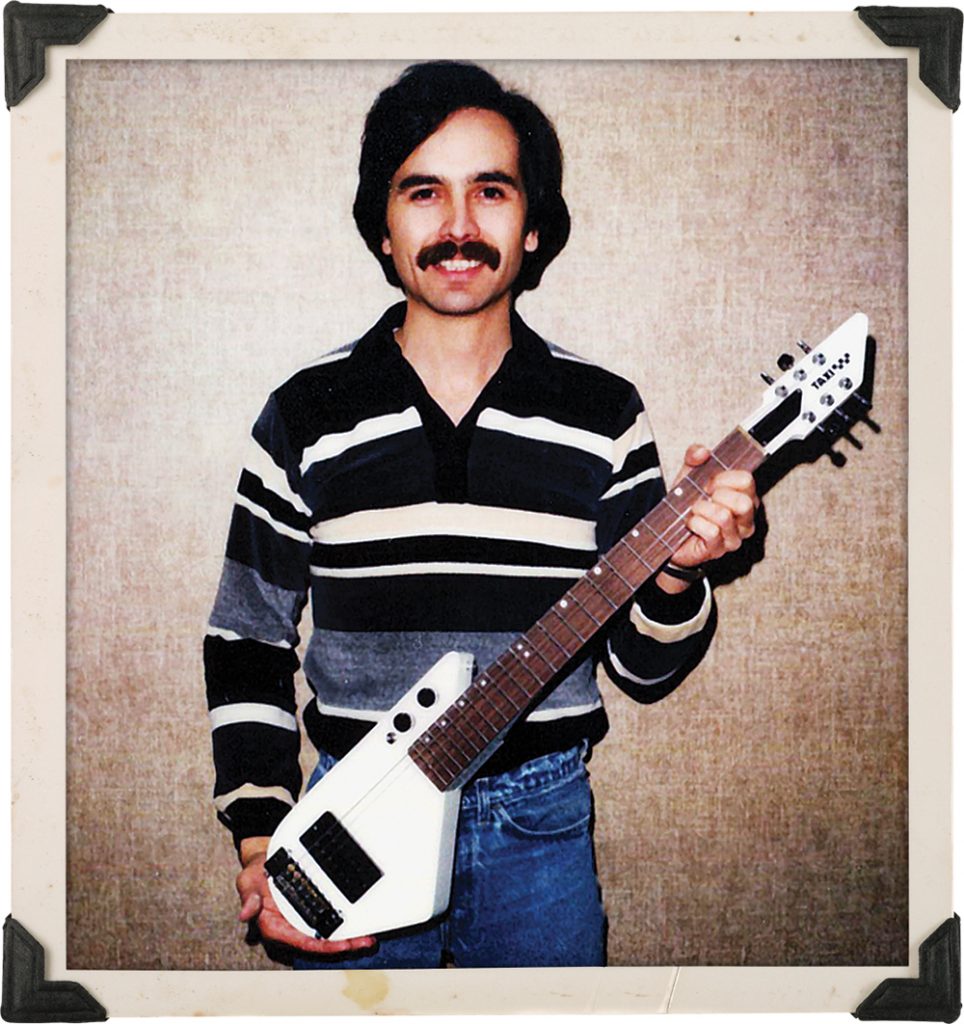 At the time, many guitarists perceived a degradation in the quality of Gibson instruments in the wake of a change of ownership from Chicago Musical Instruments (CMI) to the Panamanian conglomerate Norlin, Inc. Real or not, the attitudes created opportunities for ambitious young makers like Dean Zelinsky, Jol Dantzig, and Bruce and Craig Hardy, of Elkhart, Indiana. 
The Elkhart Beat 
Silver Street began life in '79, when Bruce Hardy set out to build a better drum kit. Born in '48, Hardy's musical path began with piano lessons as a kid. The Beatles' appearance on "The Ed Sullivan Show" changed him and, like millions of other Babyboomers, he grabbed a guitar and played in bands through high school, college, and into adulthood when he returned to Elkhart.
At the time, it was common among drummers to stuff things into their drums to "muffle" the tone to give a deeper, more controlled sound. Hardy's drummer neighbor stuffed his with pieces of foam rubber. At the time, Hardy worked installing carpet at an RV factory, and had an idea to improve the setup; he brought foam rubber from work and – without permission and to his neighbor's great astonishment – glued it underneath the heads of his drums. It worked well and the concept would evolve to become Silver Street's first commercial product – the Deadringer drum muffler, for which Hardy received a patent.
Hardy had a fertile mind when it came to developing musical products; he was ultimately granted 10 patents for various guitar and drum-related pieces, but relied on business expertise provided by his brother, Craig, who operated several small businesses near their boyhood hometown of Shelby, Michigan. In June, 1981, Silver Street Incorporated (named for the street Bruce lived on in Elkhart) was formed to handle manufacturing and marketing of Bruce's musical inventions, and before long, electric-guitar designs.
Other Silver Street products eventually included the Pick-Clip, Cable-Clip, the Headmaster (a plastic tray to safely hold snacks and drinks on an amp), and other, mostly drum-related accessories. Silver Street got a boost from pickup guru Larry DiMarzio, who gave them access to his independent sales reps and allowed them to put product sheets in their binders.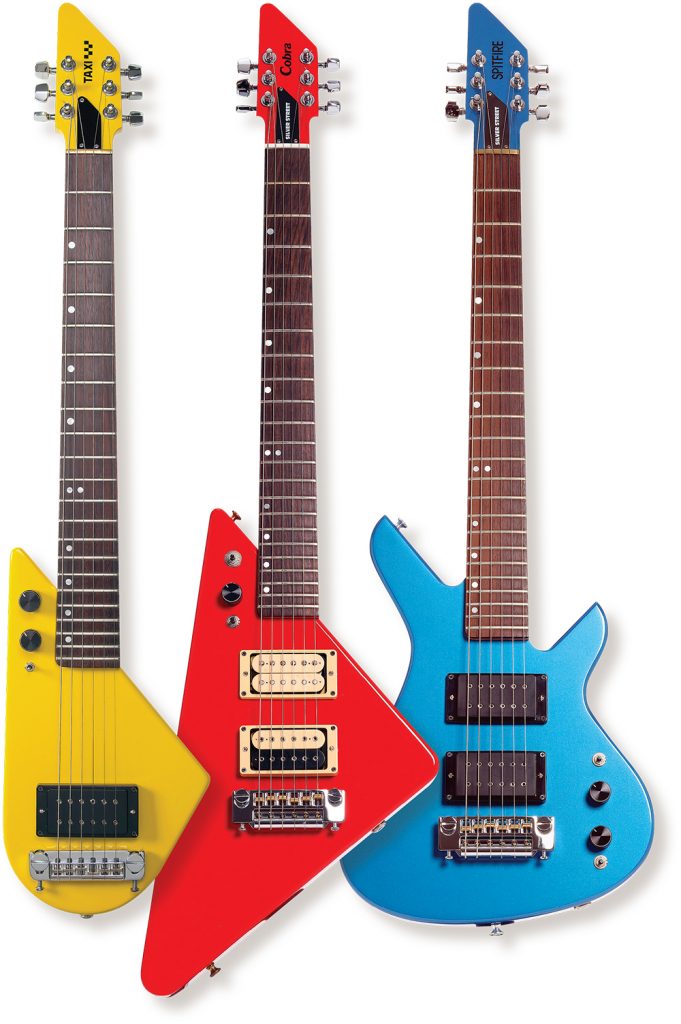 Hail a Cab
Silver Street's move to guitar production was the result of a trip to the Musik Messe trade show in Germany, where in June of '81 they displayed accessories. Among the products Bruce encountered were increasingly popular small guitars like the Steinberger and the Chiquita travel guitar. Bruce imagined a guitar that would make it easier for big-city musicians to carry in a taxicab. He conceived it having a full-scale neck on a compact body, and on the flight home sketched ideas that led to a model called the Taxi.
In 1981, Gibson was nearly finished relocating from its longtime home in Kalamazoo, Michigan, to Nashville. While Nashville was emerging as "Music City," the move also reflected a broader move by manufacturers from unionized Northern states to "right to work" states where joining a union was not required and labor costs were substantially lower. 

On Your Mark
In '81, Hardy drove to Kalamazoo, where he met with J.P. Moats and Marv Land, Gibson employees who later stayed in Kalamazoo to found Heritage Guitars. They introduced Hardy to Jim Deurloo, manager of Gibson's wood shop who in turn put him in touch with Richard Schneider, a luthier who in the mid '70s worked with Michael Kasha to produce Gibson's radical Mark Series acoustics. Schneider agreed to build four prototype Taxi guitars along with one bass. They were completed in '82 and had Gibson-style "sandwich" bodies with two pieces of wood pancaked over a thin, dark slice in the center. The necks were shaped like a Les Paul's and had rosewood fingerboards; the earliest even had a volute. Headstocks were given a distinct, small shape. Bruce had a friend named Marty (who airbrushed conversion vans) finish the guitars in a bright yellow, the bass in red. Hardy wired the prototypes the night before the '82 Summer NAMM show, in Chicago. Pickups were DiMarzio Super Distortion Dual Sounds. Tailpieces were Leo Quan BadAss units. The guitars were well-received, and after the show, Hardy ordered 50 Taxi necks and bodies from Gibson.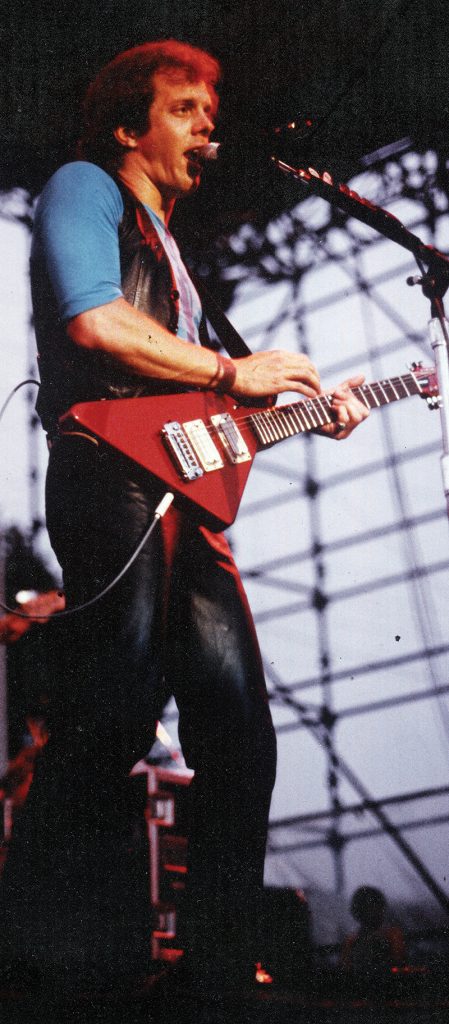 Silver Street eventually employed as many as a dozen people at its Elkhart factory. Bruce continued to supervise manufacturing and design new models – Taxis with one or two pickups, the offset double-cut Spitfire, and the triangular Cobra. All were distinguished by near-complete treble access to the fingerboard and a 24.5″ scale. The majority of fingerboards had dot inlays offset to the bass edge like Gretsch thumbnails or Teisco's bars, though they also offered other patterns. Bridges/tailpieces transitioned to Schaller assemblies. Early models had serial numbers stamped inside the neck pocket, and control cavities shielded with lead foil. Later models had a serial number on the back of the headstock and black shielding paint in the cavities. Single-pickup models had a coil tap, one Volume and one Tone. Where applicable, they were given three-position switch.
Rainbow Coalition
Silver Street offered a number of options and many players requested custom features, so there was very little consistency. Pickups could be DiMarzio Super II, P.A.F., or Super Distortion in any combination, with X2N units for an upcharge. The buyer could even select bobbin colors; Bruce and Marty did the painting. Standard controls were master Volume, master Tone, and three-way select, though electronics could also be customized. Standard colors included Roadster Red, White, Sky Blue, Rude Pink, Yellow, Turquoise, Porsche Red, and Black. For a little extra, you could get Champagne, Dark Blue, Mercedes Red, Silver, Dark Green, Steel Blue, Gold, Candy Apple Red, Candy Apple Blue, Rose Pearl, White Pearl, Blue Pearl, or natural. Flame-maple bodies were an option, as were custom finishes. In '83, base prices for the Taxi were $549.95 (one-pickup) and $599.95 (two-pickup), $699.95 for the Spitfire and Cobra.
Things were going so well that Silver Street acquired equipment for making its own necks and fingerboards. 

In '83, Bruce began working on the MX, a hybrid V/Explorer that had more than a little similarity to Dean's ML, and (with input from artist relations rep Ken Willard, who'd also spent time in the company workshop, and Styx guitarist Tommy Shaw) the Nightwing, an offset double-cut with asymmetrical "French curve" on the lower bout.
Bruce was putting in long hours and continued to devise ideas for new accessories. Silver Street, however, had its hands full and Craig chose not to expand its line. Tension over the situation came to a head in mid '83, and Bruce promptly exited. 
North to Shelby
In many circumstances, the loss of its main product designer might have meant the end for a guitar company. However, Craig Hardy was sitting on a stash of components, an investment in tooling, and business interests in Shelby, Michigan. One of his companies made artificial gemstones and another was a machine shop. So, in mid '83, construction began on a new building while parts and equipment were shipped from Elkhart. Ads were placed in local newspapers seeking a spray painter. One person who saw the ad was the sister of former Shelby resident Dan Mustard, who in '83 was working as a house painter in Kentucky. Mustard applied and one of his references was a friend who knew Craig. Mustard was offered a job before the new factory was finished.
Shipping of parts from Indiana was not the final association between Silver Street and Gibson. By '83, Gibson's move to Nashville was almost complete, and those who chose to remain in Kalamazoo became the core of Heritage. Some became consultants, including Charlie Garrison, head of Gibson's finishing department for nearly 40 years. Garrison spent a month or two schooling Silver Street's new finisher in the art of applying nitrocellulose lacquer.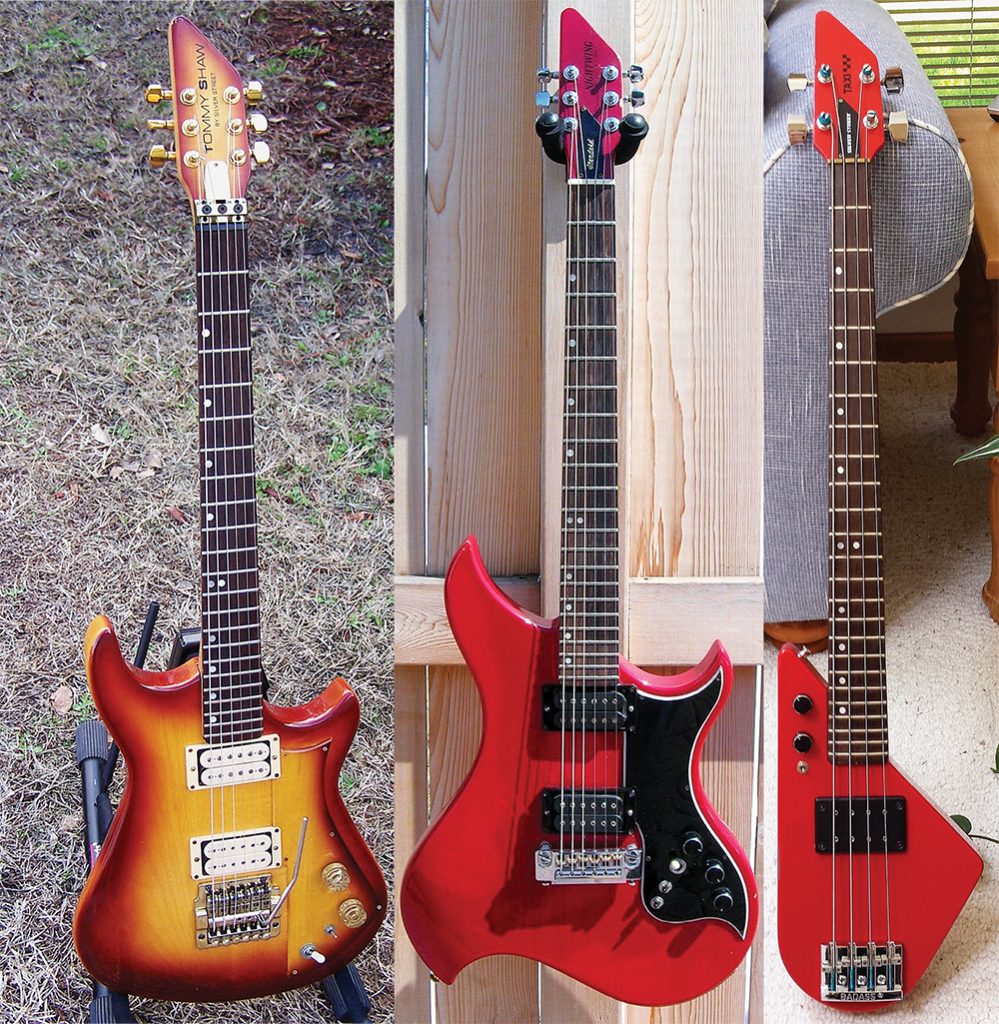 The Les Paul Vibe
Mustard was in awe of his new mentor. 
"There's a very good reason why Silver Street guitars, especially the sunbursts, have lots of Les Paul vibe – Charlie Garrison," said Mustard. "Charlie taught me it's not just putting on the lacquer; wet-sanding and buffing are the hard parts. It only takes a second of too much pressure to ruin a finish! Nitrocellulose finishes helped put Silver Street on the map because so many companies were switching to polyurethane at that time."
While many Gibson-made parts were used, the new factory was outfitted with state-of-the-art equipment including pin routers and cutting machines just before CNC. 
Silver Street benefitted from having access to local hardwoods direct from mills, and their own kilns. 
"We also had Craig's machine shop," Mustard added. "Whenever we needed patterns or fixtures, they'd make them. So, we could build to very tight tolerances."
When Gibson finally shut down in Kalamazoo, a lot of the equipment and materials were auctioned. Silver Street purchased an overhead sander and pallets of wood including mahogany and figured maple. Later, Silver Street got a contract from Brunswick to make bases for bowling trophies. 
"A lot of that old wood ended up sitting under a trophy, which is kind of a shame," Mustard said with a wry chuckle.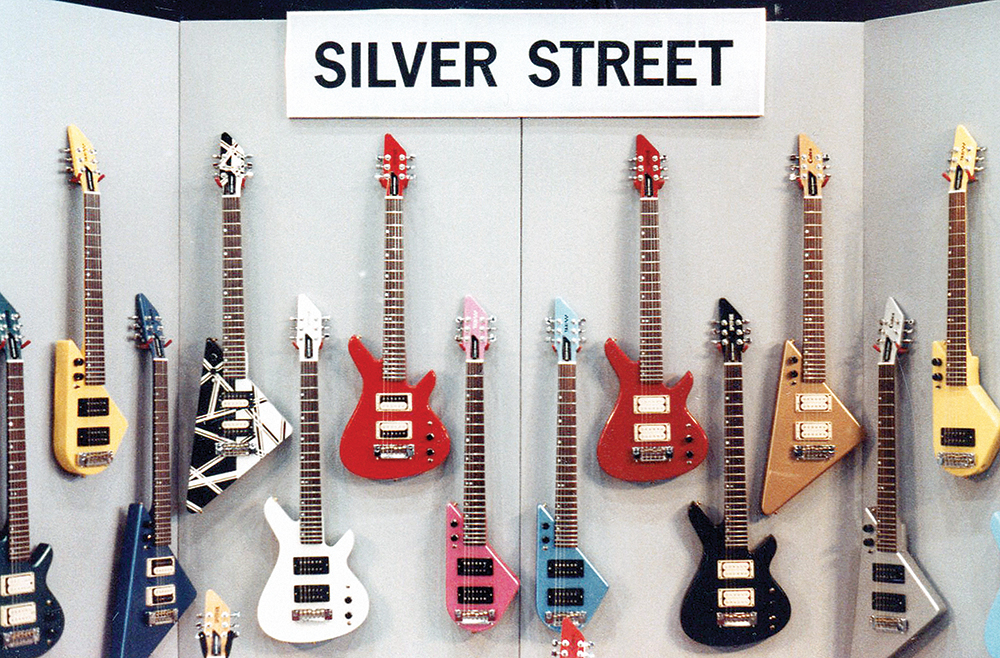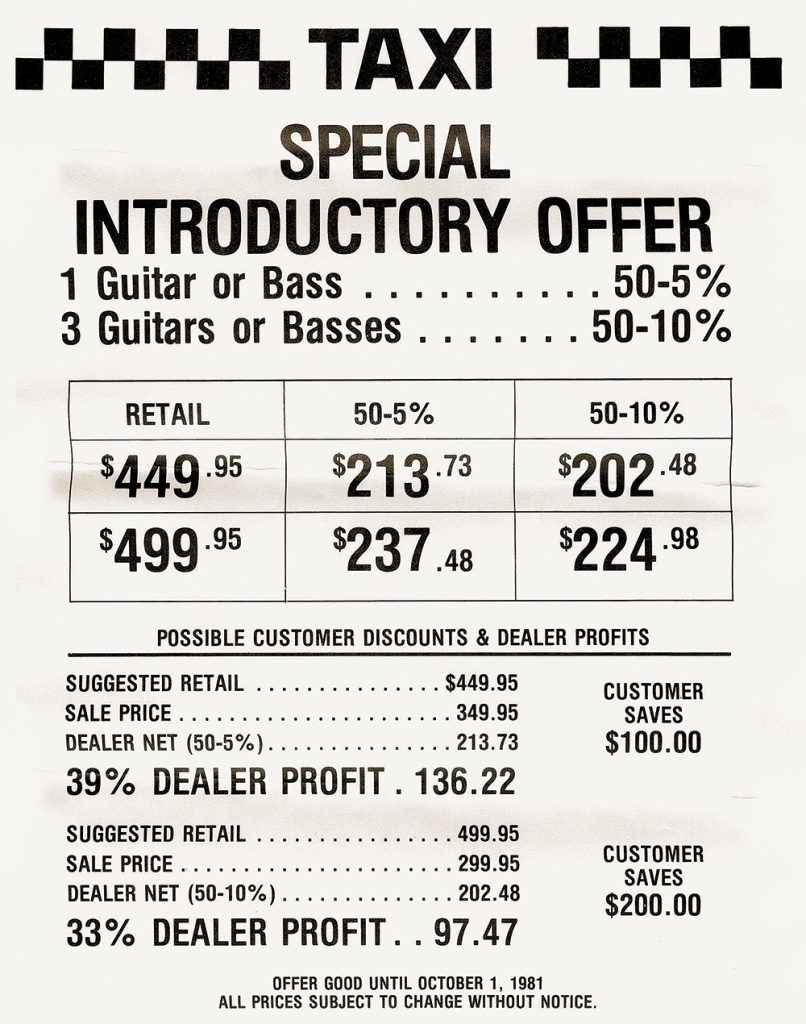 Jolt of Voltt 
The reincarnated Silver Street was much leaner than it had been in Elkhart, running with only three or four employees. Mustard did the painting, final assembly, and setup, while sales and marketing was handled by another young musician, Steven Voltt. It was Voltt who recruited artists to play Silver Streets, including Shaw. A picture of Shaw playing a Spitfire surfaced around the time he was going solo in '84, so Voltt approached him, and the association led to Mustard designing two new models, the Tommy Shaw and the Elite.
Shaw preferred Gibson's scale, but also liked Strats even if they were too large for him to play comfortably. His signature Silver Street became the perfect blend – a Gibson-style neck mounted on a down-sized Strat-like body with a pair of humbuckers. By this time, Silver Street was offering an optional Kahler or Floyd Rose locking vibrato.
The final Silver Street designed by Mustard was the Elite, in '85. 
"That was our attempt to make a Gibson-style guitar," he said. "You can see it was inspired by a Les Paul Junior, with a set neck, and they were made with wood from the Gibson auction." 
The Elite evolved from symmetrical cutaways to a slightly offset shape and was given Schaller pickups in the then-popular humbucker/single/single configuration, with the de rigueur locking vibrato. 
Along the way, they made two promotional guitars with bodies shaped like the state of Michigan.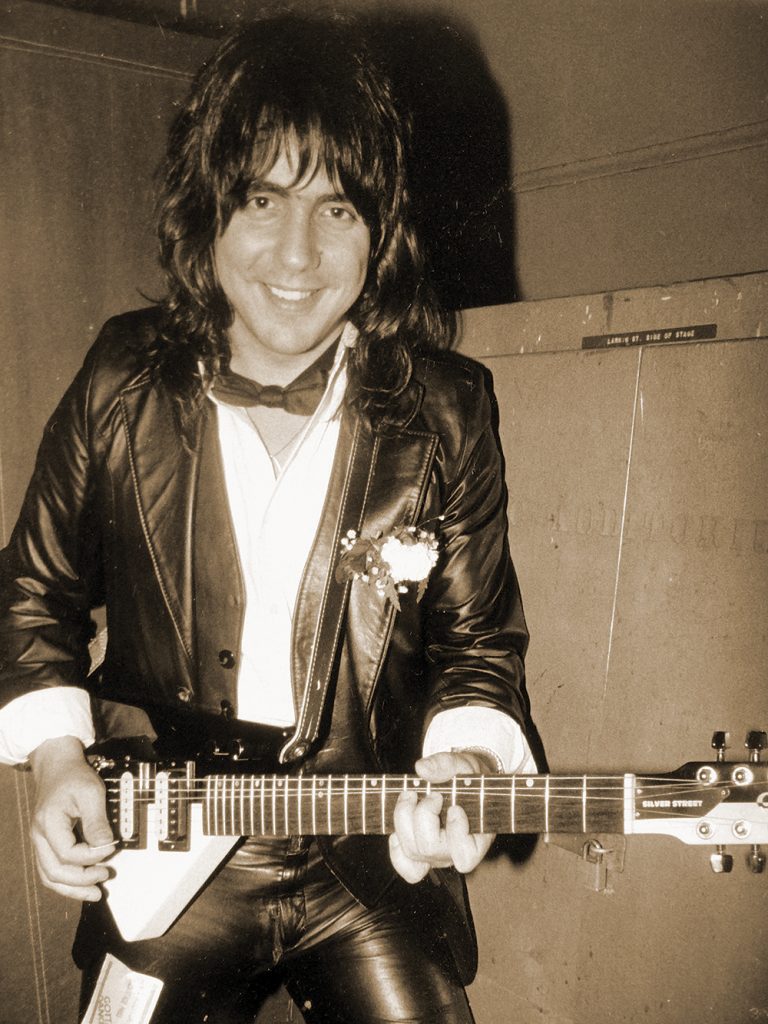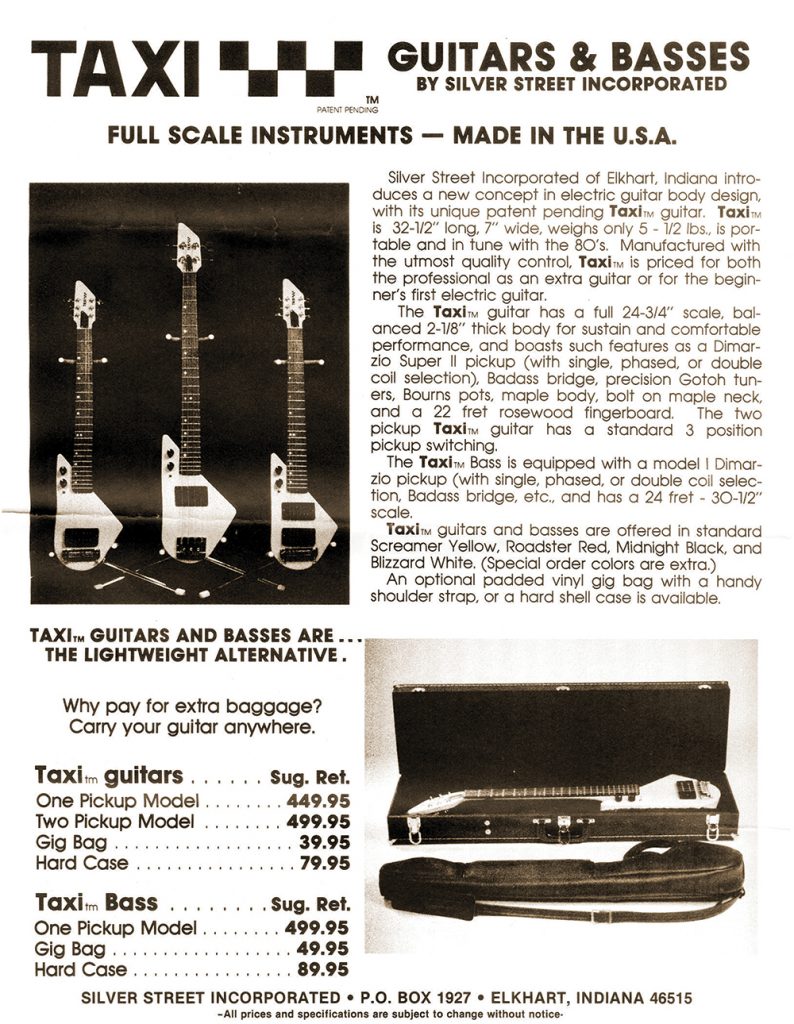 The End
Though it jumped into the boutique-guitar game early, Silver Street ultimately couldn't compete. When Paul Reed Smith guitars emerged in 1985, it was also combining Gibson and Fender elements. And it wasn't the only competition. Guitar players were increasingly warming to guitars made in Japan by Ibanez, Yamaha, ESP, or Charvel. By comparison, Silver Street guitars were expensive, the company's margins slim. 
By a point in '86, Mustard was the only person working on guitars before the plug was pulled and the company's equipment sold to a luthier in Detroit.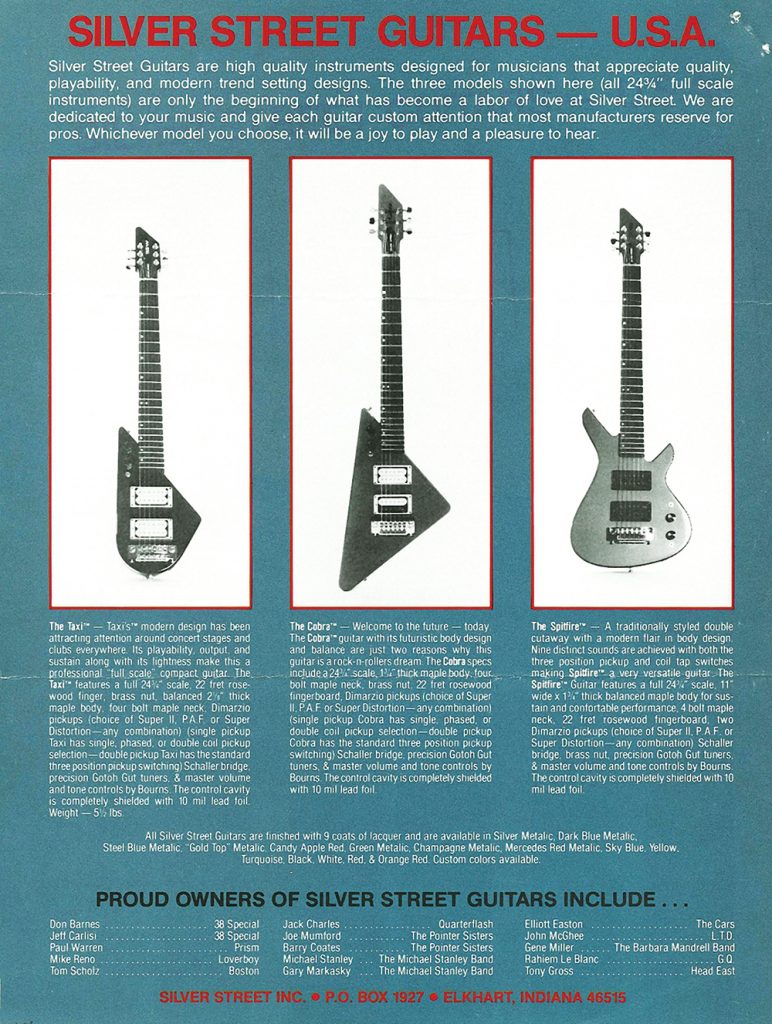 Rare Birds?
For better or worse, Silver Street guitars were made by enthusiastic men in their early 20s. They were completed in batches as orders came in, and no one thought to keep production records. Neither was there a meaningful serial-number system. Bruce Hardy guesses that approximately 500 were produced, but the total may be slightly higher. Mustard estimates that slightly more than 300 Taxis were made in Shelby, along with 50 Cobras, 50 Spitfires, 50 Nightwings, 25 MXs, 50 Tommy Shaw models, and 25 Elites. Suggested retail prices ranged from $449 for a single-pickup Taxi to $889 for a basic Elite.
In the '80s, Dean and Hamer transitioned from merely building better Gibsons to become long-running, respected brands. Silver Street, on the other hand, was on its way to becoming a footnote to Gibson's final days in Kalamazoo until its story was rescued through the efforts of advocates such as Mustard, Bruce Hardy, and Murray Jackson, a collector and de facto dean of the brand's history who runs silverstreetguitars.com.
"Silver Street wasn't a situation where someone had too much to drink and said, 'I think I'll make guitars and get rich,'" said Jackson. "They set out to make something innovative, with attention to quality and detail." 
---
This article originally appeared in VG March 2018 issue. All copyrights are by the author and Vintage Guitar magazine. Unauthorized replication or use is strictly prohibited.