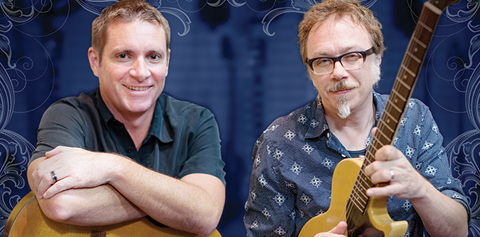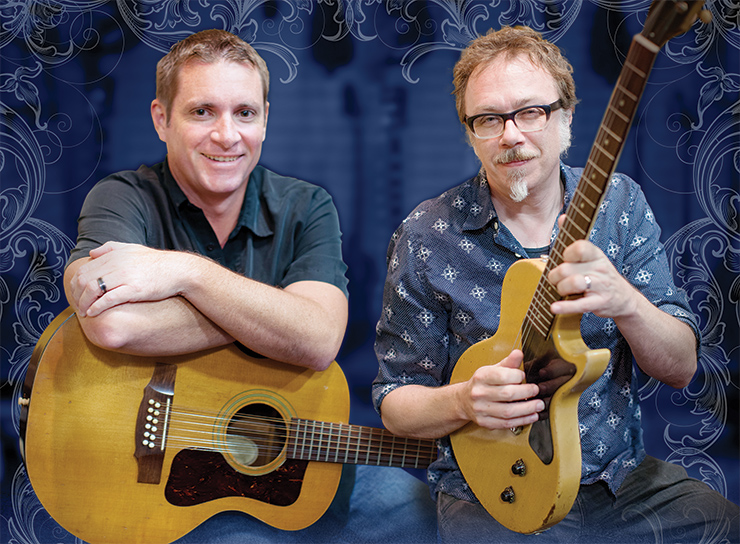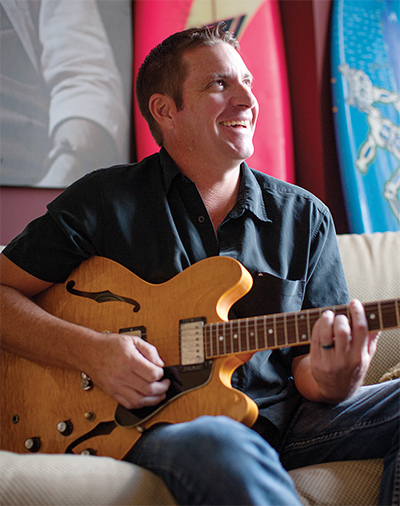 "A lot of people think I go in [to a sale] with an open checkbook, but that's not the case; we're very strategic."
– Jerry Fraize
When Peter Morton and Isaac Tigrett opened the first Hard Rock Cafe in London's Mayfair district in 1971, they simply wanted to introduce American culture and cuisine – good ol' cheesburgers, fries, and milkshakes – to the staid land of fish and chips. The young Americans couldn't have known that their establishment would become a cultural equalizer.
Unlike most London bars and restaurants at the time, the Hard Rock welcomed all people, regardless of race, creed, or pedigree. Its American menu and decor highlighted by pop-culture memorabilia proved popular, and the vibe attracted local musicians including Eric Clapton, who in 1979 asked to hang a plaque above his preferred seat. Tigrett instead suggested they hang one of his guitars, and Clapton obliged by sending over a Fender Lead II from his collection. Not to be outdone, fellow patron Pete Townshend offered for display a modified Gibson Les Paul, with a note reading, "Mine's as good as his! Love, Pete."
So were sewn the seeds of what is today "the largest private collection of rock and roll memorabilia in the world" – nearly 80,000 items, including guitars played by legendary musicians and displayed at Hard Rocks around the world or cared for in one of two "Vault" facilities – the original in London and another in Orlando, Florida.
For the last decade, two men – Jerry Fraize and Jeff Nolan – have been responsible for pulling together the Hard Rock Cafe's guitar-centric efforts, their mission to acquire and care for the hundreds of stringed instruments and amps. Fraize is the HRC's Director of Memorabilia, where he oversees a team of designers, installers, and administrators who acquire and catalog memorabilia. His primary job is to visit acquisition houses and attend any auction that has to do with rock and roll or music-related items.
Among personal favorites that he has scored for Hard Rock are a series of drawings by Who bassist John Entwistle, obtained at the first auction he attended for the job, and the bugle that had been Keith Moon's first instrument.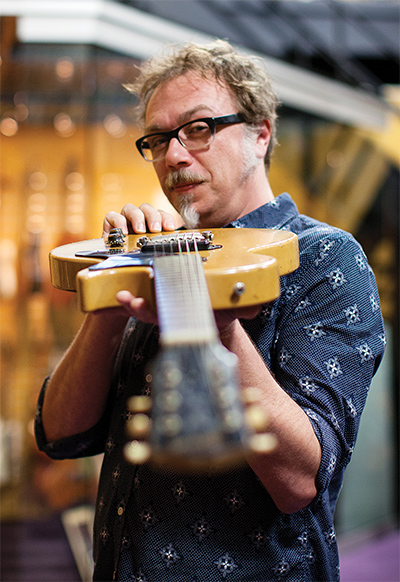 "It's incumbent on me to relay [my passion for guitars] to our guests."
– Jeff Nolan
"The feeling of winning those pieces was surreal," he said. "Two others that I'm really fond of are a Hiwatt 200 marked 'Pink Floyd' and one of Roger Waters' Fender Precision basses."
More typically, though, Fraize buys based on the Hard Rock's specific needs.
"If we have a hotel, cafe, or casino opening, I have a list of things I'd like to get, and I scour sales for those. A lot of people think I go in with an open checkbook, but that's not the case; we're very strategic. I have approvals all the way up to Hamish [Dodds, Hard Rock's President and CEO].
"In addition to auction houses, there are private collections, the artists, and then, when you get to the level of say, Van Halen or U2, you're trying to incorporate things at a charity level – money isn't a big deal for them. And we're known for our philanthropic causes.
"We recently did a deal with (Latin-music superstar) Juanes, who's not the normal artist you'd think of with Hard Rock, but we're opening in a lot of Latin markets. He wants to give back to people he cares about, and in return, we can represent him and his legacy, basically forever. The artist wins, we win, and our guests get to see pieces that otherwise would be in a closet. And the charity wins, which is a really fulfilling part of our acquisitions."
Nolan, who refers to himself as "the ultimate guitar freak," is, in reality, a bona fide historian. His official title is Curator, Music and Memorabilia Historian for Marketing.
"The Reader's Digest version is 'music nerd,'" he said. "I'm passionate about history and music. Every time I walk into this warehouse, it blows my mind.
"As a guitar player, especially, it's incumbent on me to relay that passion to our guests. I take that seriously because I know people would see right through any fake enthusiasm. Hard Rock recognizes the importance of that, and that impresses me."
When Nolan was hired in '04, the Orlando facility was strictly a museum – there was no cafe or hotel. The Vault closed to the public shortly thereafter, and he began developing similar curatorial programs for the cafes. One of his duties was researching the stories behind the instruments.
"I was asked to generate content for the website, which led to working with the corporate memorabilia team. I was fortunate to discover that my skills as a guitarist and writer was valued by the company."
Here, in the first of a series of features, we offer a closer look at key guitars in the collection of the HRC. The series will include photos as well as thoughts from Fraize and Nolan, along with HRC repair tech Kip Elder and other experts who lend their input to the effort.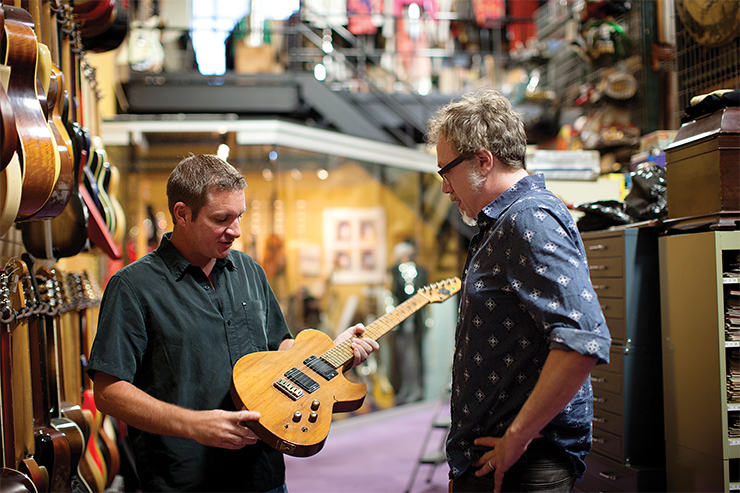 ---
Rock-Star Request
Brian Jones' Vox Mark III
This Vox Mark III Teardrop may have been the first custom guitar commissioned by a rock star.
In 1964, Rolling Stones guitarist Brian Jones asked the company to make a lute-shaped axe with a Stratocaster bridge, and while it's anyone's guess what other details he may have requested or how exacting builders were moving from concept to execution, it's believed the guitar was presented to him in July of '64. Until that time, only blues-rocker Bo Diddley played something that couldn't be found hanging on the wall of a music store.
When it came to certain details, Vox took Jones perhaps a little too literally.
"The bridge is indeed from an old Strat," said Jeff Nolan, who now cares for the guitar in his work as a historian at the Hard Rock International's Orlando outlet. "It has been crudely cut and hammered into the face of the guitar. On the back is a strip of pickguard material holding the ball ends of the strings, and clipped to it is a ground wire."
"It's very primitively done," added Hard Rock repair tech Kip Elder. "The piece behind the block is wedged into the back of the body, and just behind that little strip of plastic is where the strings go through."
"With the neck width being so small and the string spacing so wide, these are not compatible parts," adds Nolan as he grabs the neck between the fifth and 12th fret. "It's surprising they went to the trouble of routing for the inertia block and cramming the bridge in there. It's not a vibrato, but they used the entire vibrato assembly. I'd guess options were limited back then. Still, if you have the wherewithal to build this instrument, you have the ability to remove the block," he adds with a laugh. "You'd think it was built using a sledge hammer. Also, it makes me wonder how long there was a '50s Strat with no bridge laying around [Vox's manufacturing plant in] Dartford."
For all of its faults, though, Nolan says the guitar plays surprisingly well and is in good condition.
Kevin Randall, a Jones fan who has had hands-on time with the guitar, says that the bridge resonates better than Vox's later top-mounted bridges, which tended to sound bright and thin.
"The bridge is routed where a vibrato bar would be attached, and its bottom was altered because its body is slimmer than a Fender's," he said.
A guitar historian, luthier, and effects builder, Randall has tracked the guitar's headstock decal wear/disintegration through the years. The instrument also sports a zero fret and Vox-labeled Kluson tuning keys. The nut measures 15/8″.
Randall believes the Mark IIIs and Phantoms made in the Dartford plant had 250K pots for the Volume controls, while later models made in Italy by Eko used 500K volume pots and 250K linear-taper resistors for the Tone controls.
Vox created five such guitars, one with a factory vibrato that probably went to Johnny Thunders, of the New York Dolls. There is photographic evidence of Thunders playing such a Vox (not a Phantom, which is often mistaken for the Teardrop III) while the band performs "Jet Boy" on Britain's "The Old Grey Whistle Test" in 1973.
The pickups are early Vox units, such as Jones' guitar; those created at Dartford were wider from the later production models, and a bit longer. Jones' neck pickup has shorter pole spacing than the one at the bridge, and the pickups themselves were shorter and fatter, with metal pickup rings. Many say the later pickups were cheaper, while those on Jones' guitar were more like vintage Fenders.
The instrument sports a mahogany body, maple neck, and an ebony fretboard with white clay-dot inlays. It has smaller frets similar to those on a banjo or even a Fender Esquire. The neck radius measures 11″ – closer to a Gibson than a Fender of the era. The Vox has a Fender-like 251/2″ scale length, while its wiring is set up like a Tele and uses a three-way switch. For some reason, it's wired backward; in the back position, it engages the neck pickup.
Randall says the guitar sounds cleaner than a Strat; it has the twang of a Tele with the bite of a Rickenbacker. Yet the bridge pickup yields warmth and a well-defined edge.
Elder cited the dome contour of the top as a feature of early prototypes.
"It's really unusual, with interesting string spacing and the width of the fingerboard," added Nolan. "It's edge-to-edge, which makes for an unusual experience going up the fingerboard."
The crudely rigged ground wire on the back was covered by a black vinyl snap-on circular pad similar to that used by Gretsch.
As Nolan sees it, this is perhaps the most iconic instrument in the Hard Rock collection. "When Stones fans see it, they lose their natural-born minds, and rightfully so," he laughed. – Jim Carlton
---

Koss' "Beast"
The Les Paul TV of an Underrated Legend
"If there's one guitar I'd grab in a fire, it would be that one," says Hard Rock historian and memorabilia expert Jeff Nolan, pointing to a '57 Gibson Les TV Model that once belonged to Paul Kossoff. "It's a beast."
Though such catastrophe is an unlikely event – the guitar is housed in the Hard Rock's "Vault" in Orlando – Nolan's admiration is understandable, and his words carry gravitas given they're from a guy who has access to all 20,000 guitars in the company collection.
Nolan's research determined this was the first Les Paul obtained by Kossoff, guitarist in the renowned blues-rock band Free; its solid, soulful, laid-back grooves juxtaposed against a powerful hard-rock punch provided a diacritical dynamic that generated fan and critical acclaim on the British blues scene of the late '60s. Kossoff died at age 25, a victim of drug-related problems, and many believe that if he had lived long enough for his talent to fully manifest, his status would have rivaled that of Clapton, Beck, and Page.
"Think of the half-time swagger of 'Fire and Water' or the amazing vibrato of 'All Right Now,' which rocks like nobody's business," Nolan said.
The guitar sports the stock P-90 in the mahogany body. The fretboard is rosewood and the neck has the beefy, rounded profile Gibson used in that era (Leslie West, who was given his first TV Model by music producer/Mountain bassist Felix Pappalardi, called his "A tree with a microphone").
"It's the ultimate rock axe," Nolan said. "And when they built that particular guitar, it was one of those days in Kalamazoo where the weather was right or something (laughs), because it is perfect. People will spend thousands of dollars for boutique pickups and a high-end overdrive pedal, trying to get the sound of this guitar plugged into a cranked Marshall or tweed Fender. Everything about it is magical."
The color was created because (somewhat ironically) the black and white finishes on the guitars used by Les Paul and Mary Ford proved difficult to reproduce under the bright lights required for the black-and-white cameras used on their television variety show. Paul and Gibson devised the color to remedy the situation, which was listed in Gibson catalogs as "Limed Mahogany" (and more commonly referred to as TV Yellow) on the Les Paul Junior, introduced in 1954 as an affordable alternative to the Les Paul (also ironically, Paul himself never appeared on TV playing a guitar with the finish). The guitar was dressed down with a slab/non-contoured body, single pickup, lower-cost "strip" tuners, a 245/8″ scale, mahogany neck that joins the body at the 16th fret on a 22-fret rosewood fingerboard, pearloid dot inlays, and a stop tailpiece. In '56, Gibson introduced the Cherry Red finish to accompany the Junior's sunburst, and moved Limed Mahogany to the re-named TV Model.
Kip Elder, the Hard Rock's resident tech/repairman, offered specifics on the Kossoff guitar.
"It weighs 7 pounds, 8 ounces, the P-90 yields an 8.06K-ohm reading, and the neck measures .903″ thick at the first fret, 1.002″ at the 11th," he said, "We measure it at the 11th because the heel starts at the 12th. The shape of the neck is between a C and soft-V shape and feels great in your hand. It has a killer fretboard and the edges are nicely rounded from years of handling. There are tell-tale tool marks of a re-fret or fret dressing.
"The parts are original except for a Mallory capacitor replacing the stock bumblebee, but nothing else appears to have been changed. And the pots appear to be original CentraLabs. It is a monster guitar!" – Jim Carlton
---
This article originally appeared in VG July 2015 issue. All copyrights are by the author and Vintage Guitar magazine. Unauthorized replication or use is strictly prohibited.
---