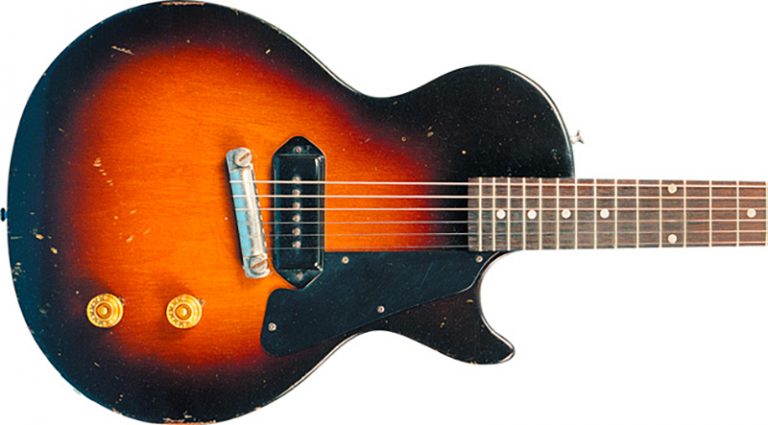 Gibson's records say the Les Paul Junior was introduced in 1954. But here we have what appears to be a 1953 example.
This instrument has no serial number on the back of the peghead, though the tone and volume pot codes indicate they were made in 1953, and the guitar differs in specifications from any other Les Paul Junior.
On first glance, it's evident the guitar has a pickguard shaped similar to that of a goldtop Les Paul. But, typical of a Les Paul Junior, it's black and screwed directly onto the top of the instrument. Further inspection reveals numerous other differences between this guitar and a typical Junior. The neck is set into the body such that the fingerboard is significantly higher than the level of the top. This neck joint (see inset), while obviously original, differs from other Les Pauls. Additionally, the instrument differs from a typical Les Paul Junior with its darker sunburst, with brown (rather than yellow) stain in the middle. This finish is similar to that on the ES-125 of the time. Further, the P-90 pickup is the same type used on the ES-125 and ES-175 of the period, with a black plastic cover different in dimension from those on typical Juniors. The silkscreened Les Paul Junior logo on the peghead is the same style used from 1954 onward, and the body shape is the typical single-cutaway Les Paul-style.
Beginning in the '70s, Gibson marked prototypes on the back of the peghead with a special stamp. But when this guitar was made, prototypes received no such treatment, so we can only speculate as to whether it's a prototype or merely an early example with different specs. We must also speculate as to why Gibson made this guitar with such an unusual neck joint, or why they chose to introduce a different color, different pickguard shape, and different neck joint on the standard production model from 1954 onward. To the best of our knowledge, there are no records that would shed light on these questions, but from a practical point of view, several observations are worth noting:
• This guitar has zero neck-angle pitch, which necessitates a .4″-thick riser under the fingerboard to raise it off the top. The standard Les Paul Junior design has a 3° neck pitch, permitting a much lower riser.
• The production model's pickguard permitted an exposed end of the tenon joint, which is much simpler for the manufacturer.
• The later sunburst was done by first spraying a light opaque color (similar to the TV model's limed mahogany), then applying the sunburst stain to give greater contrast.

From a practical point of view, while it differs significantly from a typical Junior, this guitar functions extremely well as a practical musical instrument. It feels and sounds very much like a typical Les Paul Junior, and is certainly good enough to be used onstage or in the studio, though some players might find that the elevation of the fingerboard feels awkward.
While the Junior featured much less ornamentation than the more expensive Les Paul models, the workmanship and materials conform to Gibson quality standards. With only one pickup, a Les Paul Junior has less versatility of sound than a double-pickup guitar, but the quality of sound produced by one single-coil P-90 is as good as the lead sound on a double-pickup guitar. Just as most jazz players use only the rhythm pickup and have no need for a double-pickup guitar, many rock and blues players find that a single pickup in the lead or bridge position meets all of their requirements.
From a functional point of view, this early Les Paul Junior is fully comparable in quality to the production version. From a collector's point of view, however, it is far more appealing; it's not only a very early example, but it carries an aura of mystery, since there are no records to indicate whether it's a prototype, or whether any others like it may be lurking out there!
---
This article originally appeared in VG June 2005 issue. All copyrights are by the author and Vintage Guitar magazine. Unauthorized replication or use is strictly prohibited.
---
Dig into VG's vast article archive!
Be notified when the next "Overdrive" and other great offers from VG become available! Simply submit this form.