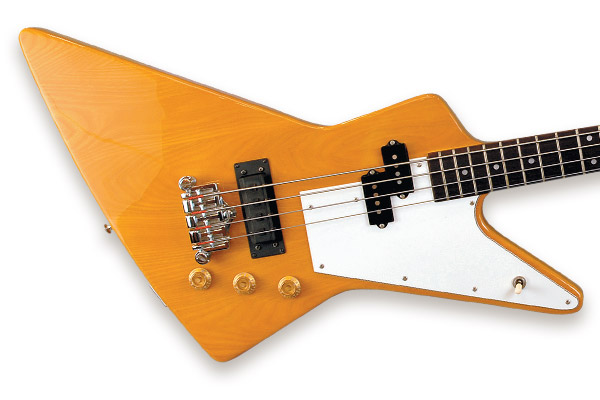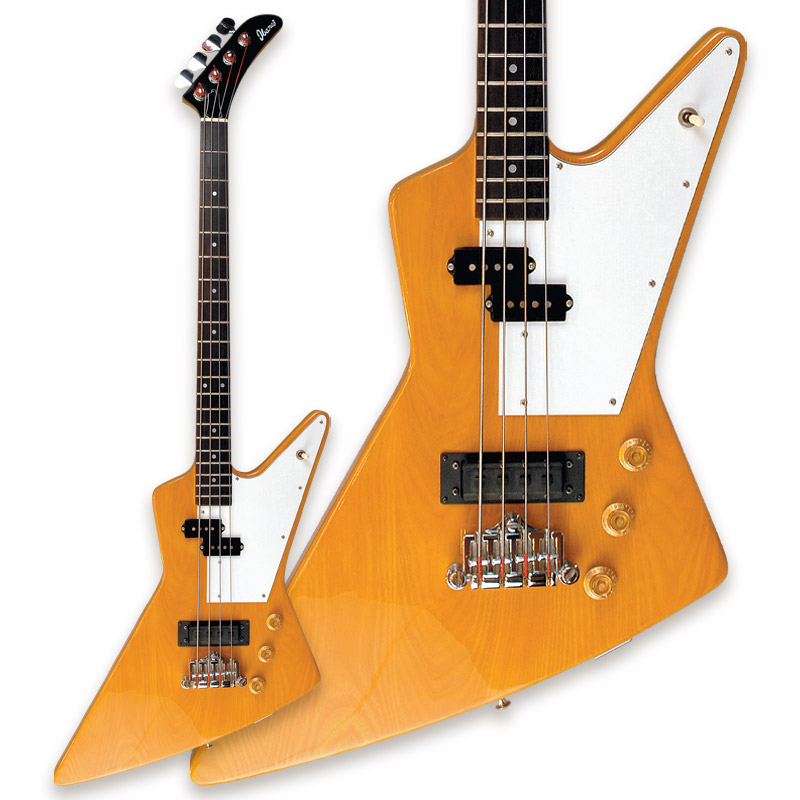 The early/mid 1970s were the "glory days" for imported copies of classic American-made guitars and basses.
Back then, the "vintage" vibe as it related to American-made electric guitars was in its infancy. Still, much like today, few players could afford the real deal. Accordingly, brands such as Ibanez, Aria, and Electra proffered guitars and basses that were cosmetically very close to Gibson and Fender models from the 1950s and '60s. Litigation ensued, and not surprisingly, some copy guitars from the '70s have been hyped in the used/vintage market as "lawsuit models." Often, imported "copy guitars" had bolt-on necks (where the original models had set necks) or they melded cosmetics from more than one model. One example was an early-'70s Aria copy of a Gibson Firebird, with a "non-reverse" body attached to a neck with a quasi-reverse headstock and upside-down tuners. Emboldened by the sales of their instruments, importers soon brought copies of even more classic models, made with greater attention to detail. These sometimes included copies of guitars originally made in minute quantities.
In the mid '70s, Ibanez went after the ultimate American rarities when it introduced copies of Gibson's "modernistic" trio of electric guitars from the late '50s; its Rocket Roll model was a copy of the Flying V, the Destroyer channeled the Explorer, and the Futura was a nod to the patented (but never produced) Moderne. Among other details, these instruments attempted to reproduce the translucent natural finish on the bodies of the Gibson guitars' limba wood, an African species that resembled mahogany. The bodies on most Ibanez korinas looked like ash, but were actually a type of mahogany known as "sen."
The success of the Ibanez retro trio motivated the company to create two basses that gave a serious nod to late-'50s Gibsons, but weren't copies per se; the Rocket Roll Bass was inspired by the Flying V and actually preceded Gibson's Flying V bass, which went into production in 1981. On the other hand, Gibson did make at least one Explorer bass as a custom order in the early '60s, using parts from other models.

The Ibanez Destroyer Bass is also relatively rare. While the model appears on a 1977 U.S. price list as "2459B Destroyer Bass, Long Scale… $450," a search of American catalogs from the era did not turn up a photo of the Destroyer Bass. What's more, many '70s Ibanez catalogs of replica models have few, if any, specifications, and are basically photo galleries (same goes for other copy brands of that time, such as Electra).
However, Ibanez collector John Shanley, who is also webmaster of the Ibanez Collectors World website, noted that an image of the Destroyer Bass was published in a 1977 German catalog, which indicates that certain models were made for Europe. Vintage-instrument authority and VG contributor Michael Wright describes the inconsistent marketing of Ibanez models in the U.S. and Europe as "not uncommon," and it isn't surprising when one considers the diversity of the company's copy lineup at the time.
But the Destroyer Bass wasn't a blatant copy of the Explorer bass; it did not have the Kalamazoo creation's short scale or banjo-style tuners, a la Gibson's first electric bass (the violin-shaped EB) and other Gibsons of the era. But, like its Gibson inspiration, the Ibanez does have a scimitar/banana-shaped headstock and a serial number embossed on the back of the headstock that indicates a manufacture date of August, 1977. Its machine heads are standard Ibanez part number 303 Artist units, and its set neck has a 20-fret rosewood fingerboard with dot markers and a scale length of 331/2″. The yellow-tinted sen body does indeed recall Gibson's korina, and does look like ash. And like the Explorer, it has a single-ply white pickguard.
Other differences include the Destroyer's electronics – a split-single-coil Fender Precision-style pickup in the neck position and a Jazz-style pickup at the bridge (Ibanez 2365-50 and 2365-60 Super Bass units). In bass parlance, this configuration later became known as the "P/J" layout, and preceded Fender's adaptation by about a decade. The barrel-shaped knobs control a master tone and two volume pots, and the three-point suspension bridge matches the bridge on mid-'70s Gibson models such as the Ripper and RD Bass.
The Destroyer Bass is relatively balanced given its shape, and plays similar to a Gibson Thunderbird. In all, it's a unique example from the heyday of upper-tier import copies from three decades ago.
---
This article originally appeared in VG's April '07 issue. All copyrights are by the author and Vintage Guitar magazine. Unauthorized replication or use is strictly prohibited.