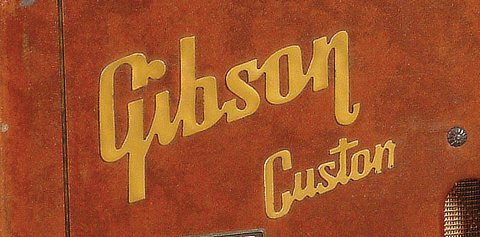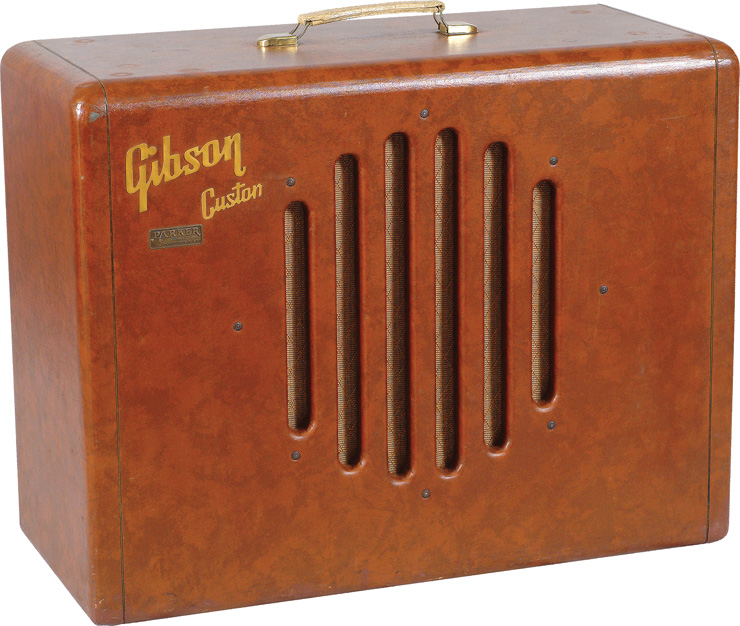 Gibson GA-CB
Preamp tubes: three 6SJ7, two SQ7, two Sj5
Output tubes: two 6L6
Rectifier: 5T4
Controls: Microphone Gain, Instrument Gain, tremolo Intensity and Frequency, Treble, Bass; four-position Jensen High Frequency Control
Speakers: one 15″ Jensen Type H Coaxial
Output: approximately 30 watts RMS
The past is a foreign country: they do things differently there," wrote L.P. Hartley in the opening to his 1953 novel The Go-Between. He might have been referring to the ways and mores of past ages as they apply to personal relationships, in particular, but fans of vintage gear know the feeling well.
Those with a fascination with vintage guitar amplifiers often enjoy exploring the oldies not only for their ability to bring lost (or at least forgotten) tones back to our hands today, but for the window they provide on the early history of the electric guitar – and popular music, in general. With all that in mind, this Gibson GA-CB Custom, built circa 1950, offers a view over a distant land indeed. That it is not just any GA-CB – a rare enough breed even so – but belonged to Jimmie Short, guitarist with Ernest Tubb and the Texas Troubadours, and comes to us in startlingly immaculate condition, makes it more like the royal tour. If we credit the legendary Tubb with giving birth to electric honkytonk, then Short was the midwife for that sound.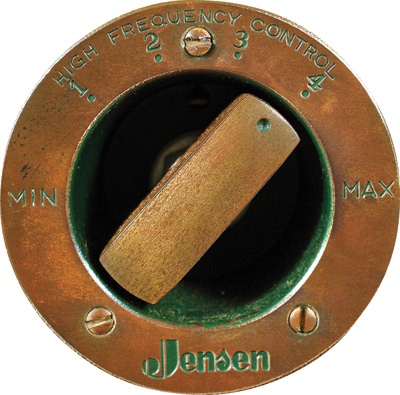 Now get this: rock and roll did not exist when this amp was built. It was simply not "a thing." It might have existed in spirit, perhaps, in the hard-driving twang licks, or bop licks, or blues licks that newly electrified and amplified players of several genres were ramping up toward a critical mass, of sorts. You might even argue, with 20/20 hindsight, that rock and roll was inevitable, or that its spirit existed in the gear players would soon push past the designers' parameters for added snarl and a little extra nasty, generating tones that made you want to sidestep right out of the clean and pure and pristine.
All that aside, though, imagine a time – or, think of it as a place – in which rock and roll as a musical force simply did not yet exist, and consider for a moment what things must have been like there. Don't forget your passport. And the bus fare home.
The Jensen speaker in this GA-CB bears a date code for 1949, though the amp appears to have been made a year after. Gibson records indicate only 108 GA-CB models were manufactured between 1949 and '53, and it was very much an up-market amp, aimed at the professional player. "CB" denotes Custom Built, and this thing was definitely all that. One of the most powerful guitar amplifiers available at the time, it was also arguably the most feature-laden, and truly intended as the crème de la crème for the discerning electrified musician. Short apparently acquired it by custom order from Parker Music Company, in Houston, a supplier that had been in operation since 1911. The cab still wears the bronze store badge beneath its own logos, which even tells us they were located on "Walker at Travis" (a Google "street view" search undertaken back in the world of here and now tells us Parker Music is no longer there, but whether it was housed in what is now the Bangkok Chef, the print shop, the office building, or the parking garage isn't entirely clear).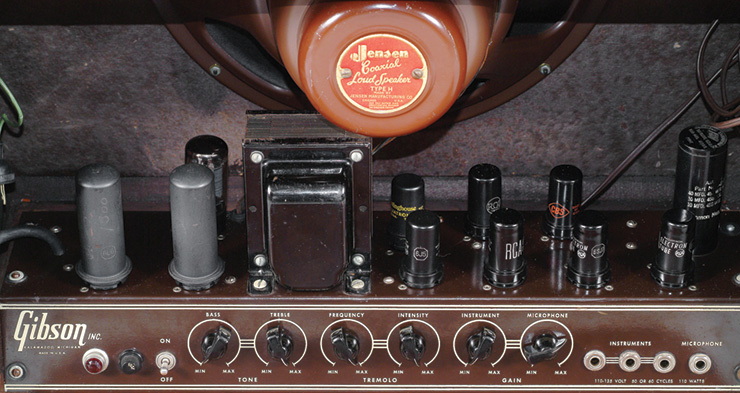 By 1950, while upstart Fender was quickly evolving its designs toward an industry standard of sorts, both for circuits and for cab configurations, Gibson, and other name-makers along with it, seemed to still be grasping at a range of shadowy forms in an effort to deduce what shape the guitar amplifier might eventually take. A case in point, this GA-CB is a pretty archaic-looking box, but a glance at the lower-rear-mounted control panel, and the array of tubes that rides above it, quickly reveals that it was an advanced noisemaker for its day, nonetheless. Had Gibson packed features like this into its standard range of amplifiers in the early '50s and housed it in slightly more-contemporary designs, it might have shut the door on Fender's rapid growth in the amp market throughout that era.

In addition to the individual Gain controls for its dual channels (labeled Microphone and Instrument) this amp displays two impressive features; one, it has a two-band tone stage with separate Bass and Treble controls – a rarity in the day; and two, it has built-in tremolo with both Frequency and Intensity controls.
In his informative book, Gibson Amplifiers 1933-2008: 75 Years Of The Gold Tone, Wallace Marx, Jr. relates that this was the same tremolo circuit Gibson engineer Seth Lover (of PAF humbucker fame) designed for the GA-50T in the mid '40s, which pre-dated Fender's first tremolo-equipped amp by nearly a decade. The tubes powering all this goodness are entirely of the metal-sheath variety, which were still standard for a year or two yet – and what a lot of them there are. Two 6L6s generate an estimated 30 watts, with three fat-and-juicy-sounding 6SJ7 pentodes in the preamp, plus a pair each of 6J5s and SQ7s, all octal mounts, and a 5T4 rectifier. All of this came at a price, of course, and Gibson catalogs of the era list that price, with cover, at $425, a massive fee for 1950, when the average wage was a little under $65 a week. Chew on that the next time you grumble about the high price of a new Matchless, Komet, or Two Rock amp!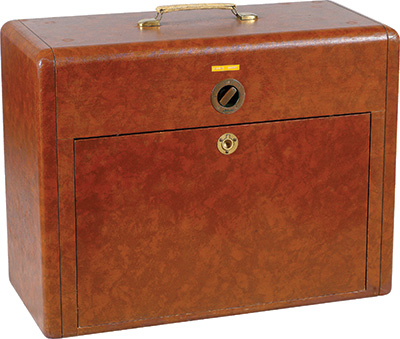 Among its other advanced, and rather unusual, features was the use of a coaxial Jensen Type H speaker, with a smaller "tweeter" of sorts mounted in front of the standard 15″ cone, and a Jensen tone circuit with rear-mounted switch to attenuate highs at the speaker itself, post-amplifier. All of this implies a clean, rather hi-fi approach to guitar amplification in the GA-CB, and that's what this amp delivered, for its day at least. The market in 1950 was still with the jazz and country players, and the job there was all about "cutting through" the band. A Gibson print ad from 1949 boasted a headline declaring that the GA-CB "Stars in Studio Work," and maybe that's how Short managed to keep this one so free from abuse. Whatever the trick, he sure took fine care of the amp, which undoubtedly would have counted among any serious guitarist's prize possession. Did he also occasionally turn it up just a little too high, letting it growl into a slightly meaner sound that might have prefigured music yet to come? That's one detail that this window on the past just doesn't reveal.
---
This article originally appeared in VG May 2013 issue. All copyrights are by the author and Vintage Guitar magazine. Unauthorized replication or use is strictly prohibited.