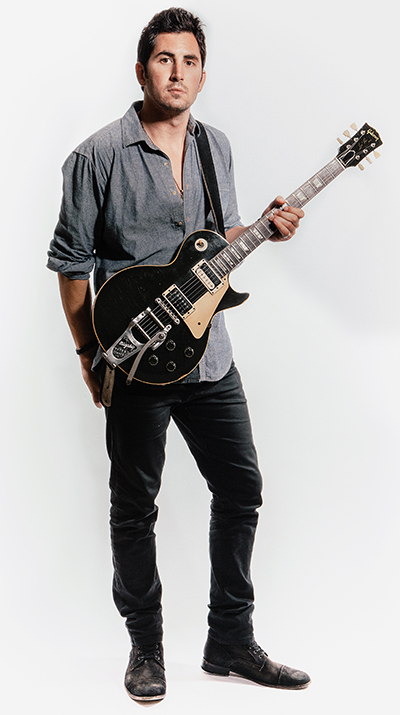 "I wanna be a musician!"
The declaration – typically from an adolescent family member – purses the lips of parents hopeful the child's future would be more about picket fences and 2.1 offspring than hit songs and hedonistic excess. But that's not how it was with family of one singer/songwriter/producer. Hoping his son would pursue his musical dreams, Steven Arena not only encouraged his eldest son, Chris, to make a living by playing music, he unabashedly offered a bribe in the form of a six-stringed family heirloom.
Used for years by Chris' grandfather, New York jazzer Joseph Arena, the '59 Les Paul Standard is one of very few finished by Gibson in black instead of the sunburst the company used to show off the figured-maple tops used on the model from 1958 through 1960 (another Standard finished in black was profiled in the December '14 issue of VG). 
"I grew up with the guitar," said Chris. "Christmas Eve was a big event at our house, and we had a huge party every year. I remember it being tucked behind the sofa in that worn case before the party, and how grandpa would polish and tune it for what seemed like forever before finally plugging in. 
"Then, the house filled with music. My mother's father played piano while Joe, my father's father, played his Les Paul. For hours, they'd jam on Christmas songs, Italian songs, and every standard ever written. I loved it!"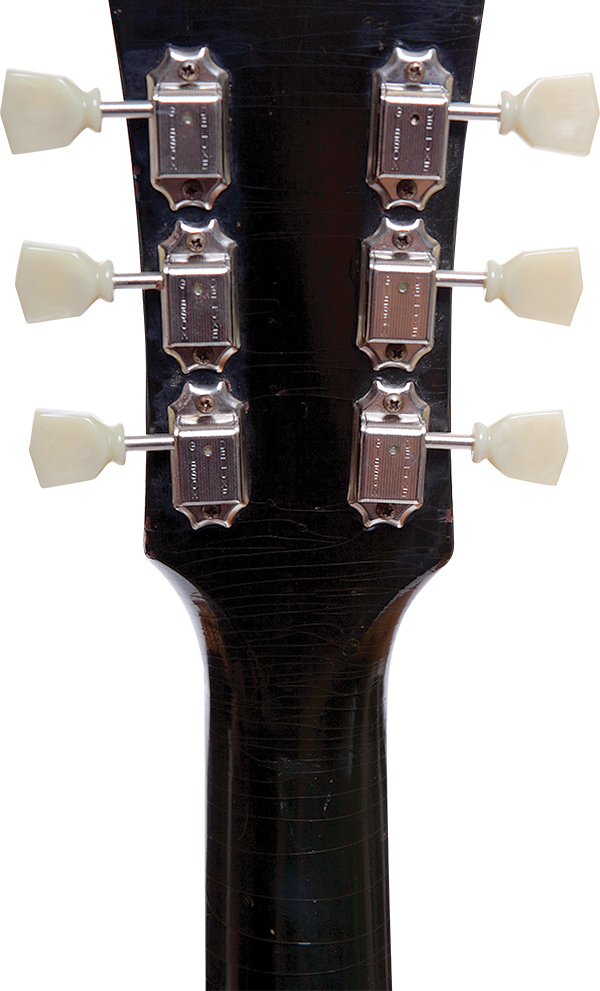 After graduating with a B.A. in Music from the University of Memphis, Chris began writing songs that would become his first album and working with Tony Maseratti, a Grammy-winning producer who would become his mentor and encouraged him to write material that could be used on TV shows; programs like "Dawson's Creek" and "Grey's Anatomy" had created a platform where music was used as a cinematic element, much like in feature films. For Arena, ABC's "Pretty Little Liars," NBC's "Chicago Fire," TV Land's "Younger," along with MTV shows like "Catfish," "Scream," and "Teen Mom" offered a chance to create, record, and put his music in front of vast audiences while forgoing rigors like booking gigs, touring, etc. In 2015, his song, "Dreams," was used on "General Hospital" and earned him an Emmy nomination. His song, "Extraordinary," will be part of the upcoming film Cage Dive, while another, "Turn Me On," landed a spot in Random Tropical Paradise, set for release in late 2017.
Today, Arena works from his studio in Venice and is prepping a second album, while the '59 resides in the Rare Guitar section of the Grammy Museum, leaving (as it has twice for performances by Arena at the Gibson Baldwin Showroom in Beverly Hills) only when accompanied by an armed guard and a $1 million insurance policy.
We spoke with him about the special instrument.

When did you first hear the story of the Les Paul and how your grandfather got it? 
I don't know exactly when, but I know he sold his D'Angelico Excel and went to Sam Ash Music in Hempstead, New York. He wanted a black guitar to match his tuxedo, but a Les Paul Custom was $375, and he didn't have that much. The Standard cost just under $300 with a case, but of course was sunburst. So, he had the store order a Standard in black and bought a cheaper case from them. It has held up very well through the years; it's weathered, but still in great shape.
When did you first get to hold it?
As a kid. I remember my father wouldn't hand it to me unless I was sitting down, or he'd hold it while I stood in front of him… Hey, it's heavy! But I really don't recall the first time I was allowed to truly hold and play something on it; a good guess would be around 12 years of age. And I remember playing "Stairway to Heaven" on it, but by then I'd been playing other instruments for a few years. 
What's your grandpa's story? 
He learned to play as a teenager. He was drafted into the Navy toward the end of World War II and became a band leader. When he got out in the late '40s, he started playing at small clubs and restaurants in Brooklyn. He did that until the mid '70s, when he and my grandmother moved to Los Angeles. There, he played mostly in Riverside County, then in the mid '80s he got a steady gig at The Colorado Belle Casino in Laughlin, Nevada.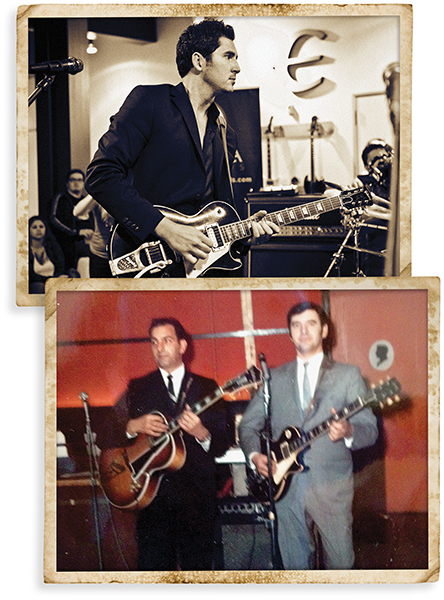 His brother, Tom, was apparently also an accomplished player… 
He was an exceptional guitarist and had a large music school in Brooklyn in the '60s. My father says his uncle was a great jazz technician and a student of theory.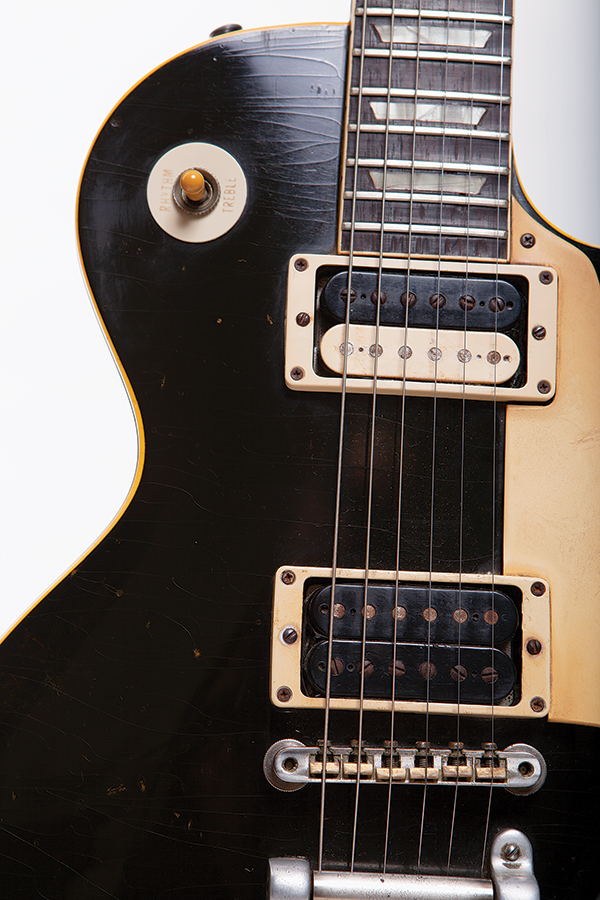 What sort of player is your dad?
He's great. He started playing when he was really young and studied music through his childhood and high school. He knows a lot about music and theory and he taught me everything I know. He played the '59 in high school and college bands, and considered going to the Berklee College of Music. But he also loved airplanes and got his pilot license when he was 17, then went to an aviation college and has been an airline pilot for 35 years.
Your dad passed the guitar along to you on the condition that you become a professional musician. That's a 180 compared to the attitude of most parents when their kid says, "I wanna be a rock star!" 
My father would joke and tell me that if I finished college and became a professional musician, he would give me the guitar. Well, I finished college and made songwriting and music my profession. Dad, being a man of his word, gave me the guitar. He also told my younger brother that if he finished college and became a professional aviator, he'd buy an airplane for him! Well, my brother's now an airline pilot and dad is looking for a small plane for him. 
Bottom line is that dad really wanted us to finish college and have careers that made us happy. And I think it was a foregone conclusion that I'd wind up with the Les Paul. But really, we all still think of it as my grandfather's guitar, even though he passed in '99.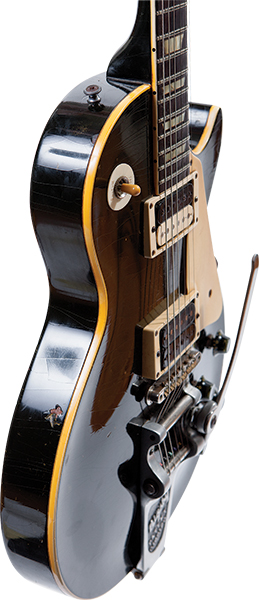 What was your first gig with it?
That was to record my first album, One's Not Half Two.
How does it compare to your other guitars?
There is no comparison to its aged wood and aged humbuckers. The sustain is incredible, the action is great, and the tone is awesome. It sounds like Duane Allman's '59 on Eat a Peach.
What factors come into play when you consider using it for a gig or session?
Security is a big deal. The first time I played the Gibson/Baldwin Showroom, it was a sold-out show to see and hear the guitar. Numerous collectors were there and they all asked, "Is it real?" Jim Rosenberg, president of Epiphone, was at the event and called Gibson historian Edwin Wilson at their Custom division to ask if the guitar had been authenticated, which of course it had been by Edwin himself.
Is it still at the Grammy Museum?
It is, and has was recently displayed with the Bob Dylan exhibit. It's on two-year renewable loan.
---
This article originally appeared in VG March 2017 issue. All copyrights are by the author and Vintage Guitar magazine. Unauthorized replication or use is strictly prohibited.