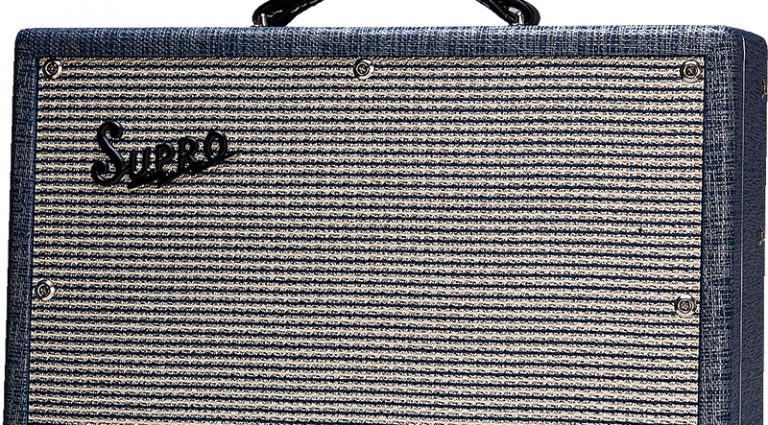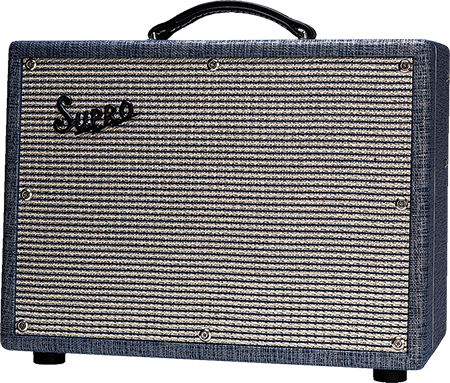 Supro's new Titan amp is built to play out. This 50-watt 1×10 tube combo packs it all into a compact, portable package that's simply antsy to gig.
The Titan cranks out astonishing stage volume with a crisp, clean crunch. Best of all, it boasts a heady amount of headroom, making it ideal to mix and match with a lineup of pedals. Add in a 1742 Titan 75-watt 1×12 sealed-back extension cab, and you have a powerhouse stack capable of rocking most any venue.
Back in the day, Fender's tweed 4×10 Bassman was the ideal gigging amp for dancehalls and roller-skating rinks, with enough sonic oomph that many a band even ran their vocal mics through them. The Twin Reverb took over in the '60s and '70s for playing bars and even some larger venues.
Times have changed, and these days, when it comes to smaller clubs, the Titan fits the bill – small yet high-powered with vintage Class A tube tone. And it can handle most any array of stompboxes daisy-chained together without the need for an effects loop.
It's also a darn simple amp, which will pay dividends on stage. It's powered by two 5881/6L6 power tubes and a silicon rectifier working in concert with four 12AX7s and one 12AT7 and a printed circuitboard. And there are just two tone controls – Bass and Treble – so you won't get confused in the heat of action.
Those 50 watts of loud are fed through a single 10″ Supro HP10 speaker with a larger magnet and hemp cone specially designed to handle the volume. Also packed into the small 19 x 9 x 14″ combo cab is a tube-driven six-spring reverb and output-tube tremolo. As with all Supro reverb amps, the tremolo is located after the reverb, allowing you to dial in a haunting, modulated reverb effect.
All that in a 46-pound package, covered with tough blue rhino-hide tolex.
To hear what this little sparkplug is capable of, it was tested with a new Zemaitis CS24PF pearl-front guitar featuring loud-rocking DiMarzio Custom PAF humbuckers. It was also lined up with every available pedal within spitting distance.
There's no denying the Titan is muscular-sounding, but the amazing thing is how it retains its clarity as the Volume knob is twisted northward. Fifty watts is nothing to sneeze at, and the speaker deals well with all that horsepower, staying sweet and smooth no matter how hard it's gassed.
Indeed, the Titan ain't no chugging, choking economy car – it's a Hemi, ready to race. The amp's sound is suitably vintage. Dial in teeth-jarring treble or go all out for lowdown bass. The Titan can do warm, but it's not a complex, mystical warmth. It doesn't have a wide palette of colors and tones, but then again that's not what this amp's about. Rather, the Titan is a perfect blank canvas for pedals. It remained articulate with a Fuzz Face added to the signal chain. Even with a delay, a wah, and eventually a full pedalboard thrown in, the amp never faltered.
As for that reverb, it's suitably lush, adding nice depth. Wind up both the reverb and tremolo together for some crazy ZZ Top sonic blasts.
Supro also recommends pairing two Titans for a full 100-watt stereo blast. Add a pair of the 1742 extension speakers to that and you'd have an incredibly flexible backline capable of handling about any trouble you could get yourself into.
---
This article originally appeared in VG December 2016 issue. All copyrights are by the author and Vintage Guitar magazine. Unauthorized replication or use is strictly prohibited.
---