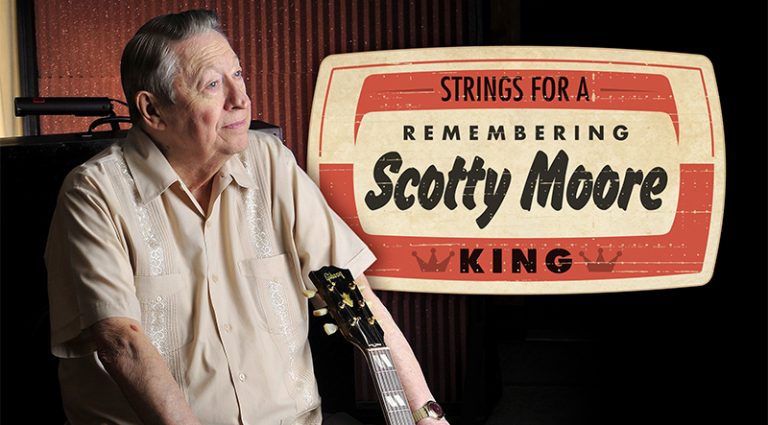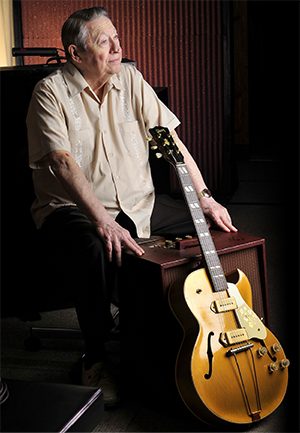 Scotty Moore, the guitarist who backed Elvis Presley on the singer's earliest recordings at Sam Phillips' Sun Studios in 1954, died June 28 at his home in Nashville. He was 84.
Alongside Chuck Berry and Bo Diddley, Moore is widely credited with creating the rock-and-roll style of guitar playing but stood apart for creating the trio/backline format and his incorporation of country and Atkins-style hybrid picking.
Moore was born in rural Gadsden, Tennessee, and was gifted a guitar at age five. He started picking on it a few years later, and while his brothers and father all played instruments, Scotty, being 14 years younger than his nearest sibling, wasn't advanced enough to jam with the family. Instead, he learned to play "Little Brown Jug" with help from a neighbor and honed his skills playing with friends. Influenced by artists he heard on the radio – Chet Atkins, Les Paul, Merle Travis, along with various country, blues, and jazz performers (Tal Farlow and B.B. King were favorites) – by the age of 10 he exhibited a passion for the guitar.
After quitting school at age 16, Moore enlisted in the Navy, and dragged his guitar along during hitches in China and Korea. Stationed in Bremerton, Washington, toward the end of his enlistment, he formed bands with other sailors and played in local clubs.
When his Navy stint ended in 1952, Moore moved back to the family farm before taking a job in Memphis, which allowed him to buy a new Fender Esquire and Champ amplifier and join pickup bands. By the time he met a bass player named Bill Black and country singer/guitarist Doug Poindexter, he had traded the Esquire for a new Gibson ES-295 as the men formed the Starlite Wranglers.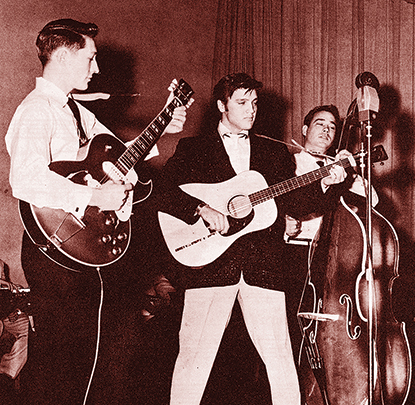 After the band established itself locally, in the spring of '54 Moore approached Sam Phillips, who let the band record a single in his studio, Sun Records. Though it gained only minor play on regional radio, Phillips soon after began working with a budding 19-year-old singer named Elvis Presley who was struggling to come up with anything Phillips deemed worthy of release. Phillips asked Moore and Black to spur Presley in another direction; at a jam in Moore's house, they worked through several rocked-up tunes including a version of blues man Arthur "Big Boy" Crudup's "That's Alright, Mama." Presley covered acoustic guitar and vocals, and Phillips green-lighted a recording of the song.
Phillips sent the record to local radio, and response was tremendous. Reacting quickly, Moore and Black quit the Starlite Wranglers and devised a full set to perform with Presley. The trio, at first called Blue Moon Boys, released more singles and toured extensively, then was later joined by "Louisiana Hayride" drummer D.J. Fontana after the group appeared on the program several times.
In late '54, Presley signed with RCA, and Moore traded the ES-295 for a Gibson L-5 he used to record the band's final single for Sun, "Mystery Train"/"I Forgot To Remember To Forget."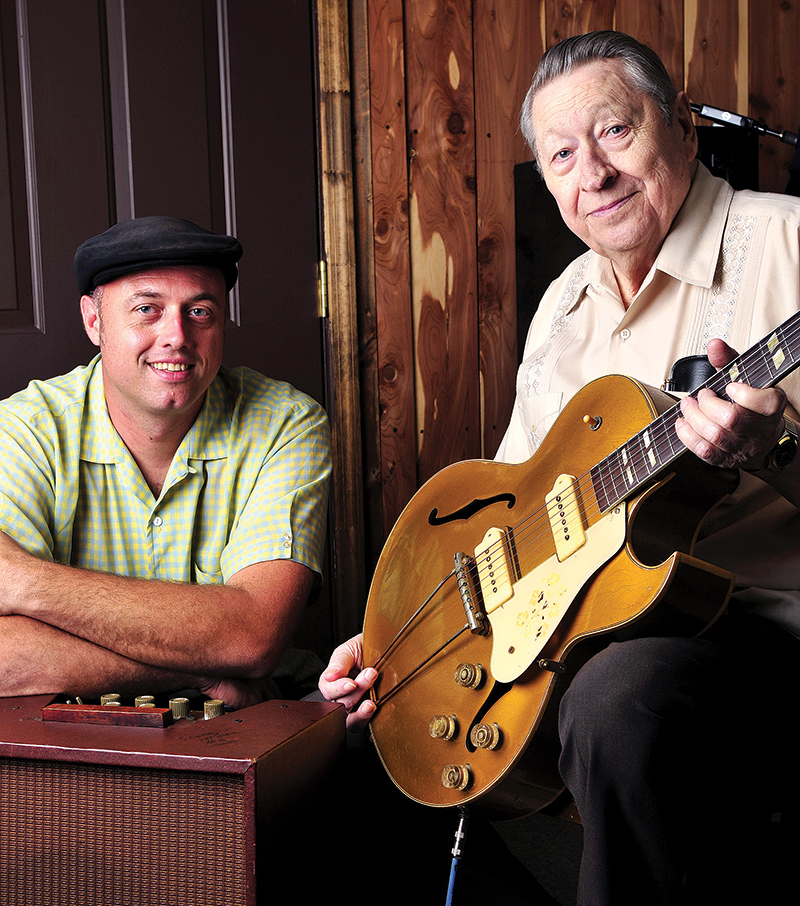 Though RCA used several musicians to back Presley in the studio, Moore was always in the mix, and he, Black, and Fontana toured with Presley until he was drafted by the Army in '58 (Moore played the L-5 through most of the RCA years before trading it for a Super 400 in January '57). While the star served in the Army, Moore did production work for Phillips at Sun as well as at Fernwood Records while also playing sessions for Chess, including with Dale Hawkins.
After Presley's discharge in 1960, the singer played sporadically with Moore and Fontana; Black refused to participate over a dispute with Presley manager Tom Parker. Moore, meanwhile, continued to produce for Sun and in '64 moved to work in the company's new Nashville studio. In '65, he recorded a solo album of Presley hits arranged as instrumentals titled The Guitar That Ruled the World and released by Epic. Phillips soon after fired Moore, who then opened a studio of his own called Music City Recorders, and spent a decade producing before turning his focus to tape duplication. Moore's efforts behind the board were highlighted by work with Ringo Starr, Tommy James, Jerry Lee Lewis, Charlie Rich, a young Dolly Parton, and others.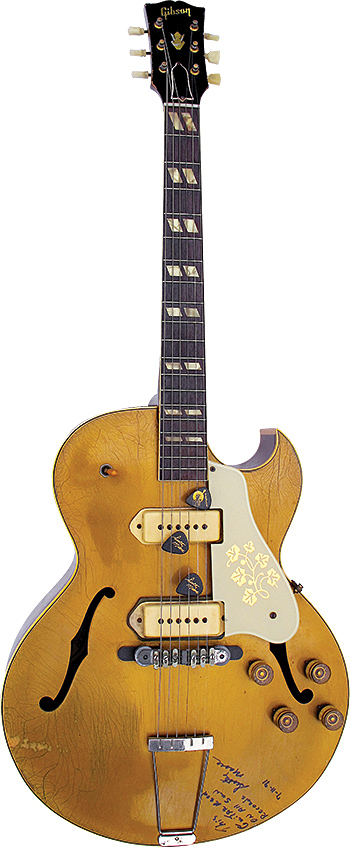 Golden, Glory-Bound
Scotty Moore's Gibson ES-295
Spotted in the window of a Memphis music store as he strode past one day in 1953, the shiny gold Gibson hollowbody had an instant, dramatic effect on young Scotty Moore.
Wanting to bring a new look and sound to his band, the Starlite Wranglers, Moore thought, "That's the prettiest thing I've ever seen." He rushed home to grab his Fender Esquire and immediately returned to O.K. Houck Piano Company to strike a trade. The Gibson had been on display all of 10 minutes.
"I absolutely had to have it," Moore recalled in a 2014 interview with VG's Michael Dregni. He especially loved that the 295's hollow body created the "sound of wood making music," in contrast to a solidbody, which he considered to be more about the sound of the amp.
In his 1997 biography, That's Alright, Elvis, Moore further recalled how his fondness deepened once he plugged in the glorious new guitar. "It being a wider-bodied instrument, it had a more impressive appearance," than his Esquire, he said.
While the Wranglers would experience limited success, Moore was still using the 295 the following year, when Sun Studios owner Sam Phillips asked him to help a young Elvis Presley devise and record a handful of marketable songs. Moore and bassist Bill Black helped Presley cut his first four singles (and their B sides) – "That's All Right"/"Blue Moon Of Kentucky," "I Don't Care If The Sun Don't Shine"/"Good Rockin' Tonight," "Milkcow Blues Boogie"/"You're A Heartbreaker," and "I'm Left, You're Right, She's Gone"/"Baby Let's Play House" – and the 295 was essential to Presley's early presentation.
As fond as he may have been, though, Moore – like so many guitarists – was fickle, and in '55 he traded it for (an even bigger Gibson) L-5. The gold axe then underwent years of bouncing around Memphis before it was purchased in '79 by Elvis superfan Jimmy Velvet for his Elvis Presley Museum. Today, it's part of a collection belonging to devoted Elvis fans Larry and Judy Moss.
---
For an in-depth look at Moore's ES-295, read Michael Dregni's interview at www.vintageguitar.com/22152/scotty-moores-gibson-es-295/ .
Moore's final appearance with Presley was as part of the ensemble backing him for the December '68 NBC television special "Elvis," (now commonly known as the "'68 Comeback Special").
After plans were scrapped for Moore to back Presley for a '69 gig in Las Vegas, Moore became disillusioned with performing. While working in his duplication studios, he quit playing guitar for two decades before being lured back by Carl Perkins, who organized sessions (at Sun) for 706 Reunion: A Sentimental Journey, an album of rearranged hits each had played on throughout their careers. They toured in support of the album and in the following years continued to occasionally play together while Moore also played Presley tribute shows and guest spots.
For performances in the mid/late '90s, Moore primarily used a Gibson Chet Atkins Country Gentleman given to him by Atkins, along with a Gibson Super 400 and an L-5. In '97, he published an autobiography with author James Dickerson titled That's Alright, Elvis and began working with Gibson on a signature model ES-295 that was released in early '99.
To mark the 50th anniversary of the recording of "That's Alright Mama," in 2004 Moore joined Fontana and original Elvis backup/harmony vocalist Millie Kirkam to re-record 14 Presley songs. Moore engineered and played guitar through his Ray Butts amp on several tunes despite recovering from subdural hematoma that kept him from recalling much of the old music and licks.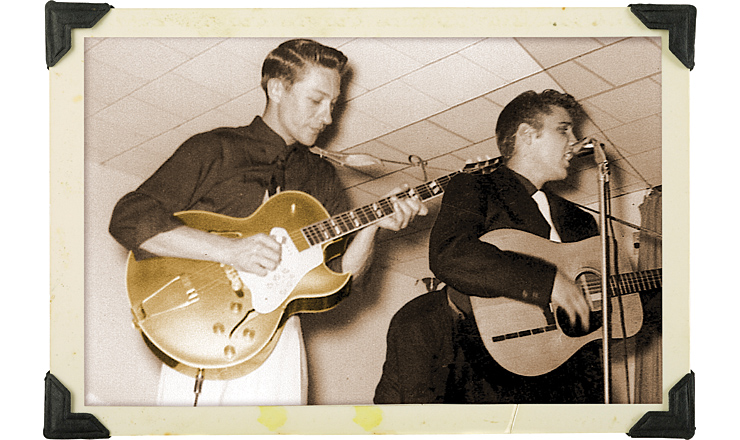 Even as he recuperated, Moore stayed busy recording and engineering at Belle Meade Records and periodically guesting with various performers. He performed publicly for the final time in August of 2007.
Moore famously downplayed his induction to the Rock and Roll Hall of Fame in 2000 because Fontana and Black were not inducted along with him (they were inducted as side men in 2009, Moore attended the ceremony). In '07, he was inducted to the Musicians Hall of Fame and Museum, and in '15 to the Memphis Music Hall of Fame.
"The thing you have to remember about Scotty is he didn't have the luxury of hearing what someone else did when it came to rock and roll guitar," said Deke Dickerson, who grew to know Moore over the last several years of his life. "He started with a blank slate, took little bits from country and blues, and pulled all those licks out of the air – the licks that became the foundation for rockabilly and rock and roll.
"I once asked Scotty if he thought he was creating something new when he was playing with Elvis, and his response was, 'No, I was just trying to fill in the holes.'
"Sure, Elvis was a shooting star – one who changed history – but what would we have done without Scotty back there filling the holes? One of my greatest achievements is not only that I got to play with Scotty, but also became his friend."
"I was privileged to interview Scotty twice over the years, and even got to strum the ES-295 he played alongside Elvis," added VG music editor Michael Dregni. "Scotty was one of the founders of rock and roll, adding a rocking spirit to traditional styles of country and blues picking that set the stage for everything that has come since. I'd imagine it's a challenge to be humble when that's on your resumé, but Scotty certainly was."
Moore: From Players
Scotty Moore's influence spanned generations, genres, and artforms. Here are thoughts on the guitar legend from players of many ilks, along with journalists and friends.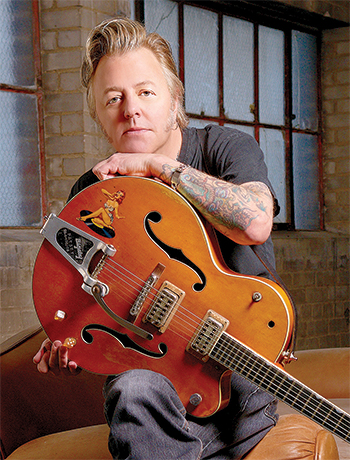 "In my mind, Scotty Moore was the first deeply musical guitarist to blend alternate-genre guitar into the budding beginnings of high-energy rock-and-roll. He used jazz chords, Merle-Travis-type fingerpicking, altered chord substitutions, fast, jazzy runs and pre-surf rock-guitar lines. He was way ahead of his time. It's always thrilling to hear recordings of him playing. He was also a superb accompanist. A timeless inspiration and a true testament to the voice of guitar to make fine music." – Eric Johnson
"I first became aware of Scotty on hearing 'Heartbreak Hotel.' It was later with the release of his first album that made us in the U.K., aware of the earlier Sun recordings. I had just begun to learn guitar at that time and played for around 18 months before actually owning one. Scotty's solos were great exercises for a budding player, some a lot more difficult that others, but I managed to figure out what he was doing. I was also influenced by other players, of course, but it must have been Scotty who made the biggest impression as it was a Gibson that I aspired to.
"My first choice was an ES-175, but I joined a band that had a Les Paul Custom, so that was my first real guitar. I traded that for a Super 400, still being influenced by Scotty. My playing evolved around that time so the Super 400 was not suitable anymore, but I still own an original ES-295 in his honor. The P-90 pickups on his early guitars plus the Ray Butts amp with delay unit were an integral part of his sound that is still striven for today.
"I've continued to love the signature solos he played and they are such an integral part of the Elvis songs that it's natural to at least acknowledge them somehow.
"Some years ago I had the distinct honor of being involved in a tribute to Scotty that was filmed at Abbey Road studios. It was such a thrill being able to meet him and play with him. It fell upon me to sing a few of the songs – McCartney pulled out for reasons best known to him – and you can't imagine how thrilling it was to be part of a band with such a musical icon. He was shy, almost embarrassed at the attention given to him. It was rewarding to witness the honor given to someone who was not exactly a household name, someone who had, unknowingly, changed the world.
"It must have been terribly hard for him to recently lose his partner. RIP Scotty and Gail." – Albert Lee
"Scotty Moore's Guitar That Changed The World album changed my world. I got that album around the time I started playing guitar. I grew up listening to Scotty with Elvis, but that album brought his playing up front. A big part of my style and tone is the combination of finger picking and slap echo, and that's all thanks to Scotty Moore." – Carl Bradychock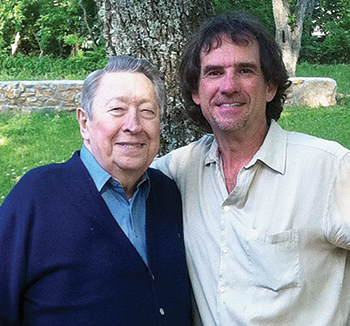 "I once heard the phrase 'Success breeds imitation.' In a sense, that's what we guitar players are really doing early on, imitating our heroes, borrowing licks here and there until one day, hopefully, we would have our own identity and style. Scotty had a distinctive style of which he probably borrowed from his heroes at the time – Chet, Merle, and the old blues guys. He incorporated all of that with the echo amp, a big, cumbersome jazz guitar, and while feeding off a burst of nervous energy from a young Elvis Presley, came up with something that changed everything. And yes, a big-body jazz guitar, while most were playing rock and roll on their trusty, comfy Fenders and Les Pauls.
"His playing, while never flashy, always fit the song. The first solo on 'Hound Dog' stands as one of the greatest solos on a rock-and-roll record. Scotty told me the second solo wasn't planned, that Elvis turned at the last second and pointed for him to play again. Listen closely next time you hear it on the radio!
"I remember playing gigs with him in the '90s, and every now and then he'd play something I'd never heard him do, and it would be brilliant. One song that happened on was the solo on 'King Creole.' I spun my head around when I heard him do this cool lick and he was looking at me, smiling like he knew he could still pull out something magical.
"Just ask greats like Jeff Beck, Jimmy Page, and Brian Setzer about the impact Scotty had on them. He was, no doubt, the real deal; no Scotty, probably no Elvis. No Elvis? Well… just think on that one." – Kevin Woods (Ed. Note: Kevin twice interviewed Moore for VG).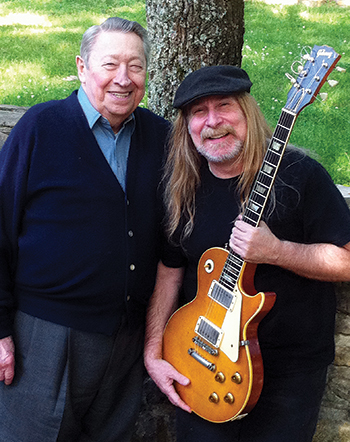 "Scotty Moore was there when rock and roll was born – or perhaps more accurately, rock and roll was born because he was there. Scotty was a prime architect of the early rock and rockabilly genre and on those seminal Sun Session sides proved, in guitaristic terms, the John Lennon maxim: 'Before Elvis, there was nothing.' In characteristic low-profile, self-effacing tones, Scotty described his playing as '…an opportunity, without knowing it, to really mix it up.'
"Mix up what? Harmonic convergence and historic precedent abound. Never before had anyone so succinctly assembled such a magnificent signature guitar style made of rural and urban blues, country, hillbilly, and swing jazz, then put it to task behind a charismatic front man playing ambitious material in uncharted waters. The title of Scotty's album, The Guitar That Changed The World would have been pretentious for anyone other than the man who laid the foundation of rock. Truly the guitar that changed the world. RIP, Scotty." – Wolf Marshall
"Scotty was the quintessential rockabilly guitarist, and his style evolved fast, from the Travis/Atkins fingerstyle he did on Elvis' first Sun single to the screaming, bluesy edge he developed on 'Tryin' To Get To You' and later, 'Heartbreak Hotel,' 'Hound Dog,' and 'Jailhouse Rock.' His work in those two years alone made him immortal." – Rich Kienzle
"Our planet's loss is heaven's gain. But, Scotty left a legacy that included some of the most original, creative guitar licks of all time. Listen to today's licks, then listen to Scotty's, and you'll realize he inspired it all; the original, the best, the cat who didn't need to practice.
"I was blessed to know Scotty on many levels. We spent years recording in his studio or mine, but no time was more special than around his kitchen table, exchanging ideas, playing, laughing, and losing track of time. We played on each other's projects, but more importantly, we enjoyed a close friendship. My wife, Gigi, kissed him on the cheek as his final day approached. Scotty turned for her to kiss his other cheek and we all laughed at the lip gloss she left – which he wanted to stay intact. I'll never forget his laugh, the sparkle in his eyes, and his love for a touch of Balvenie. Most of all, though, I may never be the same without our daily phone calls.
"Scotty was here simply to enrich our lives and change the world with the sound that started it all. And he did exactly that." – Bucky Barrett (Ed. Note: Bucky is a Nashville session player and former guitarist for Roy Orbison.)
---
This article originally appeared in VG October 2016 issue. All copyrights are by the author and Vintage Guitar magazine. Unauthorized replication or use is strictly prohibited.
---