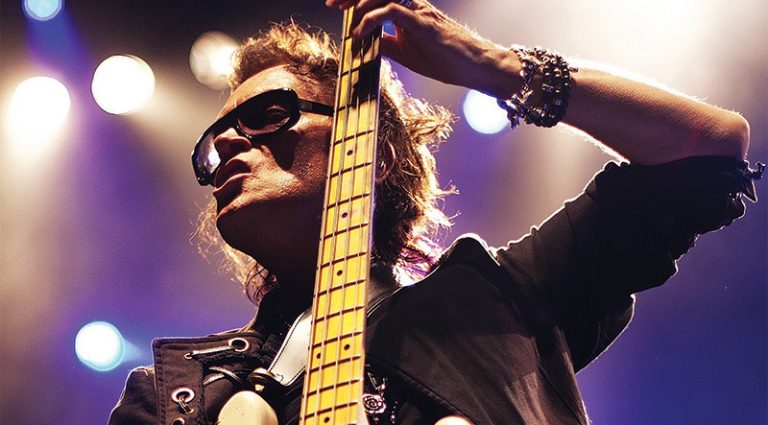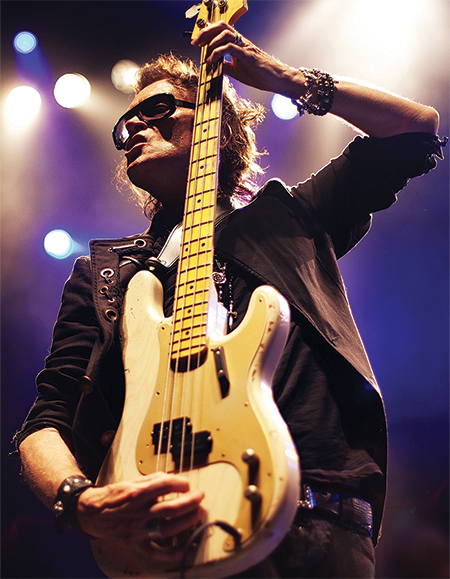 In the past year, Glenn Hughes has experienced highs like being inducted into the Rock and Roll Hall of Fame and lows like knee-replacement surgery. But he's now back on track and ready to roll with his first signature-model bass.
It took a long time for Deep Purple to be inducted to the Rock and Roll Hall of Fame.
Especially when you consider all the people who've been in that band… We've never really been hurt or upset by it; I was upset for the fans, because Purple fans are part of an iconic fan base for all rock.
You played with three all-time great rock guitarists – Ritchie Blackmore, Tommy Bolin, and Tony Iommi.
I've very grateful to have played with those three – all completely different in character and playing. Tony is one of the kindest, calmest men I've ever met. Guitar-wise, there's no greater metal guitar player. Is it because of those plastic fingertips? I have no idea. I would say partially.
Ritchie… strange, but funny as all hell and gifted on guitar. There was all kinds of gossip about my love of American rock and his love of Bach-influenced rock, but we never quarreled. He's a hard man to get to know, but once you do, he's very knowledgeable and very giving.
Tommy Bolin. I'm an only child, and I've chosen three or four people in life to be as close to family as you can get and Tommy was one of them. When we auditioned him, I walked up as he was putting his guitar on, and said, "Even if you don't get this gig, you're coming home with me!" I found him fascinating. He was an exceptionally great guitar player and the nicest, sweetest, kindest, gentlest guy I ever knew. He really needed to get out there and rock, and he did with Purple. He was a genuine star.
Why did you recently undergo double knee replacement?
After I got sober many years ago, I transferred my addiction to working out – jogging and walking fast. For 23 years, I've done about five miles a day. Think about all those miles… Last August, we found out my knees were bone-on-bone. I was in the middle of my longest tour in years, so I had to wait. Halfway through the tour, I was nearly crippled; I wasn't moving much onstage because the reality was I could barely get out of a wheelchair to get on the stage. Singapore was the last show, and it was painful. But, I learned my lesson – get in, get it done, get into recovery.
How did you develop your current bass sound?
I went into this store, and there was P-Bass on the wall, and I looked at this amp… All the amps I've been using since Hiwatt have so many knobs, buttons, and phasers they left me thinking, "Bloody hell, how am I going to work this?"
I noticed there were few knobs on an Orange amp, so I'm going, "This is perfect for me." I plugged it in, and even before I had a chance to set it, I could hear the resonance. It was very similar to the sound I had with Hiwatt, which was insane back in Deep Purple. The gain on an Orange AD200B MK3 and OBC810 cab, I never got that on any other amp.
---
This article originally appeared in VG October 2016 issue. All copyrights are by the author and Vintage Guitar magazine. Unauthorized replication or use is strictly prohibited.
---