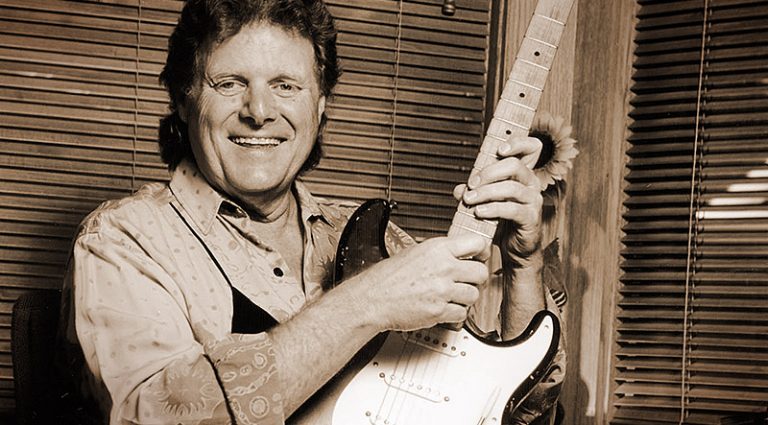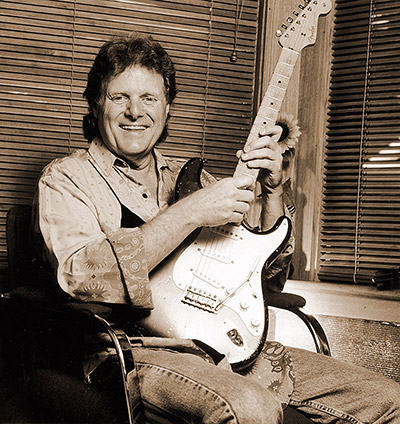 Reggie Young passed away on January 17, 2019. Here is an extensive interview he did with VG in 2001.
---
Reggie Young is one of the most recorded guitarists in history. His tasty style has opened doors for him to play onstage and in the studio with every style of music possible; early rockabilly, rhythm and blues, country, rock, pop, and even jazz!
Young was born in Missouri, grew up in Arkansas, and moved to Memphis at age 13. His father played guitar around the house and Reggie received his first guitar – a National flat-top – for Christmas in 1950. He played his first gig at age 15 and made $13. Growing up, Young was heavily influenced by the WSM radio show out of Nashville called "Two Guitars." It featured Chet Atkins, Jerry Byrd, and Ray Edenton. Young would listen and try to figure out guitar licks.
He joined Eddie Bond and the Stompers in 1955. A local disc jockey named Sleepy Eyed John heard them play and asked them to record the song "Rockin' Daddy" at WHHM studio. Mercury Records heard the song and signed Bond to a deal. The song charted and became a hit, so the band hit the road with the likes of Johnny Cash, Roy Orbison, Carl Perkins, and Johnny Horton.
Young's next session was for Mercury. He was paid union scale – $41.25 – he keeps the stub in his scrapbook. He played with Johnny Horton throughout 1958. Every Saturday they'd play "The Louisiana Hayride." Then Bill Black formed his combo, and asked Reggie to come aboard. That band opened for many prominent acts of the day, including an outfit called The Beatles! Sessions in Muscle Shoals, Fame Studios and Royal Studio in Memphis kept him busy at the time, and after traveling to New York to work for Atlantic Records, Young helped form the Memphis Boys, which served as the house band at American Studios.
The Memphis Boys helped turn out hit after hit from 1967 to '72, including Elvis' comeback hits "Suspicious Minds," "In the Ghetto," and "Kentucky Rain."
Soon after, Young moved to Nashville and has been here since, playing on a list of who's who in the pop and country world. He played the famous riff on "Drift Away" and the beautiful guitar part on Travis Tritt's "Anymore."
His work ethic and dedication to craft have earned him a listing in 1,000 Great Guitarists, selection as 1978's "Super Picker of the Year" by the Nashville chapter of the National Academy of Recording Arts and Sciences for playing on the most sessions, scored him a gig backing Willie Nelson and Kris Kristofferson at Bob Dylan's 30th Anniversary concert, performed on "The Tonight Show," "Late Night with David Letterman," "Saturday Night Live," "The Nashville Network," "CMA Awards," and gigs at several Farm Aid concerts.
His playing is featured on nearly 20 movie soundtracks and if you caught VH1's "Top 100 Songs" program last year, Young played on three of them! Twice he has performed at the Kennedy Center Honors – for tributes to Johnny Cash and Willie Nelson. And of course, he has toured the world over.
Young lives outside of Nashville with his wife, Diane. Our talk took place at his home, and started with instruments in-hand…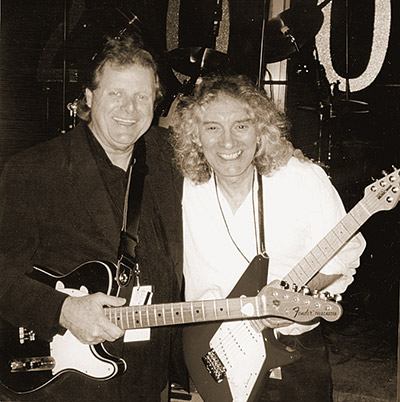 Vintage Guitar: Since we're playing guitars, let's talk about the gear you're using, starting with amplifiers.
Reggie Young: I have a Matchless 2×12 combo, and I use it a lot. I've also got a '65 Fender Deluxe Reverb, I guess it's my all-time favorite little amp. That's mostly what I use in the studio. Another one I use for the studio is a Hullett Deluxe, which is all-tube with one 12″ Eminence speaker; the extension cab has a 12″ Weber VST. It's kind of like a Deluxe Reverb…except it doesn't have reverb. [Nashville session guitarist] Bill Hullett's son, Clay, makes the amp.
Between those three, I play the Fender the most, depending on what were doing. If it's a harder sound, I'll go with the Matchless. The Hullett is a different sound – more on the Deluxe side. It only has a volume, treble, and bass controls, and another volume for the other channel. That's it. Sometimes I combine amps.
How about strings?
I use .0095 sets. Fender started making sets for me because they didn't make a .0095, but they wanted me to endorse them. I said, "But you don't make a .0095," and they said, "We will." It was their nickel-plated string, and I came to like them. I had to change them more often because they don't last as long. I can't get any more, so now I'm using D'Addarios – their .0095 seem to stay in tune a little better. I bend .009s all over the place. They make my chord playing questionable, tuning-wise. I bounce back and forth from the .010 and the .0095. I put too much pressure on the .009s but the .0095s are perfect.
Talk about your Tele.
It's a '69, black with binding, maple neck and fretboard, with three single-coil pickups. The lead and neck pickups are Fralins…this week (laughs). The middle pickup is a Seymour Duncan blade Hot Rail. I just use this (touches the knob which used to be the tone control) to blend in the Duncan if I'm on the back pickup.
So you have a volume knob and a blend knob, not a tone knob?
Right. And the mini toggle switch between knobs on the plate was from when I had the mini-humbucker and the EMGs. They were a combination of active and passive. You couldn't use both at the same time – the switch would cut it off.
And the bender?
It's a G and B bender by Joe Glaser. I'll raise the B bender on one song with Waylon, on the live gig. I'm not really a bender player. It's there in case I need it.
How about your Strat?
This is a '57, sunburst, with maple neck and fretboard – the last year they made the V neck. It has Bill Lawrence pickups.
Are they custom-wound?
Bill sent me a set. He said they're "perfectly wound." And they are very quiet. He called and laid the phone down – that's the way he is when he calls – and said, "Just listen to these pickups." And then he played, saying, "This is the neck pickup," and he'd just work his way through the guitar. Then he picked up the phone in and said, "Can I send you a set of these?" I said, "Go Ahead" (laughs).
He also sent me a set for the Tele, but I didn't them. I was surprised – I really did like them in the Strat. I had Glaser put them in, and he said, "Only Bill Lawrence could possibly do this." So far, Brent Mason and I are the only two guys in town using these pickups.
So these are your main studio guitars?
That's what I use all the time. Matter of fact, I've been taking the Tele out on live dates with Waylon. Fender gave me a Custom Shop Nocaster Relic. I had Joe put a B bender on it and I'm thinking of about taking it on the road and leaving the '69 at home. I'd hate to lose this old Tele. I couldn't replace it.
Do you have a collection of guitars?
I have about 13 that I play.
What about live, what's your amp setup?
Two Fender Bassmans with 4x10s running in stereo. Clay shellacs the tweed on these new Bassmans – they look like they've been in the business for about 30 years! They don't look like regular amps (laughs). They sound good for what we are doing.
How about your pedalboard?
Dave Wilkerson put it together over at Techstar (a Nashville customizing and repair center) back in '90 or '91, when I started touring with The Highwaymen (Jennings, Nelson, Kristofferson, and Cash). When I got home from touring, I liked the board so much I started using it in the studio, and began to tear my rack down – I quit using my rack gear.
In the pedalboard I have a MXR compressor, Boss DD3, a VooDoo Lab tremolo, T.C. chorus (for stereo), Fulldrive 2 (distortion), Ernie Ball volume pedal, and a Boss Digital Reverb.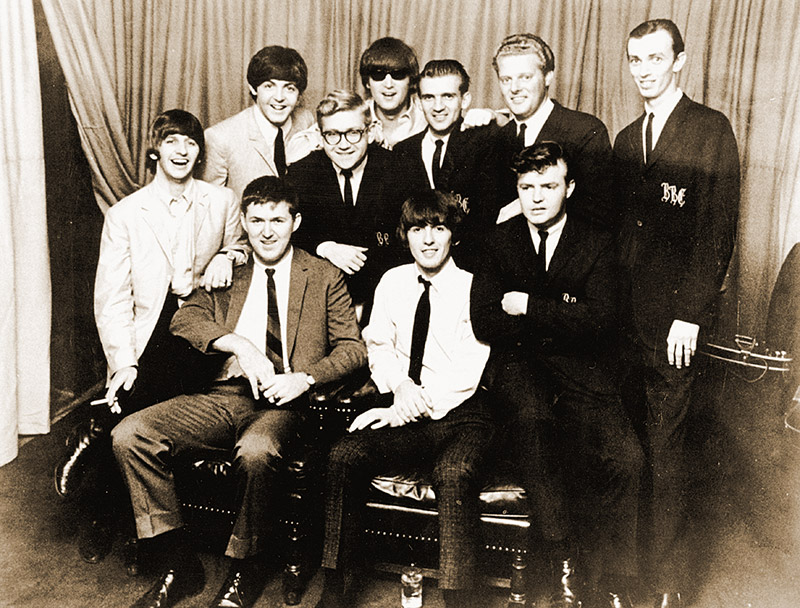 Studio Rig?
Some of my effects were part of the rack, but it got so crazy… All I'm using is stompboxes, and the studio effects are a real similar setup. Pretty much the same as the Techstar board, but with an Expandora (distortion), a Boss chorus (mono), a wah wah, and a volume pedal. I use a Bradshaw Switching System; it's total-bypass. Whatever effect I'm using would be the only one running. These go into a separate pedalboard in a drawer. I usually use George L's cables for the guitar.
Tell me about the Memphis studio days.
I was in Memphis until '72, 'til I moved here. I was in the studio band at American from '68 to '72. The same guys, same rhythm section. We cut about 155 chart records – rhythm and blues.
Was that the Memphis Boys?
Yes.
It sounded like a house band gig.
That's exactly what it was.
Except you had a different audience every night.
With different producers (laughs)! They would come in and use us. We kind of bonded ourselves together. If somebody wanted me to come to New York, I'd tell them, "Sorry, you'll have to come to Memphis." We all did that and they came here to get the band. We cut a ton of records.
So you started playing professionally in Memphis?
I started with Eddie Bond and The Stompers in '55. I recorded "Rockin' Daddy" with him. That was a real rockabilly band.
Well, back then you had an authentic rockabilly guitar sound.
(laughs) The real thing.
Then you played with Johnny Horton?
Yeah, I worked with him around '58. After "Honky Tonk Man" and before "Battle Of New Orleans." I didn't play on those sessions. Bill Black played bass on "Battle Of New Orleans." He was Elvis' bass player. In January of '59, I got my draft notice, so I came home and got together with Bill Black and Scotty Moore. We had a little rhythm section over at Hi Studios. One of the first records we cut was an instrumental called "Smokie." I tuned the guitar down two whole steps and was playing in the E position, which was actually C. And I played this (demonstrates taking a pencil and striking the lose strings in a rocking rhythm). I had an old '59 Gibson ES-345 Stereo. The strings were heavier back then. That was the beginning of the Bill Black Combo.
We started cutting records at Hi Studios. A bunch of hits. One of them was "Haunted House" by Gene Simmons. We cut stuff with Ace Cannon (as a bandleader and sideman), the saxophone player and Willie Mitchell, the trumpet player. Al Jackson (Booker T. and the MGs) was his drummer. I wrote a lot of instrumentals with Willie. The Bill Black Combo was Billboard magazine's number one instrumental group in 1960, '61, and '62.
We later quit the road to work at Hi Studios. There were three different road bands that called themselves the Bill Black Combo – none had any original members. Then this tour came up. The Beatles requested Bill Black Combo to be the opening act.
One of the road bands was going to do the tour because we weren't traveling. Well, I bumped the guitar player. A guy named Bob Tucker had the band. He did ask if I wanted to do it and I said, "Heck, yeah!" This was in '64. "A Hard Day's Night" was out at the time, and the first gig we did was in San Francisco after a very long bus trip from Memphis.
So opening night was at The Cow Palace?
Yes. It was funny. We opened the show, but before we came out the DJs would pump up the crowd saying, "Do you want to see Ringo?" The crowd would cheer, then they'd say, "Do you want to see Paul?" They'd start screaming and so on. Then they'd announce, "The Bill Black Combo!" (laughs). Well, the audience wasn't thrilled about that – they wanted The Beatles. We spoke with the DJs and after a couple of gigs they changed their routine.
What other artists did you back up on that tour?
A vocal band from New York called The Exciters, Jackie DeShannon, and Clarence "Frogman" Henry. The Righteous Brothers were on the tour for a short time.
What were The Beatles like musically in those days?
They were a rock and roll band from England – it was hard to hear the music with all the screaming (laughs). We all hung out in Key West (Florida) one time for three days. Took over the dining room at the hotel we were all staying at and set up our equipment and jammed.
Anything special about George's gear?
I noticed he had a wound third string.
Then you went to Europe?
Yeah, for 30 days. Billy Joe Kramer was the headliner. We opened and backed up The Ronettes. They had the hit "Be My Baby" at the time. Lulu was there, the Kinks, and the Yardbirds with Eric Clapton.
Did you guys jam any?
Yeah. We'd sit around the hotels and jam. I stayed in touch with Dave Davies for awhile. I did speak with Eric at Bob Dylan's 30th Anniversary concert. He remembered me.
What happened during the American Studio days?
In '67, I'd go to New York with Tommy Cogdill and Chips Moman (guitarist/producer) to work for Atlantic Records. Well, we decided we didn't want to travel anymore, so we agreed not to record anywhere but Moman's American Studios, in Memphis. The studio band there was Gene Chrisman on drums, Buddy Emmons on keyboards, and us. Bobby Wood joined us on keyboards around '68, and Mike Leech wrote horn charts and played bass.
That rhythm section cut 155 chart singles, like The Box Top's "Cry Like A Baby." Didn't you play electric sitar on that?
Yes, I did.
What guitar and amp were you using at the time?
I had a blond '67 Tele I traded in on the '69 I have now. My amp was a silverface Deluxe with an Altec-Lansing speaker.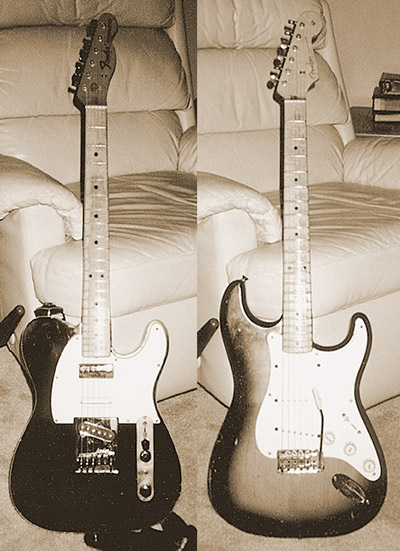 Did you know Elvis in the '50s?
Elvis used to sit in with us in the '50s – he'd sing Marty Robbins songs! I didn't really play with Elvis until '69. He was scheduled to record in California and Hal Blaine (session drummer) got sick. So, instead of getting another drummer, George Klein, a friend of Elvis', recommended American Studios.
So Elvis came walking through the door with his entourage, and even though he hadn't had a hit in seven or eight years, he had such a presence that we had to take a step backward.
He brought his publisher and they began to play songs they wanted to record. Like those songs he did in his movies. Elvis would ask me if I liked the song we just heard, and I said "No." He asked Bobby, and he said, "No" also. We didn't realize that you didn't say "No" to Elvis.
Chips Moman pitched "Suspicious Minds" and "In The Ghetto" to Elvis. He liked the songs and wanted to record them. Now, one of the guys in a suit told Moman that they wanted all of the publishing rights to these songs. Moman told the suit, "You could be the president of RCA, I don't care. We cut hit records here and if you don't want to do that, you can leave!" Well, somehow this got back to Elvis. Elvis didn't bring his entourage in the studio while recording the album. Elvis was cool and relaxed around the band.
What guitars did you use on the Elvis sessions?
Scotty Moore's old Gibson Super 400 – the one with three pickups – was in the studio. He'd traded it for a keyboard. So it had been just sitting around the studio. This guitar was on Elvis' early recordings. I took the guitar, dusted it off, cleaned it up, restrung it, and played it on "Suspicious Minds" and "Kentucky Rain." I played a nylon-string on "In The Ghetto." That guitar is in the Blues Museum in Memphis, along with one of my Les Pauls.
Did you move to Nashville next?
No, the American Studio rhythm section moved to Atlanta. Billy Burnette was with us then. We opened a studio in a warehouse around '72.
I left five or six months later and stopped by Nashville to see David Briggs at Quad Studios. David asked me to stay, and I did. I thought Nashville was what I had seen on TV – cowboy hats and crew cuts. It wasn't that at all. At that time, I'd recorded Danny O'Keefe's "Good Time Charlie's Got The Blues" prior to leaving Memphis. The record was on the charts and getting airplay before I moved to Nashville.
Producers in Nashville hired me to play the same kind of style I played on that record. I knew Buddy Killen and Fred Foster of Monument Records from the Memphis days; they also encouraged me to move to Nashville.
I started doing pop acts like Jimmy Buffett and Dobie Gray. The first hit record I played on in Nashville was "Drift Away." I also played on J.J.Cale's original recording of "Cocaine."
I met some great friends there – songwriters like Troy Seals and Will Jennings. Then I started getting involved in mainstream country. Jimmy Bowan also kept me busy.
What guitar did you use on "Drift Away?"
It was a '69 goldtop Les Paul with the mini humbuckers. That guitar is in the Country Music Hall of Fame. I performed with Dobie Gray not too long ago at 3rd & Lindsley (a Nashville club) with Lonnie Mack. I had to go out and get the CD and re-learn "Drift Away" (laughs).
You recorded with Donovan?
Yes. I remember he had a beautiful purple acoustic guitar with a star in the headstock. I can't remember if it sounded good, but it looked cool.
And Cat Stevens?
He was cool. We'd hang out. I had a brown Ford van, and we'd jump in and go to lunch. In the studio, he was a real perfectionist.
George Strait?
I played on just about everything until about three or four years ago. I played a Strat on "The Fireman."
Billy Swan?
I played the intro on "I Can Help" (he picks up a guitar and demonstrates, playing augmented and diminished chords up and down the neck, showing how he was messing around and someone said that would make a great intro for a song).
Reba McIntyre?
I did the solo on "Little Rock."
Merle Haggard?
The solo in "That's The Way Love Goes." Merle liked a straight guitar sound. He didn't care for gimmicks. I played through a Fender Concert amp.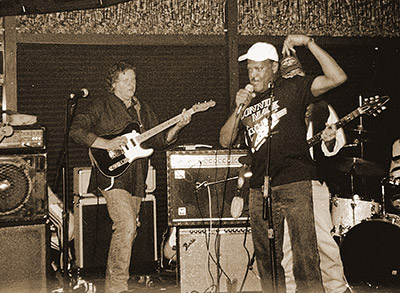 How about backing up B.B. King?
I believe it was the "Love Me Tender" session. I played mostly fills and rhythm patterns. He told me, "I don't play chords, I play common tones." He'd find the notes that matched the chords. He was a very nice man. He signed the back of my '57 Strat.
After touring with The Beatles, recording with Ringo must have been neat.
Ringo was recorded in Memphis. Moman got the old rhythm section together from American Studios.
Did Ringo play drums?
No, he just sang. The album was never released. I did see Ringo again at Farm Aid. Afterward, he came over and gave me a hug, we could hear my sunglasses breaking in my pocket, so he gave me his. So I have a pair of Ringo's sunglasses around the house somewhere (laughs)!
Paul Simon?
Willie (Nelson) and Paul were doing a song together on Willie's Borderline album. Don Was produced it. I did back up Paul and Willie on "Saturday Night Live." They did tunes from Paul's Graceland record. Benmont Tench (keyboardist with Tom Petty and the Heartbreakers) played with us.
Jazz Crusaders?
I know Barry Beckett from the Muscle Shoals days. He produced it, I played mostly rhythm.
How about Bob Dylan?
We did a TV show called "Willie Big 60." It was filmed in the "Austin City Limits" studios. Don Was was the bandleader, and we backed up several acts. After the show, I was standing in the hallway and Bob came walking down the hall with his entourage. He came right over to me, shook my hand and said, "How you doin', Reggie?" I didn't know he knew who I was. But he was real cool. He also played on Willie's Borderline album.
What's the story about Scotty Moore and All The King's Men session?
Scotty called and wanted to know if it was possible to put the Bill Black Combo back together. So I called Jerry Arnold (drummer), Ace Cannon (sax), Bobby Emmons (keyboards), Bobby Wood, and Mike Leech. Larrie Londin brought down his drums for Satch to play – he hadn't played in about 15 years. Bobby Emmons and I wrote an old shuffle called, "Going To Memphis." Well, Scotty called me after it was released and told me it was nominated for a Grammy for Instrumental of the Year! It was surprising and exciting. We went to Radio City Music Hall in New York. We didn't win, but we got medallions.
Do you remember the first time you heard yourself on the radio?
Well, I was listening to this guitar solo on the radio in '78, and I said to myself, "I can play a better solo than that guy." Then I realized it was me!
I decided then that I needed to slow down. I was doing two, three, four sessions a day and I'd stay after the sessions were over and overdub harmonies or whatever had to be done. Then I'd be pushed for time to get to the next session. We didn't have cartage back then. Joe Osbourne (bassist) suggested I go double-scale – the only musician doing that at the time was drummer Larrie Londin. I set the date – January 1, 1979 – to start the double-scale. Producers thought it was a great idea. I lost some work, but actually did better.
You've known Louie Shelton for a long time.
I met Louie in Little Rock when he was very young.
You're on Louie's Nashville Guitars CD.
Louie called and asked me to play on the project. The song I did was called "Exit 209" – that's the freeway exit for Music Row (picks up his '57 Strat and plays a portion of the song).
….talk about your picking technique.
In the '50s I played with thumbpicks, trying to sound like Chet Atkins. A friend of mine, a fiddle player from Little Rock named Kinky King, told me I needed to find myself musically – my own voice. He said all I was doing was helping Chet Atkins sell records (laughs). Kinky told that to Louie, too.
You have a platinum CD on your wall for the Rhythm, Country and Blues album.
I played on Conway Twitty's last recording, "Rainy Night In Georgia." He recorded that with Sam Moore. I also played on Trisha Yearwood and Arron Neville's "I Fall To Pieces."
Any unusual calls?
Steve Jordan (session drummer) asked if he could give my number to someone. I said, "Sure," and couple of days later Steven Segall called me. He was very nice. He kept saying, "My brother" (laughs). Well, he asked if I was interested in doing a benefit and I said I was, then he said I needed to be in Korea on Tuesday (laughs)! I told him that I couldn't be there, but I gave him Tony Joe White's number.
Have you heard any new guitarists lately?
I recently went to The Grand Ole Opry and saw Brad Paisley. He's one of the finest Tele players I've ever heard.
Any solo album plans?
I have been thinking about doing one. I'm writing songs for it.
---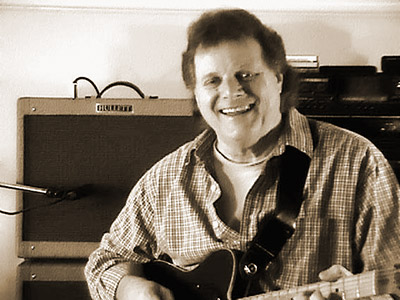 The Hullett Amp
Clay Hullet builds amps as a labor of love. Each is hand-made; once one is started, Hullett works only on it until it is finished, one amp at a time!
Clay built his first amp in 1997 for his father, renowned Nashville session guitarist Bill Hullet. It's essentially a clone of a '58 Fender (5E3) Deluxe with one 12″ Weber VST speaker. Controls are simple – two volumes, one tone (Clay believes that fewer controls mean a richer sound).
When the elder Hullett started using the amp for session work, engineers were constantly complimenting its sound. Often, they would come out of the control booth to check it out!
Reggie Young ordered one after hearing Bill's during its first week of use. Since that time, Clay has built almost 100 of the workhorses.
As we prepared to give the Hullett a test drive, Bill handed over his 1950 Fender Nocaster, which we gladly plugged in.
After some muted blues licks, we had a feeling that nirvana approached. Clay then bridged the normal and bright channels, and the amp offered some gorgeous, bright, low-frequency tones – straight outta Clapton's "Layla" era.
The Hullett's beefy 20-watt output is delivered via two 6V6s, two 12AX7s, and a 5Y3 rectifier. Clay uses an epoxy-style circuitboard with regular plastic coated wire because the cloth style wire tends to spark out. The cabinet is made from the same plank of solid pine for a consistent structure. The tweed cabinet is covered with shellac for that vintage look.
To find out what Nashville already knows, go to www.hullettamps.com.
---
Young Sessions
The Memphis Days, 1955-'72
Arthur Alexander
Chuck Berry
Bill Black's Combo
Bobby "Blue" Bland
The Blossoms
Eddie Bond
The Box Tops
Solomon Burke
Ace Cannon
James Carr
Sonny Charles
Petula Clark
King Curtis
Cymarron
Paul Davis
Neil Diamond
Roy Hamilton
John Hammond
Ivory Joe Hunter
Herbie Mann
Bill Medley
Willie Mitchell
Melba Moore
Danny O'Keefe
Wilson Pickett
Sandy Posey
Elvis
John Prine
The Purify Brothers
Paul Revere and the Raiders
Merrilee Rush
Gene Simmons
Joe Simon
Dusty Springfield
The Sweet Inspirations
Joe Tex
B.J. Thomas
Carla Thomas>
Oscar Tony
Dionne Warwick
Tony Joe White
Bobby Womack
Nashville, 1972 to today
Alabama
Bob Dylan
Ronnie Milsap
Bill Anderson
Duane Eddy
Eddie Mitchell
John Anderson
Skip Ewing
Sam Moore
Paul Anka
Donna Fargo
Scotty Moore
Eddy Arnold
Cleave Francis
Lorrie Morgan
Joan Baez
Janie Frickie
Gary Morris
Razzy Bailey
Larry Gatlin
Michael Murphy
David Ball
Crystal Gayle
Willie Nelson
Moe Bandy
Vince Gill
Aaron Neville
Bobby Bare
Tom Paul Glazer
Mickey Newberry
The Bellamy Brothers
Bobby Goldsboro
The Oak Ridge Boys
John Berry
Vern Gosdin
Sinead O'Connor
Clint Black
Amy Grant
K.T. Oslin
Teresa Brewer
Dobie Gray
Roy Orbison
Lane Brody
Lee Greenwood
Paul Overstreet
Lisa Brokop
Merle Haggard
Buck Owens
T. Graham Brown
The Highwaymen
Dolly Parton
Jimmy Buffett
Ferlin Husky
Dan Penn
Jerry Butler
Etta James
Carl Perkins
J.J. Cale
Waylon Jennings
Ray Price
Glen Campbell
George Jones
Eddie Rabbitt
Paulette Carlson
Toby Keith
Eddie Raven
Carl Carlton
Doug Kershaw
Ronna Reeves
Johnny Cash
Sammy Kershaw
Jerry Reed
Ray Charles
B.B. King
Johnny Rivers
Joe Cocker
Gladys Knight
Marty Robbins
Jessi Colter
Kris Kristofferson
Kenny Rogers
Perry Como
Brenda Lee
Buffy Saint-Marie
Earl Thomas Conley
Johnny Lee
John Schnieder
Rita Coolidge
Jerry Lee Lewis
Earl Scruggs
Floyd Cramer
Dave Loggins
Dan Seals
Brendon Crocker
Patty Loveless
T.G. Sheppard
Rodney Crowell
Lorna Luft
Dinah Shore
The Jazz Crusaders
Loretta Lynn
Paul Simon
Billy Ray Cyrus
Melissa Manchester
Sissy Spacek
Lacy J. Dalton
Barbara Mandrell
Joe Stampley
Dave and Sugar
Dean Martin
The Staple Singers
Gail Davis
Johnny Mathis
Ringo Starr
Linda Davis
Delbert McClinton
Cat Stevens
Mac Davis
Ronnie McDowell
Ray Stevens
Donovan
Reba McEntire
Gary Stewart
Johnny Duncan
Roger Miller
George Strait
Marty Stuart
Billy Swan
Hank Thompson
Mel Tillis
Aaron Tippin
Rick Trevino
Travis Tritt
Tanya Tucker
Shania Twain
Conway Twitty
Steve Wariner
Dottie West
Kirk Whalum
Roger Whitaker
John and Audrey Wiggins
Andy Williams
Hank Williams, Jr.
Trisha Yearwood
Paul Young
---
Photos courtesy of Reggie Young.
This article originally appeared in VG's Sep. '01 issue.