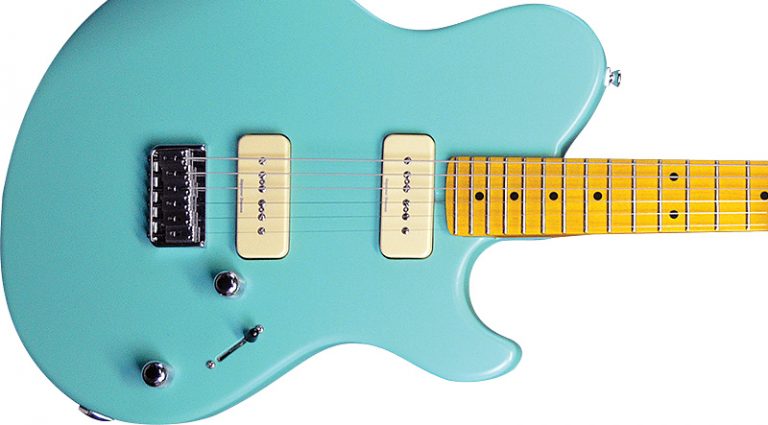 Mark Singleton holds the distinction of being a smokin' guitarist as well as, for the past 24 years, a builder of boutique guitars and basses. One side of the coin influences the other, with Singleton's real-world playing experiences informing his colorful guitar and bass designs.
Located at the simpler end of the Singleton lineup, the Capella is an affordable, straight-ahead axe that allows the guitarist to focus on musical expression rather than knob fiddling. The Cappella is as plug-and-play as it gets. With emphases on ease of use, playability, and comfort, it comes equipped with dual Seymour Duncan P-90s – a combination that elicits everything from the spunkiest funk to the most righteous blues and rock tones.
The fact that Singleton is a one-man operation assures an attention to detail and quality control not found with a lot of larger manufacturers.
To start, the Capella features a maple fingerboard and neck sporting 22 frets, 25.5″ scale length, 12″ fingerboard radius, and 1.875″ width at the nut. With its flat radius, this neck feels just right in width, thickness, and girth, and no doubt will find favor with most guitarists. Players who prefer bigger necks will find it a tad small at first, but it grows on you with its utilitarian charm.
The neck is bolted to a basswood body; the review guitar's Satin Sea Foam Green looked striking against the cream-colored vintage-style P-90s, chrome hardware, and aged maple neck.
The extremely lightweight Capella comes with a Gotoh bridge and tuners, a three-way pickup selector switch, a Switchcraft jack, and CTS pots. Even with single Volume and Tone controls and a pickup selector, the Capella's flexible tonal range accommodates plenty of playing situations.
Embracing the past and the present, respectively, with its body and headstock shapes, the Capella emitted sinewy spank, cluck, and warmth. For testing purposes, it was plugged into low-watt American tweed combos, high-gain heads, loud blackface combos, old-school British half-stacks, and high-end boutiques.
The Capella shined in the clean to low-overdrive department. The P-90s and basswood body worked extremely well in combination to get the kinds of usable tones used by most blues, rock, and funk players. It even subbed extremely well in the country category, producing super-credible twang. Rich textures seasoned with a gruff bluesy edge make this guitar highly versatile (given the nature of P-90s you might want to switch guitars for the heavy rock and metal material).
There was a subtle underpinning of surliness about this guitar no matter how the amp was set, but its easy-to-play feel and immaculate craftsmanship made it difficult to put down. The bridge pickup has lots of tempered cutting snap and pop to cut through a bass-heavy mix, while the pickup selector's middle position maintains most of that edge but is offset with a silky smoothness. Played through an ultra-clean amp and shifted to the neck pickup, the Capella underwent yet another personality change that elicited edgy jazz tones without sacrificing its uniqueness. And the Capella sounded thick as a brick when using distortion or overdrive. There was nothing thin about this guitar. Single notes became meatier and pinch harmonics were easily pinched.
The hand-built Singleton Capella worked wonders in a variety of musical situations, allowing effortless shifting among blues, jazz, rock, and funk. Little surprise the buzz on Singleton Guitars is growing quickly, attracting such diverse artists as Grammy-winner Norman Brown, session ace Jeff Richman, bassist extraordinaire Reggie McBride, Musicians Institute instructor Dean Brown, and fusion master Oz Noy, to name a few. And happily, you don't need to be as accomplished as these players to spring for a Capella. In fact, you'd be hard-pressed to find another handmade instrument of such quality for the price.
---
This article originally appeared in VG April 2016 issue. All copyrights are by the author and Vintage Guitar magazine. Unauthorized replication or use is strictly prohibited.
---