Unlike its rival from the West Coast, Gibson did not readily embrace the concept of offering custom-color finishes. It wasn't averse to custom work or colorful finishes, but saw them more as a consequence of its wider range of stringed instruments – acoustics, electrics, and associated clientele.
While competitors like Fender, Gretsch, Harmony, and Rickenbacker were happy to broaden their range of finishes with colorful shades, Gibson stuck to its (more-traditional) guns. The bold departure signalled by the gold finish of 1952 had no real follow-up until the inception of Cherry Red on the re-styled Les Paul Special and Junior in '58. Factory records suggest that the color was originally used in '57 as a one-off on an ES-295. Subsequently, Cherry Red was made available on many Gibson models, either as a standard finish or as an unlisted option before becoming the lead color on the new SG-style solidbodies and thinline electrics in 1961.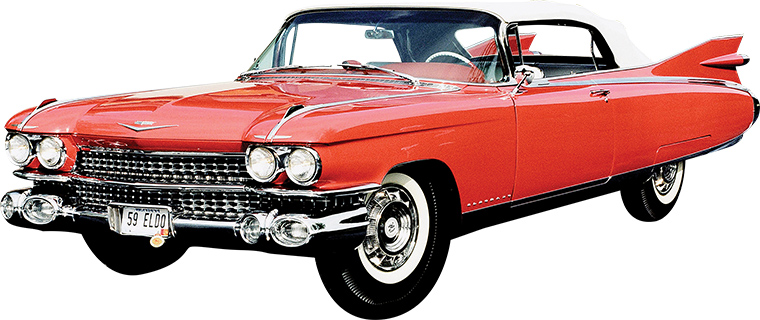 Leaving aside the decades-old use of black and white, Gibson's earliest non-traditional finish was the blue it applied to the revamped Century lap steel of 1951. The most famous fancy finish applied by Gibson on a production model is the gold metallic on the Les Paul model of 1952, which originated on a late-'51 ES-175 presented to a disabled guitarist by Les Paul himself.
Despite its innovative design, the SG series failed to provide a decisive competitive edge, especially vis-à-vis the most popular Fender solidbodies. When the Firebird was launched in 1963, Gibson boss Ted McCarty felt compelled to endow the new models with 10 finish options, blatantly emulating Fender shades. A Gibson color like Golden Mist is strictly identical to Fender's Shoreline Gold while Pelham Blue is Cadillac's 1960 successor to the Lake Placid Blue used by Fender beginning in '57.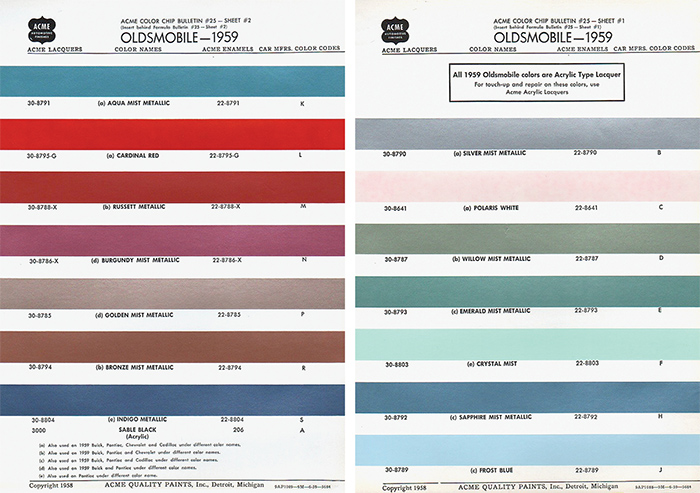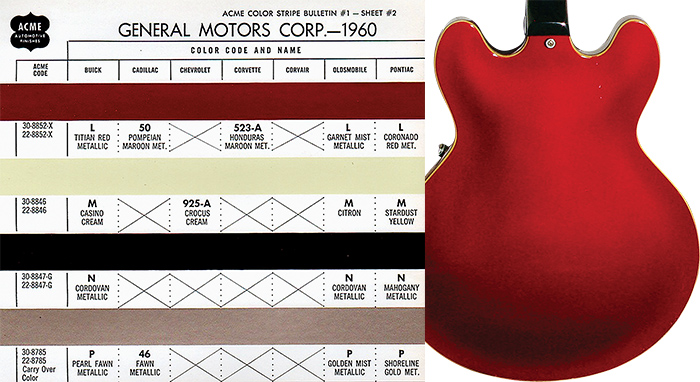 Color charts issued by Gibson in 1963 and '66 do not mention the paints' reference numbers, but their automotive name is sufficient to trace their origins (see accompanying table). It's no surprise that Gibson's selection shows a bias similar to Fender's, with nine of the 10 colors originating from GM, only one from Ford. Their main automotive source, however, was Oldsmobile, with five colors, rather than Fender's favorite, Cadillac, with three. This gave Gibson similar shades, albeit with different names.
Colors like Pelham Blue and Cardinal Red became available on other Gibsons, either as a standard finish as on Melody Makers, or as an option as on the Trini Lopez Standard. However, a couple of Firebirds were done with shades other than the 10 in the chart. For instance, the late John Entwistle, bassist for The Who, had a Firebird VII finished in Bronze Mist, from the much-used 1959 Oldsmobile chart.

The Firebirds' lack of success contributed to Gibson withdrawing custom finish options by '69. As recalled by Ted McCarty in a 1979 interview (Ed. Note: that interview was part of the research conducted by author André Duchossoir for his 1994 book Gibson Electrics: The Classic Years), these were not popular with dealers. "Players liked [having color options] but the dealers didn't because if a dealer had a green and a gold one, the fellows wanted the blue one and the red one. If he had a blue one and a red one, they wanted a green or a gold, or something else! They couldn't sell what they had, so dealers would forget it. They wouldn't even tell their customers about them!"
Some vintage enthusiasts think Sparkling Burgundy is also a custom color, and while the metallic shade resembles the Candy Apple Red found on Fender instruments, it was not, strictly speaking, an optional finish. Stanley Rendell, who served as president of Gibson in the early/mid '70s, recounted the true origins of Sparkling Burgundy.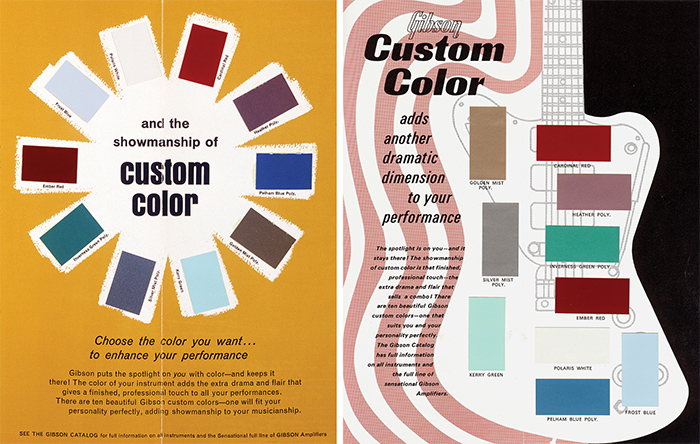 "[Gibson] had a problem making the 335 series," he said in an unpublished interview from 1982 (Ed. Note: also conducted by Duchossoir). "Apparently, when they laminated the sandwich, they did not have great control of the moisture content in the wood and they got a lot of checking in the guitars. So they came up with a finish – Sparkling Burgundy – [which] was a disguise mechanism. They would fill the cracks and spray Sparkling Burgundy to cover the repair. It's almost like what happened in the old days of piano industry, with ebony."
This explains why, as of 1967, Sparkling Burgundy was listed as a regular finish, not a custom option, on the thinline models – ES-355, 345, 335, 330, and EB-2 (D). At the same time, it was offered standard on the Flying V reissue and Melody Maker in lieu of Fire Engine Red. More rarely, Sparkling Burgundy was applied to SG bodies; oddly enough, practically no Firebird or Thunderbird was done with it.
In '67, Gibson introduced walnut as a regular finish on several models in order to diversify its traditional offering. Walnut would eventually supersede Cherry Red on SG-styled solidbodies and thinlines, while later also becoming the basic finish on the low-impedance Les Paul models launched in '69.
At a time when the company was going through a fairly traumatic period following the departure of McCarty and vice president John Huis, it was probably with great relief that Rendell and the new Gibson management oversaw the (temporary) end of optional custom colors.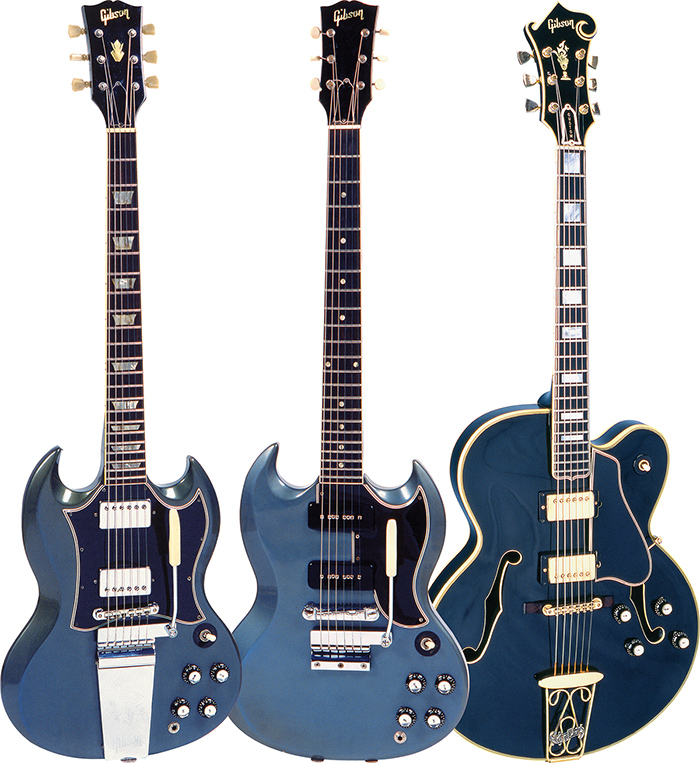 ---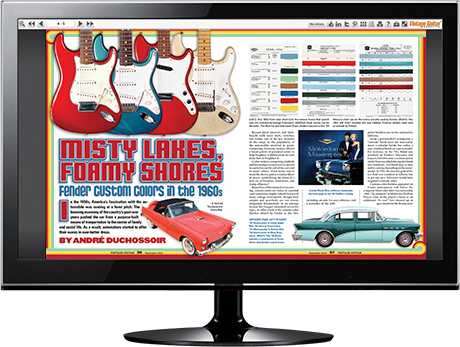 Special thanks to Phil Laverne for helping with automotive paints.
---
This article originally appeared in VG March 2016 issue. All copyrights are by the author and Vintage Guitar magazine. Unauthorized replication or use is strictly prohibited.
---
Video: Fender Stratocaster – Burgundy Mist Metallic