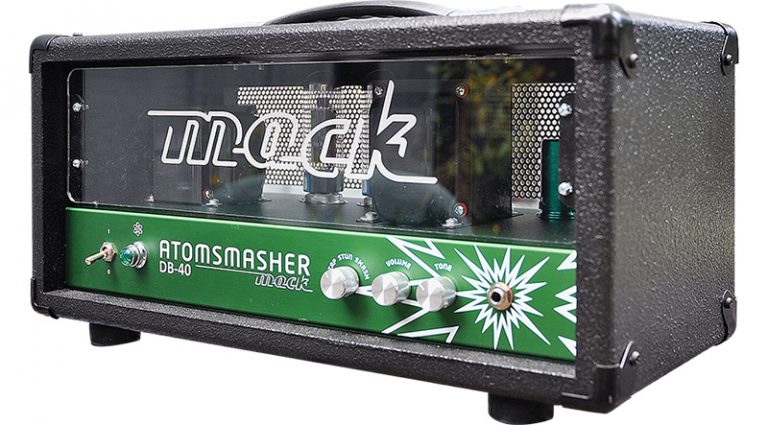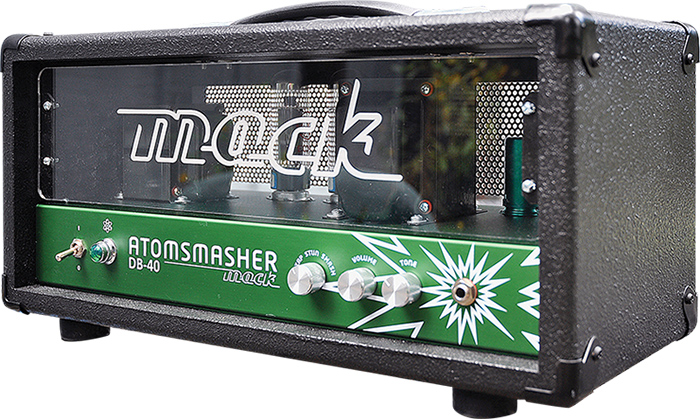 What do you get when you have a rockin' pair of 12AX7 tubes and a pair of EL34 power tubes? You get the tonal core of the new Mack tube head, the Atomsmasher DB-40. Bearing the initials of Canadian rocker David Barrett, this mid-power boutique head is built to deliver tone and responsiveness.
The DB-40 is a nicely portable head (just 23 pounds) with all hand-assembled and soldered circuitry and a parallel triode preamp that significantly adds gains and tonal girth without additional noise. There's a solid-state rectifier (with a series of resistors to create "sag"), a Hammond 1605 output transformer, and two 8-ohm outputs that can be matched to any cabinet. Controls are nice and simple: Volume, Tone, and a gain/bass-boost knob labeled with three settings: Zap, Stun, and Smash. Each notch adds a little more oomph and complexity to the tone, depending on taste.
The beauty of the DB-40 is that even though it doesn't have a lot of bells 'n' whistles, it delivers a variety of tones. It's heavily impacted by what the guitarist is playing as opposed to a tone-coloring head with loads of distortion. The key word here is transparency – the Atomsmasher is like a blank canvas on which a guitarist can paint their own sonic picture.
It's all about what the guitarist is delivering through their fingers, instinctively working with the way the amp compresses a note, warms it up, and gives it a little sag at the end – all hallmarks of excellent tube tone. Want clean and warm? Easy. Dial the amp to "Zap" and adjust the volume to a lower setting. Want more hair? Go to "Stun" or "Smash" and push up the gain accordingly. Need full-on destruction? Throw an overdrive or fuzz pedal before the preamp and watch the DB-40 catch sonic fire. When we hit it with a Black Cat N-Fuzz, the Atomsmasher lit up like the Fourth of July.
All told, the DB-40 Atomsmasher is another winner from Mack Amps, filling out the line with more output than its 18-watt siblings, the Heatseeker and Skyraider. The DB-40 will work great in the studio, rehearsals, and club gigs, and it really loves all sorts of stompboxes and cabinets.
If you want an amp that lets your identity (rather than its internal wiring) shine through, check out the Atomsmasher. It's perfect for the dynamic guitarist seeking their own sound and style.
---
This article originally appeared in VG February 2016 issue. All copyrights are by the author and Vintage Guitar magazine. Unauthorized replication or use is strictly prohibited.
---