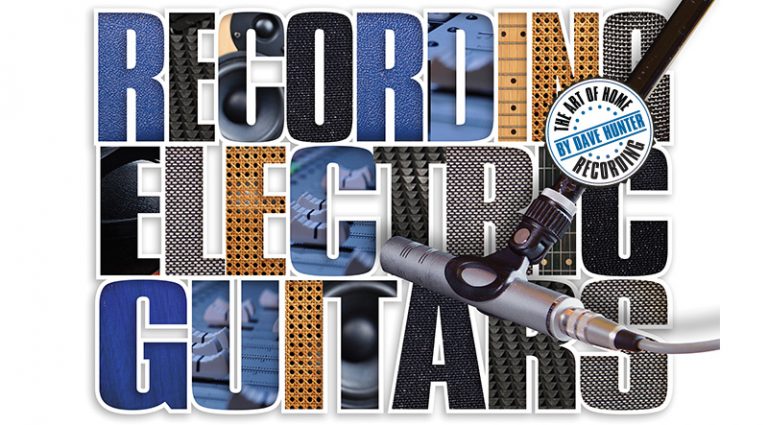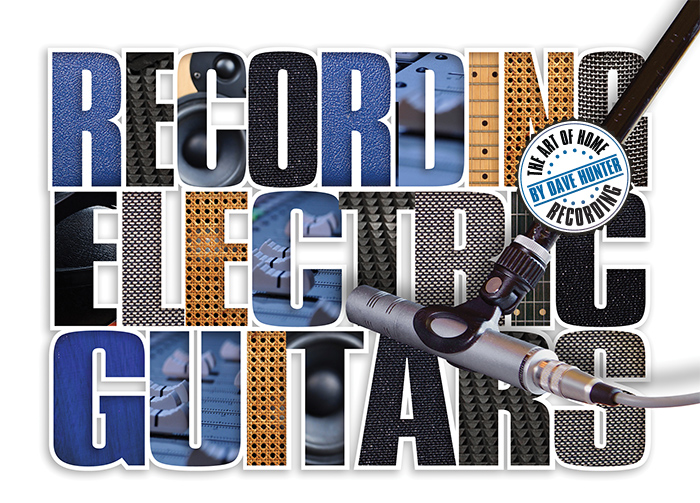 Now that our

studio is set up

and we've

selected our microphones

following the first two installments of this series (July and November '14), we're ready to put those tools into position and get to some tracking. In this installment, we'll concentrate on one of our favorite in-studio skills – miking amps to record electric guitars.
The process for recording sound from a guitar amp might seem simple; you have your amp and a mic to capture it, stick mic in front of amp, press "record," and play. Done! The truth is, though, that even when using the same guitar and amp with the same settings captured by the same mic, the results can vary greatly depending on where you place that mic. Add the variables of different mics and multiple mic placements on one speaker cab, and your sonic possibilities expand exponentially. The elephant lumbering into the room at this point in the game is the fact that more and more people are recording direct to interface using digital amp simulators, or DI'ing and applying an amp plug-in in the digital-audio workstation (DAW). These facilities have improved tremendously in recent years, but the majority of professional guitarists and professional studios still mic actual amps to record the most dynamic guitar-based music being made today, so we'll stick with honing these old-school skills.
Before diving in, it's also worth mentioning the "crap in, crap out" rule, which dictates that any recorded track is only going to sound as good as the guitar and amp that it captures, however good your mic or skilled your engineering. You can't expect elevated studio technique to convert junk tone or a mediocre performance to stellar sounds in the mix; the best you can hope for is to accurately capture the sound being made by your amp, and to do so with optimum depth, dynamics, and fidelity. Of course, it's possible that the crappy, low-grade junk tone you capture from a scuzzball rig is exactly what the recording demanded (Jack White or Dan Auerbach, anyone?), but it will usually benefit the tune to capture it as powerfully as you can!
Close-Miking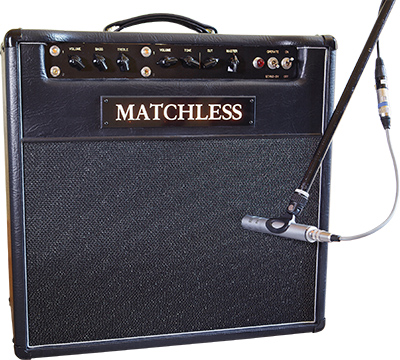 The simplest close-miking technique using a single mic is one that's familiar to anyone who has gigged in a venue large enough to have a full sound-support system. Stick a Shure SM57 or similar dynamic mic within an inch of the grille, and away you go. This technique frequently delivers a direct, punchy, in-your-face guitar tone that feels muscular in rock-oriented tracks. If you have a Royer R-121 ribbon mic or some other good ribbon or condenser option that can handle the sound-pressure levels involved in close-miking a guitar cab, these will offer variations on the traditional mids-forward SM57 flavor. In many circumstances this simple technique proves entirely adequate, or at least makes a good foundation to build upon, but you still need to consider exactly where to position that mic, and subtle variations of approach will reveal nuanced differences in the tones you can achieve. Also, if you're playing a combo or extension cab with more than one speaker, listen carefully to determine which is the best-sounding speaker – or the one that's right for the track – and mic that one (if you're not sure, and have two appropriate mics, record two speakers to separate tracks to select from later, more of which below).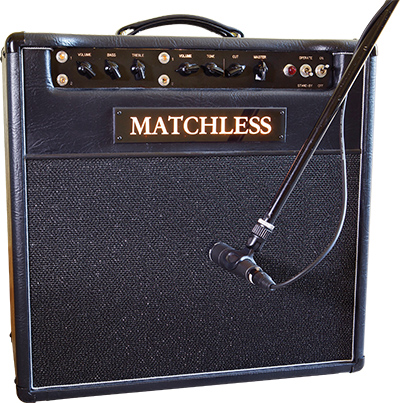 As to the "where," positioning your mic an inch or less from the grillecloth and aiming it straight at the center of the speaker cone – pointing at the dust cap, in other words – yields a bright, punchy, detailed sound that suits many requirements, but can be too harsh. At the other extreme, aiming the mic at the edge of the cone, where the cone meets the suspension (the area just inside the speaker cutout in the cab's mounting baffle) usually results in a looser, warmer, more raw and edgy tone. Between these two positions, there's a wealth of voices to explore, and every inch of real estate that the mic covers between dust cap and cone edge will bring a noticeable sonic shift, without touching the amp's controls. Also, aiming the mic straight at the speaker, in other words, mounted at 90 degrees to the flat plane of the front of the amp, and aiming it off axis, at a slight angle to the speaker, will illicit different sounds, too. With an assistant helping, or the guitarist playing if that's not you, try moving the mic around the surface of the speaker while listening for the changes in tone through monitors or headphones, or if you don't have enough isolation between live amp and monitors, record a little in each of several positions to listen back to. Pick the position you like for the track, and go with it.
You aren't likely to really know what works best until you get the song a little further along in the mix, when you can hear how the guitar sound sits with the vocals and other instrument tracks. Sometimes, what sounds like the best guitar tone in the room isn't always the most effective guitar tone in the track, but as ever, at this point you can only take a stab at what you think will work. Through experience, you'll build a tool kit of go-to mic positions that achieve what you are seeking.
Amp Tone In The Studio
Any experienced professional guitarist will tell you there's usually a big difference between what works on the live stage and what works in the studio. Most discovered early on that the carefully honed live tone they were so proud of just didn't work on the recorded track, for any of several reasons, or not without a lot of tweaking and readjustment, at least. The first thing you're likely to discover is that it's a lot harder to record satisfactory overdriven and distorted guitar sounds than it is to record clean or mildly crunchy sounds, a revelation that often goes hand-in-hand with the fact that big amps tend to be more difficult to record satisfactorily in general.
There's such a broad range of potential guitar and amp tones out there that it's impossible to say "this works, but this doesn't." As a rule of thumb, though, go into the recording experience with the knowledge that the guitar parts that work live with a lashing of overdrive (natural cranked-amp gain or pedal generated) will often work better in the recorded mix with somewhat less gain and saturation. Heavily overdriven amps tend to swamp the mix, getting in the way of other crucial instruments, and sounding surprisingly muddy and washed-out as a result. Tightening one's tone frequently brings back the punch and drive they seek from the part in the first place, and helps the guitars sit better with whatever else is going on in the arrangement. For instances of this, listen closely to a handful of guitar parts in classic-rock recordings that we tend to think of as examples of "heavy guitar tone" – Angus and Malcolm Young with AC/DC, Paul Kossoff with Free, Pete Townshend with The Who – and you're likely to hear that they're actually cleaner than you recalled. Then, when you get bogged down in an effort to record a satisfactory tone, consider cleaning it up at the amp or using a smaller amp.
Distant-Miking
While close-miking can indeed be punchy and muscular, you'll often find it doesn't capture the full breadth of your electric guitar tone – that is, it simply doesn't sound the way your amp sounds in the room. That's because when you stand somewhere near the middle of any room and play an amp that's placed a few feet away, several other elements affect the sonic picture. The distance between your ears and the speaker (the "air"), the shape and size of the room, materials used to make the walls, ceiling and floor and/or their coverings, the ways in which sound reflects from them, along with other factors all contribute to how your amp really sounds in the acoustic environment. Most engineers find, therefore, that they need to use some form of distant miking when the aim is capturing a realistic amp tone.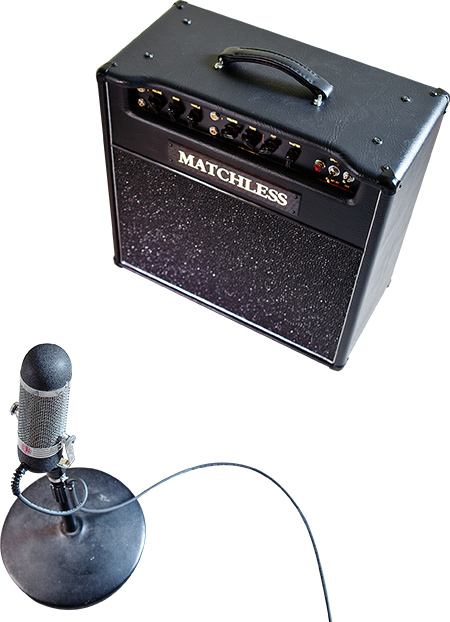 The dynamic mic's strengths for close-miking constitute some of its weaknesses in distant-miking, and you'll more likely want to use a ribbon or condenser mic for this job, if you have one. Distant miking really begins at 10″ to 12″ out, where many condenser and ribbon mics start to bloom. As a rough guide, start 12″ to 18″ from the speaker in order to record an electric guitar sound that is still pretty solid and direct, but captures some sense of air and space and natural room reverberation. You can aim the mic straight at the center of the speaker for a bright and detailed tone, as described in our close-miking techniques above, or move it around in the field, trying different direct and off-axis placements. Any position that achieves a desirable tone is valid, and you don't have to remain on the same plane as the speaker itself. Moving the mic out adds more space to the sound (while potentially compounding phasing issues – see below). Raising the mic above the speaker and aiming it down slightly to fire toward the upper edge of the cone can let the sound bloom as it reaches the mic. In a room with a carpeted floor, you can position the mic lower to the ground (even below the speaker itself) to cut out some of the reflected sound. Positioned as such, an end-fire mic can be shooting either toward the amp on a plane that hovers above the floor or at an angle toward the speaker, while a side-fire mic can be aimed either way or fire straight at the ceiling with the amp sound washing over its capsule.
Combos or extension cabs with more than one speaker might present some phasing issues when miked at a distance. Such phasing is usually heard as softness/"hollowness"/lack of low-end punch in the recorded sound – a sort of "comb filter" EQ effect like you get from a phaser or a cocked wah pedal. Some mic placements using, for example, a 2×12 speaker cab will induce time differences between the waves from one speaker hitting the mic relative to those of the other, and possibly create frequency cancellations that are deleterious to guitar tone. Even when both speakers are of the same make and model, they are likely to perform slightly differently (thanks to subtle variables of the manufacturing process) and to present ever-so-slightly different resonant frequencies, efficiencies, basic tonalities, and so forth. For all of these reasons, extra care is required when placing a microphone at a distance from any multi-speaker cab (close-miking one of the other speakers will all but eliminate such issues, but also eliminates access to the great sounds of distant miking).
Ambient-Miking
Moving the mic even further back – from a few feet to several – gets into what is generally referred to as "ambient miking" or "room miking." This can be a great way to achieve even more depth and sense of space in your tracks. Jimmy Page made frequent use of ambient miking in recording his guitar parts with Led Zeppelin, and it was also a major factor in Eric Clapton's legendary "Beano" tone. The further from the speaker you place the mic, and the more into the center or far side of the room, the great the proportion of reflected to direct sound in the blend, and the greater the sense of "air" and "room" in the sound. Often, it's combined with a close mic to retain the option of blending in as much punch and directness as necessary, but if you only have one track or one mic available, ambient placement will sometimes do the trick on its own.
The best choice for ambient miking is most likely to be a good condenser – probably a large-diaphragm type, though a small-diaphragm type will work. Plenty of ribbon mics give good service as ambient mics also, if you have a clean, high-gain mic pre-amp to track them through. And where do you put it? Well, three or four feet back from the speaker will start to get a significant amount of room sound into the mic, but for more-ambient placements, try six feet or more, and experiment with different heights from the floor, far corners, and so on. One nifty way to find a cool ambient placement is to use your own ear like a mic, and stick the mic at the position in the room where the guitar tone sounds the best to you. This is ideally done with another person playing the guitar; cover one ear and walk around the room listening to the sound in different positions. When you hear a sound that really nails what you're trying to capture, set up the mic right there. Done.
Multi-Mic Techniques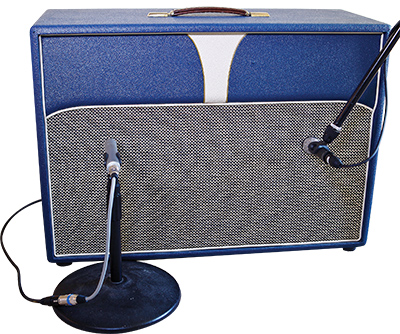 We've already shown you how you will sometimes want more than one mic on your amp to achieve ideal sound in your tracks. Many semi-distant and ambient techniques will be most useful, along with a close mic, but on a separate track, to retain the option of blending a more-direct tone to create your overall sonic picture. Any single-mic positions discussed thus far can be combined into multi-mic sounds in the mix when recorded to different tracks. There are also several other approaches to multi-miking that might come in handy now and then, and which are worth some exploration.
To capture two speakers in a multi-speaker cab or record a bigger sound that delivers the response of two different microphones in similar positions on one speaker, you can try using two mics in a close or semi-close placement. If you're using two different mics on a single speaker, place the capsules of each as close together as possible, without touching, in order to minimize phase cancellation. This technique might seem redundant, but can often yield outstanding results, allowing you to blend the characteristics of two different microphones to capture one amp sound – a bright, detailed condenser and a punchy, midrange-heavy dynamic, for example. On guitar cabs carrying two or more speakers, try miking each speaker separately, placing each of two mics – same type or different – at the same distance. Some amp makers use different types of speakers in cabs to enhance sonic complexity, and this miking technique will make the most of those. Even two speakers of exactly the same type, however, will often sound slightly different, and blending them might yield great results.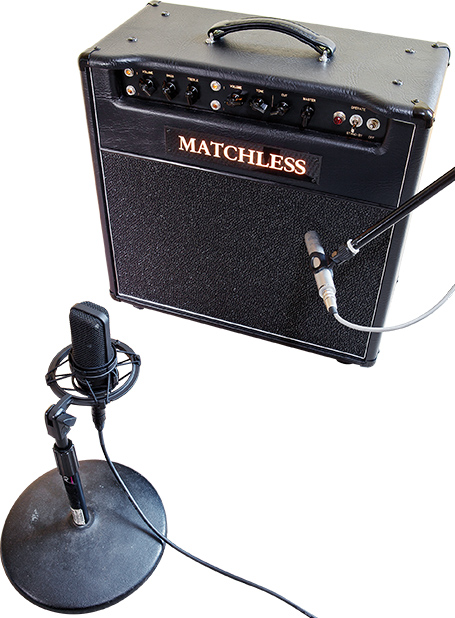 When you are also tracking a close mic at the same time, you might try variations of the approaches discussed in the sections above on distant-miking or ambient-miking to get a little or a lot more room sound into the brew. This often will capture the best overall sound for a range of musical styles – the close mic delivers punch and plenty of midrange grind (depending on mic choice), while the distant mic – placed from about 12″ away to several feet – adds depth, dimension, and the natural reverberation of the space. After careful consideration for both mic placements (using the "position, listen, re-position" techniques discussed above to find ideal on-the-track sound from each mic), some skill in the mixing process is also often required to make the most of any multi-mic setup. The discussion about phase alignment in the sidebar ("Correcting Phase Issues") is often a big part of this post-tracking approach to maximizing multi-mic techniques, but also be aware that you can use whatever proportional blend of the two tracks works best, a variety of effects and dynamic treatments on each track, and whatever panning of the pair best suits your overall mix, from dead-on together to any different pan of each within the stereo field.
Correcting Phase Issues
You are likely to encounter phase issues when you have the same sound hitting a microphone from two different positions. The more mics you use or the more distance is put between mic and speaker in a reflective room, the more likely this will occur. The result is an effect called "comb filtering," which cancels out certain frequencies and emphasizes others, creating an odd sound. Part of the reason for using distant-miking techniques is to obtain some "room sound" in the tone, which is created in part by such reflections, but at times these will have an adverse affect on the focus and solidity of your guitar sound. If a distant position with just one mic is sounding considerably more thin, loose, and washy than a close mic on the same amp, move it around, experiment with other locations, and see if you can eliminate these issues through mic placement alone. Otherwise, consider using a baffle or two to shield the mic from specific reflective surfaces.

The use of two or more mics is likely to result in other phase issues when these mics are combined in the mix, since they will almost certainly be capturing sound waves that reach the mic capsules at slightly different times. Whether such issues are bad enough to cause a problem (or even be heard) depends on the situation. First, if your two mics sound odd and hollow and/or lacking in low-end from the outset, flip the phase of one (usually via a switch on the preamp or afterward in your DAW) to ensure you aren't trying to blend two mics that are reverse-phase in the first place. If your two-mic sound goes from hollow and thin sounding to fat and full, you had a reverse-phase issue. If it doesn't improve – or gets worse – you need to consider other remedies. Once you know that both mics are at least in phase with each other, you can improve their phase relationship even further by moving the position of one around until any other sonic oddities are less obtrusive, which is simply determined by finding a pair of positions that are really smoking tone-wise.
Alternatively – and often most effectively – you can fix phase issues in the digital realm. Record your two-mic signal on two separate tracks, then zoom in on the sound waves in each of the two channels in your DAW's editing window until they are huge and you're seeing the full up-and-down crests and troughs of the waves. Now, drag or nudge the sound wave of the ambient mic forward (i.e., to the left of the screen) a few milliseconds at a time until the sound waves line up perfectly. Listen again, and you should hear a very different blend that is fuller, richer, and more "together."
In the next installment, we'll address techniques for recording acoustic guitars.
---
In addition to being VG's resident amp historian, Dave Hunter is the author of several books on gear and technique, including The Home Recording Handbook (Backbeat Books, 2012), which covers in further detail many of the techniques discussed in this series.
---
This article originally appeared in VG December 2015 issue. All copyrights are by the author and Vintage Guitar magazine. Unauthorized replication or use is strictly prohibited.
---
The Art of Home Recording — In this series, VG will equip readers with the knowledge and skill to achieve professional-sounding home recordings.
Part 1: Building a Studio
Part 2: Microphones and Their Uses
Part 3: Recording Electric Guitars
Part 4: Recording Acoustic Guitars