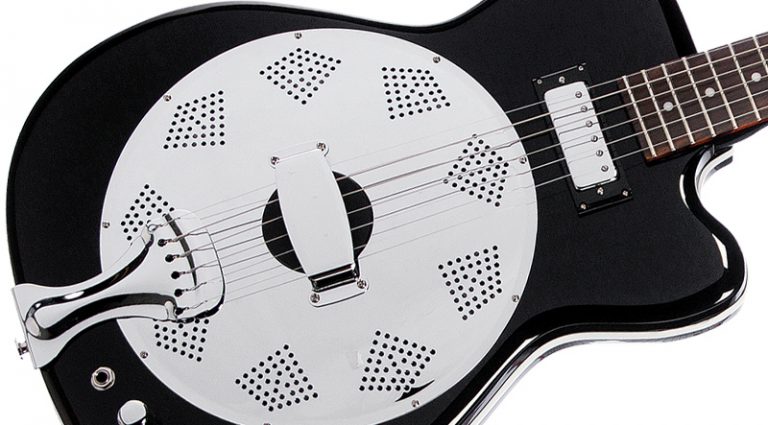 There's something about the Airline Bojotar that makes one ask, "What if Keef had added a high-G banjo string to the bass side of his five-string Tele?"
With a scale length of 24.75″, the Bojotar's strings are tuned G/D/G/B/D (low to high) and sit on a 1.5″ nut. A sixth string, tuned to G, is anchored with a banjo tuner positioned where it would sit on a standard five-string banjo neck. The neck sports an adjustable truss rod, and the fingerboard is slightly arched, with dot inlays and medium frets. Other features include a rubber bumper along the outside edge of the body – cool, and functional.
Sporting the polished look of classic Airline offerings, the Bojotar's neck is maple with a rosewood board, the body is mahogany and houses a single-coil pickup along with a resonator setup with piezo. Its perforated diamond-pattern cover plate, tailpiece, and other hardware are chrome, and its vintage-style tuners are right at home.
Played in open G or with the low G string tuned up to A, the Bojotar makes a nice soloist instrument for vocal and instrumental roots music. A mic placed near it, along with its amplified output, could make for interesting recorded textures.
Through a PA and with the Tone and Volume controls full up, the center detent on the blend knob provided a balanced mix of piezo and magnetic technologies. Offering plenty of gain, the Bojotar is easy to EQ. The hollowed mahogany body and four-bolt neck are both rigid, and thus very stable.
Plugged into a Fender amp in the studio, the single-coil pickup gently pushed the amp. With a touch of overdrive from a pedal, hammer-on IV chord licks became fat, with sustained notes riding the edge of controlled feedback. Adding a touch of piezo resulted in high-end sparkle almost like a Strat, and a brass slide produced a snarly blues/rock tone. Though the Bojotar is easy and satisfying to play loud, hitting the high G string seemed out of place in that context.
Any G-tuning banjoist or guitarist is going to find the Bojotar a familiar and welcome friend, with a distinctive voice only hinted at by traditional banjo or resonator guitars. Ease of playing and the quick ability to dial in a good sound are bonuses.
Maybe this axe (and a little more of Gram Parsons' influence) would have swung the Rolling Stones deeper into outlaw country, Dartford-style.
---
This article originally appeared in VG November 2015 issue. All copyrights are by the author and Vintage Guitar magazine. Unauthorized replication or use is strictly prohibited.
---