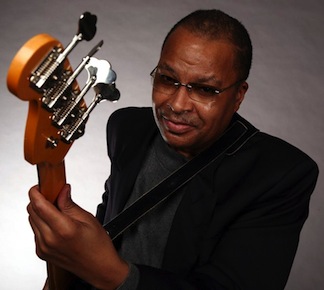 James Jamerson, Jr.,  a noted session bassist for Motown and other studios, passed away March 23 in Detroit. He was 58 and had long suffered with ankylosing spondylitis, a chronic inflammatory autoimmune disease that affects the spine.
The son of the legendary Motown bassist James Jamerson, as a child and in his early teens, he often accompanied his father to the studios, where he would watch and listen as the players created some of the biggest songs of the era. He began working sessions himself when he was 14, and his first credit was on a Smokey Robinson album. He went on to record more than 200 sessions, including for The 5th Dimension, The Temptations, Herb Alpert, Bruce Springsteen, Bob Dylan, Luciano Pavarotti, the Jackson family,  B.B. King, and others. In the mid '70s, Jamerson and David Williams formed Chanson, which recorded the hit single, "Don't Hold Back." Later, he performed with Motown tribute shows and most recently was part of the "Standing in the Shadows of Motown Live!" tour, which played songs highlighted in the 2002 documentary "Standing in the Shadows of Motown."
Jamerson is survived by three daughters, four grandchildren, a brother, sister, and his mother.