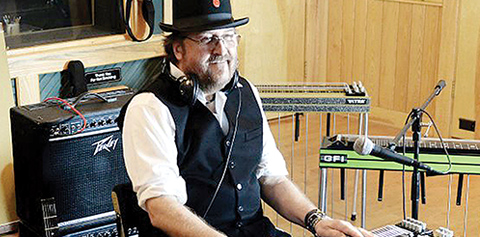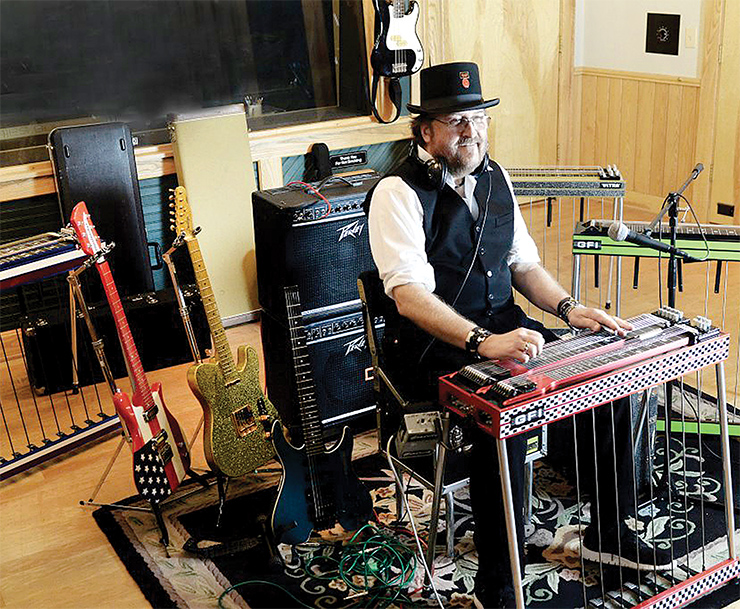 Guitarist Fred Newell's best-known gig – as a member of the house band on "Nashville Now" – ended more than two decades ago. In the time since, though, he has barely missed a step.
Newell has backed artists including Waylon Jennings, Porter Wagoner, and dozens of other frontline artists, and in more recent times, gigged on pedal-steel guitar more than a good ol' single-cut. He also plays with Waymore's Outlaws, a band comprised of veterans like himself who backed Jennings.
Newell is known as a rapid-fire Tele player, but he has been through numerous unique six-strings along the way. One of the more aesthetically interesting was a Gibson Custom Shop model that was illustrated by artist Greg Rich.
"It was a pearloid Howard Roberts Fusion model with a Trini Lopez headstock," he remembered. "People still ask me about that guitar. I got to play a lot of wild Custom Shop stuff, including an Elvis guitar they did, and there was also a Steinberger with an Egyptian motif. I had some Hamer guitars with holograms of skulls, and a snakeskin guitar."
Newell also had some favorite no-frills guitars in those times. He fell in love with a basic one-pickup Peavey Tracer, and he had a wiring modification that interpolated a coil roll-off circuit installed in the Tracer by a luthier/technician in the Nashville area.
"I'd told Peavey 'Send me the cheapest guitar you've got'," Newell recalled with a chuckle, "and that little sucker was dynamite. I thought it sounded great. As a matter of fact, Glen Campbell heard it when I used it on 'Nashville Now,' and borrowed it for some sessions."
Other custom-made guitars Newell still uses include a gold-sparkle Fender Custom Shop Telecaster and a Rickenbacker 650 with an American flag decoration.
"I told Fender I wanted everything gold on one, including the neck," he said. "They put a lot of work into it. It looks and plays great."
As for the patriotic Rick, Newell detailed, "I think it's the only one they ever did. It's got big frets and a big neck, and it's a wonderful guitar."
While he had played pedal-steel before moving to Nashville, he made a conscious decision to return to that instrument approximately 18 years ago. He estimates that these days, some 90 percent of the session work he does is on steel.
"I didn't even have a steel, but had worked on other instruments – banjo, mandolin, harmonica, and bass," he said. "One night, I was at Deed and Duane Eddy's house for dinner, and Duane pulled out an old Fender steel and started messing with it. I thought, 'You know, I've missed having a steel and playing it.' So I got one, and I started out just amusing myself a bit. But, little by little, it turned into work. I've never quit playing guitar, but steel is something I've really gotten into."
Newell's primary steels are made by GFI, the company founded by former Fender instrument designer Gene Fields, who was a member of the Steel Guitar Hall of Fame. His usual setup on a doubleneck is "…with a 10-string neck closest to me in a standard E9 chromatic tuning, and a six-string tuned to G on the outside, which I basically use for a dobro and a slide or rock and roll guitar sound. I use eight pedals, four on each neck. The knee levers only work on the E9 neck."
Newell released a solo album in 2007, around the time the Waymore's Outlaws aggregation was formed.
"A lot of people had been asking, 'When are you gonna do a CD?'" he said. "I decided to do something that went through the years, instead of just some songs, and I wanted to put plenty of guitar and steel on it."
Its songs include countrified versions of hits from other genres, two of which have been re-titled – "On (Lower) Broadway" and "(Y'all) Walk, Don't Run." Guests on the album included Porter Wagoner, Marty Stuart, Reggie Young, Brigitte London, and Jerry Reed.
Newell was sure to assert that Waymore is not a Waylon Jennings tribute band.
"Three of us were actually employed by Waylon, so we're doing the real deal," he detailed. "We were fortunate to have been able to play with him, and people still want to hear Waylon music, so, long story short, we've been out touring a lot. We're doing a lot of things with Shooter (Jennings, Waylon's son), and have even gone to Norway, Switzerland, Denmark… We want to keep doing what we're doing, and get to a broader audience, of course. Working with Shooter is helping with that. As long as they want to hear it, we'll keep doing it."
A third album by Waymore's Outlaws is due in 2015.
---
This article originally appeared in VG August 2015 issue. All copyrights are by the author and Vintage Guitar magazine. Unauthorized replication or use is strictly prohibited.
---