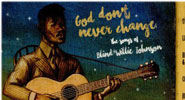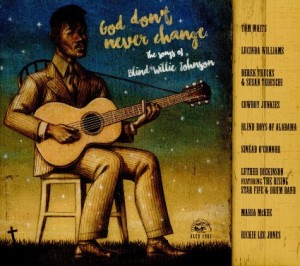 Blind Willie Johnson – the Texas preacher, slide guitarist, and gospel singer – may seem a tough artist to pay homage to in a tribute album. His music is so singular, so extraordinary that it defies characterization. The only hope? Find artists that are also unique to cover his songs, a Herculean task on its own that has taken producer Jeffrey Gaskill some seven years to realize.
Like Robert Johnson, Blind Willie was a master with a slide. He recorded just 30 songs in three sessions from 1927 to '30 – songs as stunning and monumental as Robert Johnson's. And his story, too, is mostly mystery: even the tale of his losing his eyesight when his jealous stepmother threw lye in his face to spite his two-timing father may be apocryphal.
Yet while Robert Johnson is viewed today – rightly or wrongly – as the most influential bluesman, Blind Willie's largely forgotten. Even though he was famous for "falling out and hollerin'" when he played, as one eyewitness described, Blind Willie was primarily singing religious songs, not the profane blues that are more highly regarded today.
Which is where this album steps in. As the first artist on this disc, Tom Waits, once said, "Without spirituals and the Baptist Church and the whole African-American experience in this country, I don't know what we would consider music, I don't know what we'd all be drinking from." What more explanation do you need?
And this tribute is simply phenomenal. The list of artists is not only stellar, but fitting – something that doesn't always happen with such collections. And, they're inspired.
Waits' gravel-toned voice is ideal for covering the raspy tenor and false bass that Johnson was known for. Playing a cigar-box banjo with his wife Kathleen Brennan on backing vocals and son Casey on drums, he roars through "The Soul Of A Man" and "John The Revelator" like Son House meeting up with Little Richard. No surprise: Waits' two performances alone are worth the price of admission.
Lucinda Williams' two tracks are equally soulful, highlighted by Doug Pettibone's stylish slide work.
Both Derek Trucks (with wife Susan Tedeschi on lead vocals) and Luther Dickinson (with the Rising Star Fife and Drum Band) are naturals, their bottlenecks paying apt homage.
And while the Blind Boys of Alabama seems ideal too, Sinead O'Connor might appear an odd choice – until you hear her version of "Trouble Will Soon Be Over," rife with country-church rhythms and "get happy" joy.
The Cowboy Junkies' take on "Jesus Is Coming Soon" is both new and old, sampling Johnson's original while melding modern sounds and Michael Timmins' electric guitar.
Ry Cooder's faithful slide playing on "Dark Was The Night, Cold Was The Ground" from the Paris, Texas soundtrack may be missing, but Rickie Lee Jones' version here is stunning – and illuminating. She reaches back to the original lyrics from the 1792 Baptist hymn by Thomas Haweis about the Garden of Gethsemane, where Jesus was arrested and tormented on the eve of his crucifixion.
The album includes superb packaging and a booklet highlighted by a Johnson biography written by blues historian Michael Corcoran, probably the most knowledgeable expert extant.
Many tribute albums are disposable: they pay homage to a musician with song covers while adding little to the legacy. This new collection is essential stuff.
This article originally appeared in VG's June '16 issue. All copyrights are by the author and Vintage Guitar magazine. Unauthorized replication or use is strictly prohibited.