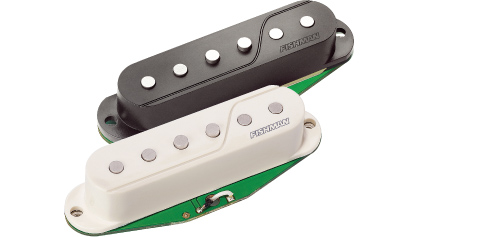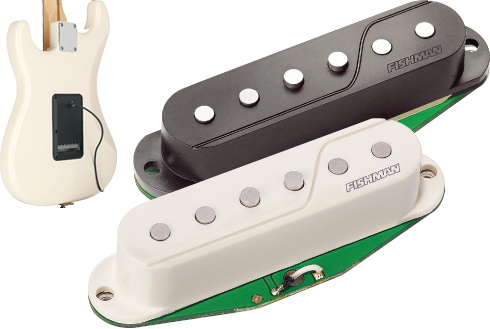 Fishman Fluence Single-Width Pickup
Price: $224 (set)
Contact: www.fishman.com
Larry Fishman is one of the most respected names in the world of acoustic-guitar pickups and the tone-shaping devices necessary to render them both useful and toneful in concert settings. Recently, Fishman decided to take on electric guitar pickups. The result is the Fluence series, which utilizes low-impedance/active, hum-canceling pickups along with a multivoice tone-shaping preamp that allows a wider tonal range than a standard passive pickup.
The Fluence Single-Width set consists of three pickups constructed not from wraps of wire, but instead from layers of wafer-thin circuit boards attached to Alnico magnet rods. They arrive prewired to a pickguard with 25k volume and tone pots. Both tone pots are push/pull, one selecting between a Vintage (off) or Hot (on) tonal character, and the other activating a high-frequency tilt in the up/on position that darkens overall tone. Our review unit included an optional rechargeable battery pack disguised as a standard vibrato back plate. The plate is capable of more than 250 hours on a single charge and has a handy visual battery meter.
We tested the Fluence harness in a new Stratocaster plugged into a Deluxe Reverb.
It was immediately apparent that we had to toss aside our notions of passive pickups and the manner in which they interact with the guitar's tone controls. These actually provide great tone-shaping capabilities instead of simply making the pickups sound like mud as they're rolled down. We quickly learned that we needed to roll off some highs while in the Vintage setting, then roll them back up while in Hot mode. In terms of actual sound, the labels are actually fitting; Vintage provides the clear, warm-yet-glassy tones desirable in a vintage-themed pickup, while Hot gives the darker, higher-output sound with increased mids that keeps the unwound strings from becoming tiresome to the ear when using overdrive.
The Fluence Single-Width offer a hum-free single-coil tone that, via its multivoice function, is like changing out pickups at the flick of a switch. The system's wide-range pots and high-frequency tilt control allow an amazing array of tones at a player's fingertips.
---
This article originally appeared in VG March 2015 issue. All copyrights are by the author and Vintage Guitar magazine. Unauthorized replication or use is strictly prohibited.
---