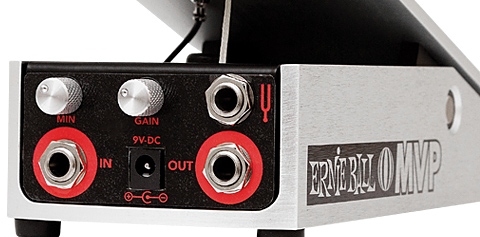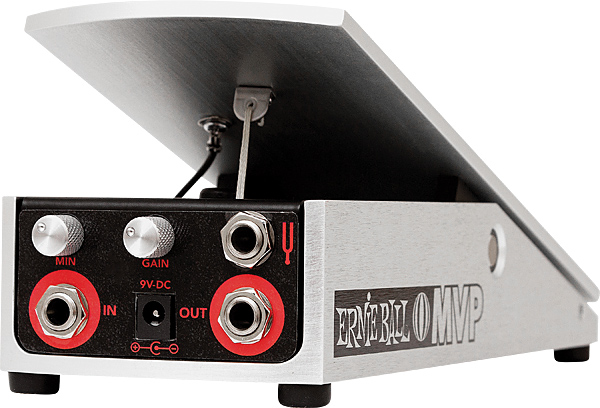 Ernie Ball's MVP Volume/Gain Expression Pedal
Price: $179 (list); $129.99 (street)
Info: www.ernieball.com.
Just when you thought you were done building the perfect pedalboard with all the coolest overdrives and time-based effects, you realize you need to control your sound. No doubt, a volume pedal is the way to go for controlling the volume of your amp and effects – not to mention for creating unholy atmospheric swells.
Enter Ernie Ball's "Most Valuable Pedal," a.k.a. the Ernie Ball MVP Volume/Gain Expression Pedal. This effect has some nifty bells and whistles. In addition to being a straight-ahead volume pedal, the MVP offers its owner the option of 20dB of gain boost that can be adjusted for cleaner settings.
Powered by a 9-volt battery or adapter, the MVP has an input and output in the front of the pedal, as well as a tuner output that can be used at any volume with any tuner with no ill effect on the audio signal. There's zero frequency loss, and it can work with active or passive audio signals, no problem.
The MVP's Gain knob goes from transparency to 20dB of adjustable boost, and is a nice option when a virile injection of oomph is called for. The Min (minimum volume) knob is where most of the tweaking occurs, as it allows the player to set up 50 percent of their volume level in the heel position and 100 percent in the toe. With a clean setting in the heel position, the user can smoothly shift to the toe position for some dirty-boosted shock and awe. (The MVP's pivot action is smooth and effortless.) When the Gain knob is backed off, the Min knob can be set up to give separate clean settings: one for clean rhythms and another for louder solos.
The MVP offers many options to help the player gain ultimate control of their amp and pedalboard. It even allows fine-tuning of volume and gain for specific effects. With the Gain knob cranked and the Min knob off, the MVP can provide a fully controllable clean-dirty boost to silence a rig with absolutely no signal loss.
The MVP's gain improves the best qualities of an amp, and the control it offers can make it a very useful piece of gear. So, if you're looking to complete the pedalboard of your dreams, the Ernie Ball MVP just might be the missing link, and at a reasonable price.
---
This article originally appeared in VG September 2014 issue. All copyrights are by the author and Vintage Guitar magazine. Unauthorized replication or use is strictly prohibited.
---