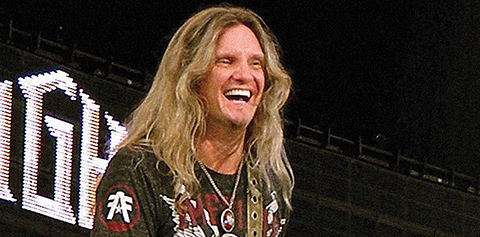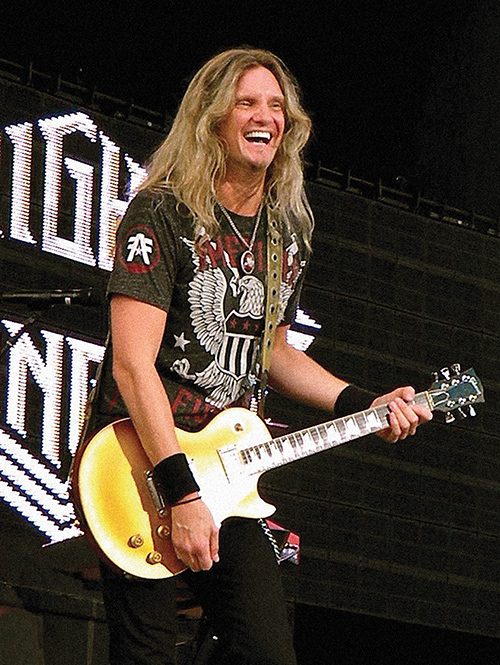 When does Joel Hoekstra sleep? To say the always-smiling guitarist has a full plate is an understatement. For several years, he has juggled performing with the smash hit Broadway musical Rock of Ages, toured with the holiday sensation Trans-Siberian Orchestra, and served as a member of melodic hard-rockers Night Ranger.
He amicably parted ways with Night Ranger to join Whitesnake; hand-picked by founder David Coverdale, Hoekstra joined an illustrious list of axe-slingers including Bernie Marsden, Micky Moody, Mel Galley, John Sykes, Adrian Vandenberg, Vivian Campbell, Steve Vai, Warren DeMartini, Doug Aldrich, and current member Reb Beach. Whitesnake is set for a new album and tour in 2015.
Hoekstra has also released three solo albums, nurtured side projects, and done sessions and scores for the likes of singer Amy Lee and the television shows "Duck Dynasty" and "Wahlburgers."
"Over the last five years, I've averaged 400 shows each year between Rock of Ages, TSO, and Night Ranger, including sessions and things like that. I'm basically gigging every day," he said. Oh, and Hoekstra and his wife have a toddler, so down time is rare.
He's currently on the road with Trans-Siberian Orchestra, and loves every minute of it.
"This year, we'll be doing 'The Christmas Attic' for the first time. We're excited to have new material to play. It's just another page in what's become a Christmas tradition for a new generation. It's awesome to be a part of. I can't think of anything else like it that appeals to so many different people and does so well commercially."
Hoekstra grew up in the Chicago area, and his parents had him learning cello and piano at an early age. Then, something wonderful happened – he heard the guitar as played by Angus Young in AC/DC.
"At that moment, music changed for me – hearing AC/DC and 'Back in Black,'" he said. "I thought Angus Young was the coolest thing in the world… I still do, really."
He picked up the acoustic guitar first, and started studying rudimentary song books, but wasn't satisfied. Wanting to rock, he hit up a friend who taught him power chords and told him about a teacher at the local mall who showed his students how to play rock-and-roll songs.
"I didn't know there were such things as scales or exercises, per se," he recalled. "I was learning all the songs I liked and that was a great way to get myself motivated."
From there, he started playing in bands as a teenager and began learning on his own. He also started giving lessons, which he says was vital to his growth as a musician.
"I taught 70 students a week for years, which gave me a really good opportunity to work on my ear and fundamentals. It kept me playing guitar for a living," said Hoekstra. "There are people who go, 'I'm just gonna sell these stereos until my band makes it big.' Eventually, though, you find out that practical living usually overcomes the dream living, and your 'fantasy' gets swallowed up."
Hoekstra's main electric guitars include a Gibson Les Paul goldtop '57 reissue, various Gibson Les Paul Customs, a 50th-anniversary Flying V, an SG, a Howard Roberts, a Fender Jazzmaster, a Jackson PC1, and a striped EVH (several of them are fitted with Fernandes sustainers). His acoustic guitars include a Gibson CL-40, a Taylor 914ce, 614ce, and an 854c 12-string.
He caught a break while working with singer Cathy Richardson, who went on to portray Janis Joplin in the musical Love, Janis, and helped get him a spot in the production. Stints with Big Brother & The Holding Company, The Turtles, and others steadily built his career. Hoekstra is especially grateful for his eight-shows-a-week Rock of Ages gig, which has reached 2,000 performances and counting, and also led to a cameo in the 2012 movie. Each stepping stone, he says, has been important.
"You don't go from not gigging, or even gigging in a bar band, to the next day gigging in an international touring act. You have to find your way through," he said. "'What's the next step?' I think that's really the way careers are built. You find your career is built more off of just taking one step further every time than it is jumping from point A to point Z.
"I've always been of the mindset of it's great to have as many avenues of employment going as possible, so if one of them goes away, your picture still remains good. I guess people could say that's a sideman mentality, but I think it's a musician mentality. At the end of the day, it's a blessing to be able to make a living in music."
---
This article originally appeared in VG January 2015 issue. All copyrights are by the author and Vintage Guitar magazine. Unauthorized replication or use is strictly prohibited.
---