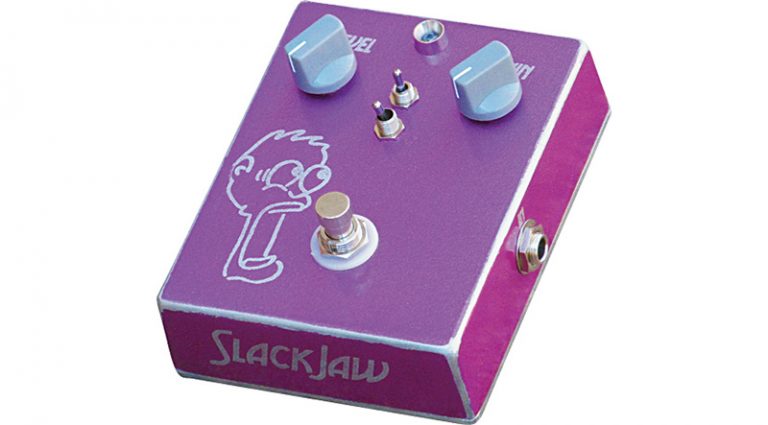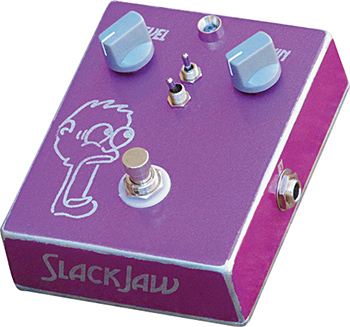 SynapticGroove's SlackJaw OD/Boost/Fuzz
Price: $239
Info: www.synapticgroove.com
Last year SynapticGroove entered the stompbox arena with the Snapperhead Overdrive/Distortion, attracting high-profile users like Peter Stroud of Sheryl Crow's band and Richard Fortus of Guns N' Roses. This year SynapticGroove introduced the SlackJaw OD/Boost/Fuzz, a new pedal that packs a wallop with plenty of tonal features and complements the Snapperhead to a tee. "Utilitarian versatility" as opposed to "bare bones simplicity" was the key to SynapticGroove's sophomore effort, and the result offers a range of voicings from grimy-clean boost to cantankerous fuzz.
The SlackJaw is a true-bypass, American stompbox for ambivalent fuzz users who like overdrive with a little hair on it. It's rock-solid and goes from searing blues to filthy hard rock. It takes a 9-volt adapter or battery, its functionality is simple, and its layout is easy to suss, with a Level knob to control output volume and a Gain knob for drive.
What makes the SlackJaw unique is its three-way top switch. Turned to the left it engages compression, resulting in tighter, more focused sounds at lower volumes and heavy clipping at higher gain settings. The middle position offers volume boost, and the right side provides increased saturation without compression. The switch underneath it is a two-way affair that provides bass boost to the left or bass reduction to the right.
With a "boutique" Strat and a Peavey Classic 30, and with its knobs set to twelve o'clock, its top switch set to compression, and the bottom switch set to bass boost, the SlackJaw produced an earthy grind just short of unadulterated fuzz. The compression contoured the shape of each note, offering tight gritty leads and nasty crunch with power chords. Cranking the Gain knob turned up the aggression but kept the articulation intact. The SlackJaw showed a gruff and truculent British personality, yet remained malleable and focused without ripped-speaker shrillness.
The boost position cleaned up the dirt slightly and added volume. With the switch all the way to the right, the dirt returned without compression, but with a volume bump and tasty harmonic overtones. With the second switch clicked to the right, the bottom dropped out and treble increased – great for cutting through a bass-heavy band mix.
Without any midrange to contend with, the SlackJaw adds a mean snarl to the most polite amplifier. It's a very useful, musical pedal with sensitivity and range, and it'll add rugged complexity to a dirty Marshall, and tonal flexibility to many gigging situations.
---
This article originally appeared in VG August 2014 issue. All copyrights are by the author and Vintage Guitar magazine. Unauthorized replication or use is strictly prohibited.
---