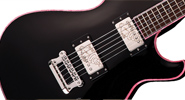 Knaggs Guitars' Steve Stevens Signature Model
Price: $6,000
Contact: www.knaggsguitars.com
Everyone wants to build a better mousetrap, and those who build solidbody guitars are no different. Frequently, they strive to make superior versions of classic archetypes like the Stratocaster, Telecaster, Les Paul, Explorer, Flying V, etc. The Knaggs Steve Stevens Signature Model is derived from the venerable Les Paul, but with many upgrades. But is the Steve Stevens a better LP?
Luthier Joe Knaggs shot to prominence over the past three years with a line of impeccably built electrics and acoustics. The SS is no exception. With fine appointments and an impressive "thump factor" before it's even plugged in or a chord is strummed, the Steve Stevens just feels like a serious build.
The guitar has a classic mahogany body with a carved maple top finished in a rich, opaque black called Faded Onyx, with pink binding per Stevens' request. The set mahogany neck has Knaggs' SS neck carve, which has an appealling, meaty profile comparable to a great '50s Gibson neck – substantial but not oppressively fat. A 243/4″ scale with a 111/16″ nut width and 12″ radius, and a 22-fret rosewood fingerboard offer further evidence of LP inspiration. However, the design of the SS allows for a degree of upper-fret access that LP players can only dream about, the result of Knaggs' less-blocky neck heel. On the Steve Stevens, a player can grab and bend that high D on the 22nd fret to E with relative ease – try that with a Les Paul. For decoration, the fingerboard has pink binding and Knaggs' custom "morning star" inlays.
In terms of hardware, the big news is the Knaggs Influence Series "two-in-one" tailpiece, which sports a TonePros nickel bridge. Combining a tune-o-matic design and string holder in one unit for increased harmonics and sustain, this is one of the more-intriguing developments in bridge design in years. The SS has three-on-a-side nickel Grover tuners and black tophat knobs for the Volume and Tone controls. The nut is hand-cut bone and the pickups are Bare Knuckle humbuckers with Stevens' trademark raygun graphic laser-etched on them. The image is also inlaid on the headstock, with Stevens' signature cut into the truss-rod cover.
In performance, the Steve Stevens is a "wow" experience. It's hefty, but not heavy, and hangs comfortably on a strap. When running the gamut from clean to dirty, it's amazing how cleanly the tone cuts through any din – the Bare Knuckle pickups sound big and clean, with a medium output that lets the body resonance come through. Still, this guitar is made for rockin' and loves as much gain as one can ladle on. Combined with the superior neck setup and upper-fret access, it's a hard-rocker's dream come true – heavenly tone combined with a design that allows the player to fly around the fingerboard with ease.
In terms of design and performance, the Knaggs Steve Stevens Signature has no debits, though its sticker price may raise eyebrows, especially for a solidbody without a flamed top. But, it is a limited edition of 99 instruments, which may interest collectors and top-line enthusiasts. Furthermore, it sets the stage for future variations, which – if they're even half as a good – could draw players in droves. The Steve Stevens is a killer axe, plain and simple.
---
This article originally appeared in VG October 2013 issue. All copyrights are by the author and Vintage Guitar magazine. Unauthorized replication or use is strictly prohibited.
---