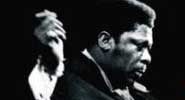 If you're going to take on the life story of B.B. King, you'd better do it right. Not only is it one of the most remarkable rags-to-riches stories in show business (or any walk of life), but King's stature truly transcends music. He's not just blues ambassador to the rest of the world, in many ways Riley King, better known as "B.B.," is America's ambassador, period. Thankfully, director Jon Brewer made a film befitting the man.
Clocking in at two hours, the DVD goes beyond King's music and his incalculable influence on other musicians. Brewer takes his subject (pushing 90 as of this writing) all the way back to Itta Bena, Mississippi, the place of his birth, near Indianola.
King not only grew up there, he was plowing the cotton field, working alongside grown men, from the age of seven. The product of a broken home, he was living alone in his own shack, sometimes driving a tractor, working his own share on the plantation for $15 a month when he was only 14. Walking 30 miles a day, King estimates that in 18 years he did the equivalent of walking around the world, but the math actually adds up to more like three and a half roundtrips. He talks about those days with nary a hint of bitterness.
Interviews with cousins, neighbors, classmates, the brother of civil rights activist Medgar Evers, and his second wife, along with current and archival interviews with B.B. himself are far more illuminating than rock stars singing King's praises – although plenty of them (Bonnie Raitt, Leon Russell, the Rolling Stones, Ringo Starr, Dr. John, U2) weigh in, with Eric Clapton declaring King "the Grand Master."
As the timeline progresses, we also hear from producers and managers, and King graduates from the chitlin circuit to the world stage. If there are criticisms to be made, songs are never shown in their entirety and so-so albums like In London and Riding With The King are treated like milestones.
King demonstrates his "trilling" finger vibrato and retells the story of running into a burning club to rescue his guitar (named Lucille ever after), and classics like Live At The Regal and "Thrill Is Gone" get their due.
In his inimitable way, Carlos Santana defines the blues, and, in doing so, B.B. "Sincere, honest, truthful, real, and genuine," he states. "If you have those five things, then you can play the blues. Otherwise, you sound like a parakeet repeating something that you don't understand."
Best quote honors, though, go to Bono, describing performing "When Love Comes To Town" with the man for whom he wrote it. "I gave it my absolute, everything I had in that howl at the start of the song, and then B.B. King opened up this mouth and I felt like a girl."
It's called mileage and seasoning. And not to worry, Bono; in another 20 years, you'll have it too.
---
This article originally appeared in VG's November '14 issue. All copyrights are by the author and Vintage Guitar magazine. Unauthorized replication or use is strictly prohibited.
---