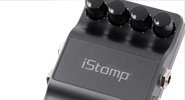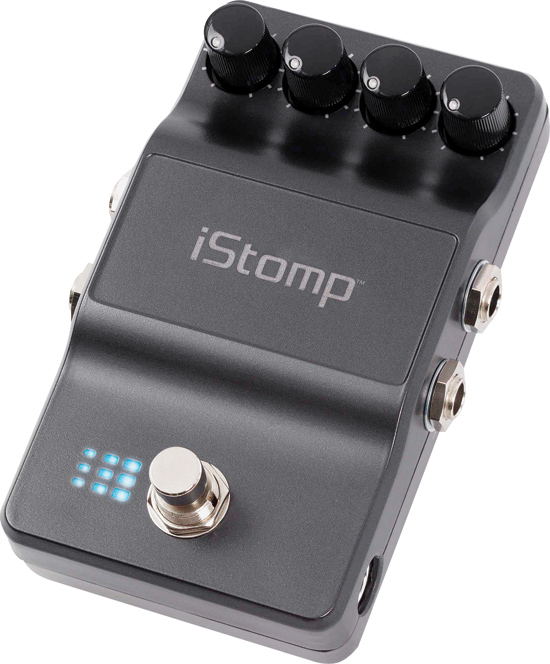 DigiTech iStomp
Price: $149.95
Info: www.digitech.com/istomp
If you're the type of gearhead who turns heel and runs from DSP effects, let alone any equipment with a lower-case "i" in front of its name, set your preconceptions aside and dig into the DigiTech iStomp – a hardware stompbox that can be instantly reconfigured into the pedal effect of your choice. Any one of almost 50 e-pedals can be pulled off DigiTech's "Stomp Shop" app store and loaded into the iStomp. Users keep their e-pedals on an iPhone or iPad and swap out the iStomp's virtual guts at will.
The pedal's slender metal housing includes familiar stompbox features: ins/outs for mono/stereo connections, a 9-volt power input (no battery option), and a footswitch for buffered bypass, but also an LED indicator that's color-assignable to each effect. The four control knobs are unlabeled, since their functions change with each effect (though DigiTech provides reusable labels).
On the input side there's an eight-pin DIN port where the included Smart Cable is connected to an Apple device running the free Stomp Shop app. Once an effect is loaded (around 30 seconds), the cable can be disconnected – the iStomp has transmogrified into an honest-to-goodness effects pedal.
While some healthy skepticism is understandable when approaching a gadget like the iStomp, the effects tested sounded excellent. There were reverent re-creations of classics like the Ibanez Tube Screamer, Boss CE-2 Chorus, and the MXR Dyna Comp, plus sophisticated new designs like a four-voice pitch shifter and a vibrato with a throw so wide it sounded like the strings were melting. The Lexicon Hall, a faultless emulation of Lexi's famed Large Hall reverb, was a major standout. A very Scofield-like rasp was created with Digi's version of the ProCo Rat (they call it the "Rodent"), and "Have a Cigar"-worthy Gilmour sounds were easily achieved with the Stone Phase.
While creating oddball effects for cover tunes are an obvious application for the iStomp, that job could be more conveniently fielded by a multi-effects unit. The iStomp shoots higher than that. Functionally, it's more in line with software plug-ins like Amp Farm or Guitar Rig 2, enabling guitarists to explore a new effect without having to go out shopping for it or spend a lot of money; rarely used pedals won't sit in a box collecting dust. It's a real X factor when wired into a pedalboard. All that's lacking are Bluetooth connectivity to replace the Smart Cable and non-Apple compatibility.
Yes, purists will balk. But that's what purists do. They'll also miss out on inventive approaches to signal processing that broaden sonic possibilities, ease their budgets, and put more options at their feet.
---
This article originally appeared in VG March 2014 issue. All copyrights are by the author and Vintage Guitar magazine. Unauthorized replication or use is strictly prohibited.
---