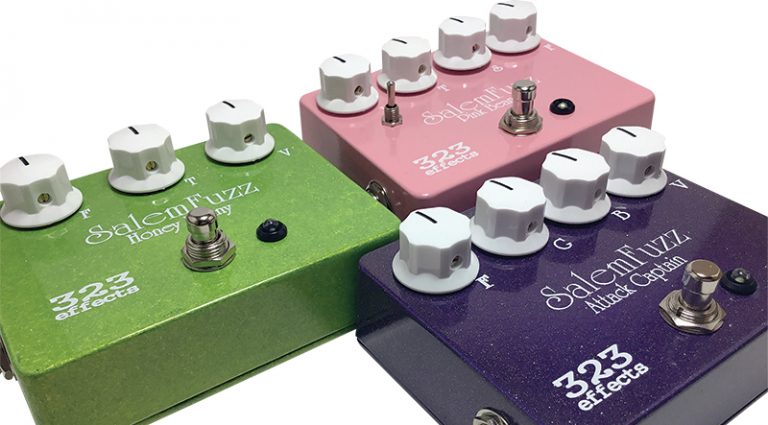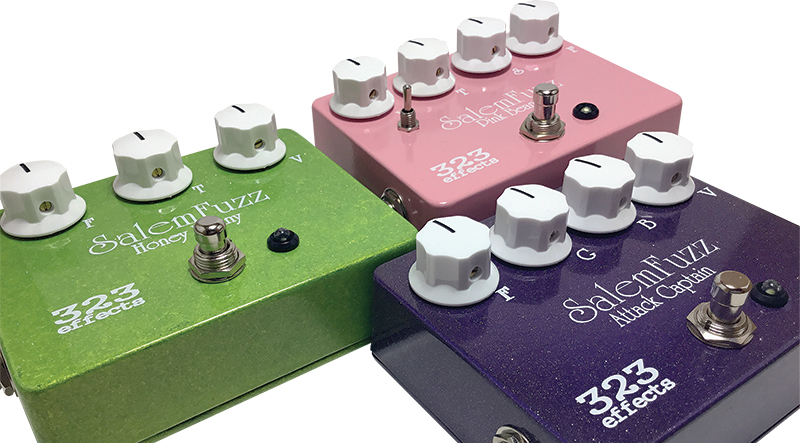 Remember your first fuzz pedal? Maybe, like a certain reviewer, you literally worked up a sweat trying to strike a deal between the body resonance of an ES-175D and the snarl of a third-hand Gibson Maestro Fuzz-Tone. Alas, some things are not meant to be, though the tone known as "fuzz" became a signature sound of the guitar-driven '60s rock explosion.
The folks at PureSalem Guitars have joined with 323 pedal designer Brian Nelson to issue a triple threat of fuzz pedals to complement their lineup of '60s-inspired electric six-strings. These are not any mass-production stompboxes, either – a total of just 62 pedals across the three models have been built in this limited-edition labor of love dubbed the SalemFuzz Project. More installments are planned for the future.
The three-knob Honey Bunny, four-knob Attack Captain, and four-knob (plus mini-toggle) Pink Beard all feature a heavy duty enclosure, rugged stomp switch, 9-volt AC adaptor jack, fluted cream-colored knobs, and an on/off LED. But if the pedal names seem like '60s in-jokes, the SalemFuzz designs produce a serious sonic experience well beyond the one- or two-knob "turn it up and go" relics from the early days of fuzz. To see what kind of mischief we could get up to, we first fed a'64 Strat through the three SalemFuzz pedals and into a '50s Gibson GA20T, before pushing humbuckers through the same devices and into a small Fender combo.
The Honey Bunny, with its F (Fuzz) and T (Tone) controls at nine o'clock and the V (Volume) knob dialed to taste offers up an "American Woman" lead tone with a dark, smooth sustain and plenty of gain to spare. Advancing the T knob draws out a voice with scooped mids for a nasal blues tone reminiscent of the Jeff Beck Group. Things get dangerous adjusting the F to 1 o'clock and beyond for an ever-deepening, disturbing level of breakup. The Honey Bunny is the most "plug and play" of the three, but with plenty of edgy tonalities.
The Attack Captain features the familiar V and F knobs, along with a B (Bass Cut) and G (Gate). The F control serves as a fuzz voice selector, with a sonic sweep that goes from a legato response that would enhance a string section to a jagged, unpredictable onslaught that's enough to disturb the neighbors. Even that uproar can be smoothed out by dialing down the Gate. The T adjustments help compensate for changes in the frequency response of guitar and rig when the Attack Captain, the most "vintage-sounding" of the line, is called into active duty.
The Pink Beard takes things a step further with awe-inspiring gain and further voicing via a three-position mini-switch. The middle setting offers an expansive sound that causes long tones to subtly crescendo, while the left position is more traditional territory. The right position commands the more eccentric sounds, while tinkering with toggle and knobs generates a broad palette of useable, interactive weirdness.
The three PureSalem designs feature enough gain to work well with any pickups, rendering an inspiring selection of fuzzy bliss, from a singing, smooth sustain to a glass-shard cut that no melodic line could ever enhance. Low production numbers might enhance collectability, but the real draw is that these pedals sound great.
---
This article originally appeared in VG October 2016 issue. All copyrights are by the author and Vintage Guitar magazine. Unauthorized replication or use is strictly prohibited.
---