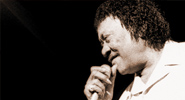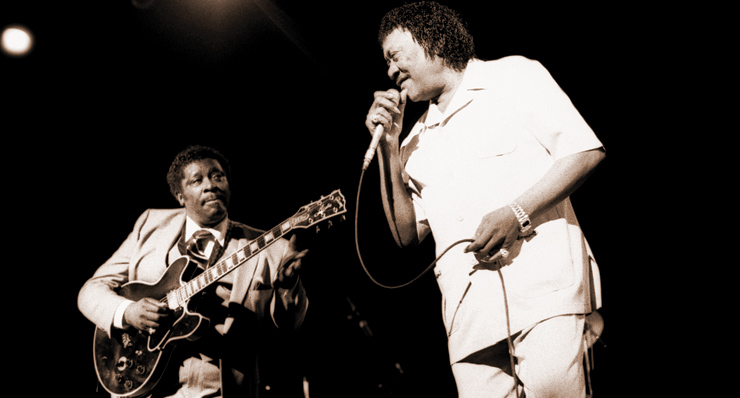 On June 23 of last year, the blues lost one of its greatest singers with the death of Bobby "Blue" Bland at age 83. Best known for a 20-year run with Duke Records that yielded such classics as "I Pity The Fool," "I'll Take Care Of You," and his reworking of T-Bone Walker's "Stormy Monday Blues," he was a major influence on singers as diverse as Mick Hucknall and Elvis Presley.
Bland's records invariably featured stellar guitar work. A decade before his tenure with Bland, from 1976 to '79, Johnny Jones was a member of Nashville's King Casuals, filling the slot left by Jimi Hendrix. An excellent ES-345 player, Jones said in a Gibson.com interview, "Wayne Bennett molded the sound with Bobby 'Blue' Bland for guitar players. He was strictly under T-Bone."
Jones explained that Bland "didn't want you bending no strings" – though Bennett clearly did his share of string-bending. He recalled, "When I first got with 'Blue,' he called me to the back of the bus and said, 'You're giving me just a little too much Lucille'" – referring to B.B. King's bending approach. Bland gave Jones a tape of Bennett and Mel Brown to study.
While sophistication was often an earmark of Bland's versatile guitarists, they could definitely play lowdown. On "Drifting From Town To Town," from '52 (as "Robert Bland"), the singer exhorts, "Alright, M.T.," before Matt Murphy delivers a gritty solo with just enough distortion.
At least four sides from 1955, including "It's My Life, Baby," feature the out-of-phase guitar of Roy Gaines, and playing guitar on Bland's first #1 R&B hit, "Farther On Up The Road," was Pat Hare, known for his work with Muddy Waters and Junior Parker.
Overlapping the many recordings featuring Bennett was Clarence Holloman, who found resurgence in the '90s, recording with his wife, singer/pianist Carol Fran. His guitar can be heard on "I Smell Trouble," "Wishing Well," and numerous others.
"Clarence played on a couple of Lavelle White CDs I produced, and it was the greatest experience I ever had with anyone in the studio," said Austin blues guitarist Derek O'Brien, who has produced Snooky Pryor, Doug Sahm, Willie Nelson, and many others. "He was all about helping you make things right. Mentally and musically, he had great ideas and was always a team player."
Wayne Bennett's solo on 1962's "Stormy Monday" cemented his place in any blues guitar hall of fame. The Oklahoman's influences ranged from Lightnin' Hopkins to Les Paul to Stan Kenton guitarist Sal Salvador. His first professional gig, at 17, was with popular rhythm and blues pianist Amos Milburn. Besides Milburn's "Bad, Bad Whiskey," he played sessions with Jimmy Reed, the Moonglows, Buddy Guy, Otis Rush, Elmore James, and Archie Brownlee's Five Blind Boys.
In an unpublished 1982 interview, Bennett said, "Although I was a blues player, I learned enough jazz to be able to sit in with these people and learned how to read music so I could get work in Broadway shows when they came to Chicago. It made me an all-around, legitimate musician, instead of limiting myself."
It wasn't until Duke was acquired by ABC/Dunhill that Bland truly crossed over to a mass audience – considerably later than B.B. and Albert King. Although a songwriter famous for co-writing hits for Herman's Hermits, the Grass Roots, and Johnny Rivers might seem an odd choice to navigate Bland's transition, Steve Barri, who'd become Dunhill's head of A&R, produced three excellent albums, backing Bland with the cream of L.A.'s session musicians. "Bobby wanted to see if the label could do for him what it had done with B.B.," says Barri, "and I was always a huge fan of his and knew all his early records."
For 1973's His California Album, Dreamer the following year, and Reflections In Blue in '77, Barri used Dean Parks and Ben Benay on guitars, along with Larry Carlton on the first two. "For the first album, I didn't want to do anything too slick; I wanted to keep it simple. So we used Mel Brown from his band." Like Bennett, Brown could straddle blues and jazz, and at times the two played in tandem with Bland, with Brown alternating between guitar and organ.
Bland was ready and willing to add strings, and Dreamer, his most successful in that vein, included three songs co-written by Barri, including a bona fide classic, "I Wouldn't Treat A Dog."
Despite Barri thinking that Together For the First Time Live, teaming Bland and King, was a disaster, because the two essentially winged it, he said, "it sold like crazy."
Though he'd moved to Warner Brothers, Barri produced Reflections In Blue, which came with a humorous request from Bland. "Bobby told me he wanted to go, too. 'No, your contract is with ABC.' He said, 'Can't you get me a transfer?'"
At Bland's funeral, lifelong pal B.B. King said, "Bobby, I miss you, old boy. He was my friend."
---
This article originally appeared in VG March 2014 issue. All copyrights are by the author and Vintage Guitar magazine. Unauthorized replication or use is strictly prohibited.
---